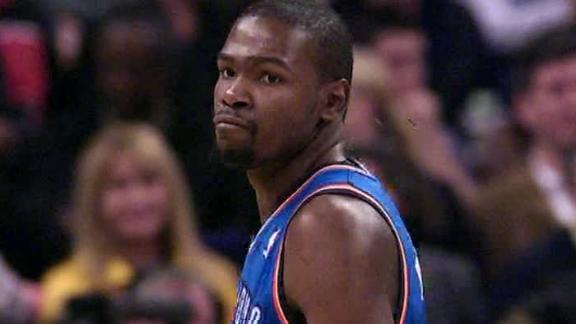 Updated Nov 16, 2012
Share
Tweet
Kevin Durant and Kevin Martin each scored 27 points, and the Oklahoma City Thunder rolled to their sixth victory in seven games, 110-95 over the New Orleans Hornets on Friday night.
West, Pacers trounce Mavs, ex-coach Carlisle

Updated Nov 16, 2012

Share Tweet

David West and George Hill each scored 15 points to help the Indiana Pacers beat the Dallas Mavericks 103-83 on Friday night.

Updated Nov 16, 2012

Share Tweet

Rockets first-round pick Royce White says on Twitter that properly treating his mental health condition is more important than his NBA career.

Updated Nov 16, 2012

Share Tweet

Few teams beat the Spurs at home. Not only did the Knicks win in San Antonio 104-100, they did it with an impressive fourth-quarter rally that moved them to 6-0, says Ben Golliver.

5 NBA Playoff Teams That Could Use Anderson Varejao

Updated Nov 16, 2012

Share Tweet

It's too early in the season to say for certain which teams will and won't make the playoffs, but we can confidently say some teams are still a lock, or they're going to at least be in the running as the season progresses. One team that's almost c

Source:

dimemag.com

How the Knicks Mirror the '10-11 Champion Mavs

Updated Nov 16, 2012

Share Tweet

This 2012-13 Knicks recall the Mavericks team that won the N.B.A. title in 2011, and not just because Jason Kidd and Tyson Chandler are on the roster.

Source:

nytimes.com

The Revenge Of Carmelo Anthony

Updated Nov 16, 2012

Share Tweet

Last night, the New York Knicks beat the Spurs in San Antonio, 104-100, to move to 6-0 on the season. It's only the second time the Knicks have started a season 6-0 in their history, the other time being a 7-0 start to the 1993-94 season. Despite the wi

Source:

dimemag.com

Updated Nov 16, 2012

Share Tweet

Mavericks forward Shawn Marion returned Friday night against the Indiana Pacers after missing the previous five games due to a sprained MCL in his left knee.

Updated Nov 16, 2012

Share Tweet

New Orleans Hornets general manager Dell Demps has agreed to a new multiyear contract extension to remain with the club and see through the roster overhaul that he and coach Monty Williams have conducted in tandem during the past two seasons.

Tony Parker Crossover Leaves Raymond Felton Confused

Updated Nov 16, 2012

Share Tweet

In fairness to Felton, it looks like he was anticipating the screen from Tim Duncan, and that he was trying to avoid it. Felton eventually figured out where Parker was going about an hour later, but the Knicks still won. They're now 6-and-fucking-0. Mor…

Source:

deadspin.com

Durant, Martin Power Thunder Past Hornets

Nov 16

Kevin Durant and Kevin Martin both score 27 points against Hornets.

Pacers Trounce Mavericks, 103-83

Nov 16

Pacers beat Mavericks, former head coach.

Are The Knicks Better Off Without Lin?

Nov 16

"NBA Tonight" looks at the Knicks without Jeremy Lin.

TrueHoop TV: Weekend Dime

Nov 16

Marc Stein on whether the Knicks and Grizzlies are true contenders, the wonder that is Jason Kidd, and if Mike D'Antoni is a good fit in L.A.

Sports Columnists

NBA: Memphis Grizzlies' size too much as they knock off the previously und…

Nov 16

The New York Knicks lost their cool and lost their first game in Memphis to the powerful, red-hot Grizzlies, writes John Hollinger.