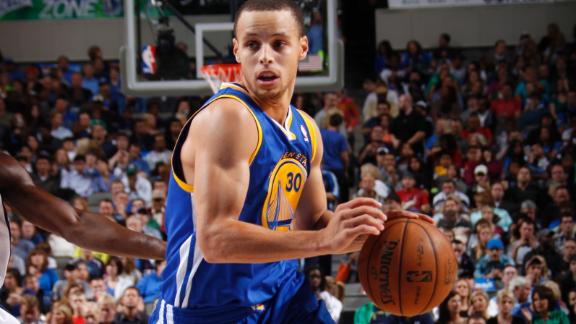 ESPN.com
Updated Nov 19, 2012
Stephen Curry scored 20 of his 31 points in the fourth quarter and overtime and David Lee's layup with 32.8 seconds left helped the Golden State Warriors beat the Dallas Mavericks 105-101 Monday night.
Share
Tweet
San Antonio Spurs swingman Stephen Jackson is expected to miss four to six weeks after suffering a non-displaced fracture to his right pinkie finger during Monday night's home game against the Los Angeles Clippers.

Share Tweet

Memphis Grizzlies forward Zach Randolph has been fined $25,000 by the NBA for confronting Oklahoma City's Kendrick Perkins following both their ejections in a game last week.

Share Tweet

5 Teams Hanging Tough Without Their Star Players

Through the first 20 days of the NBA's regular season, injuries and setbacks have already occurred. Some, like Chicago, were injuries we already knew about; they would be without their former MVP, Derrick Rose, for a large portion of the season. Others,

Share Tweet

Why Memphis Is Both An NBA Title Contender And Pretender

Memphis handily beat the then-undefeated New York Knicks on Friday night, the seventh in a row for the Grizzlies after losing their opening game to the Clippers. Combined combined with their victory over surprisingly frisky Charlotte a day later, they n…

Share Tweet

Terrence Jones dunks right on Jodie Meeks, earns more playing time (VIDEO)

yahoo.com

Nov 19, 2012

Over the past few seasons, the Houston Rockets have lots of promising young forwards, which looks great on paper but has proven difficult to manage in practice. With several players in need of playing time to prove their abilities and improve their game…

Share Tweet

Kobe Bryant's Triple-Double Grounds The Rockets; Rajon Rondo Barely Keeps His Streak Alive

Back in the preseason when the Lakers had all five starters together (a rare occurrence, we know), there were stretches where they were cooking better than Walter White on Breaking Bad. Mike Brown's failed experiment hid for a time what we saw once more

Share Tweet

Kobe Bryant had 22 points, 11 rebounds and 11 assists for his 18th career triple-double, and the revitalized Los Angeles Lakers ran past the Houston Rockets 119-108 Sunday night for their fourth victory in five games since firing coach Mike Brown.

Share Tweet

Don't Look Now, the Spurs Are Changing Their Game

grantland.com

Nov 19, 2012

Here's a sobering thought: The Spurs are 8-2, with the fifth-best point differential in the league, and they are basically screwing around. OK, that'...

Share Tweet

Nuggets Snap Grizzlies' Eight-Game Winning Streak

Nov 19

Danilo Gallinari drops 26 points on Grizzlies.

Rudy Gay Elevates Over Kenneth Faried

Nov 19

Mike Conley alley-oop to Rudy Gay for the dunk.

Clippers Hold Off Spurs

Nov 19

Chris Paul scores 19 and dishes out eight assists in Clippers' 92-87 win over Spurs.

Curry, Warriors Top Mavs In OT

Nov 19

Stephen Curry scores 31 in Warriors 105-101 win over Mavericks.