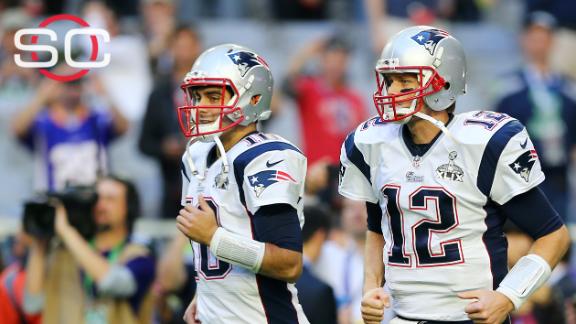 ESPN.com
profootballtalk.com
Updated 15 hours ago
Patriots QB Jimmy Garoppolo showed potential while at Eastern Illinois
Share
Tweet
Mort says Kraft apologized to him, Patriots deny it

profootballtalk.com

5 hours ago

Not much had been said in recent days about Chris Mortensen's role in the hatching of #DeflateGate because nobody had really said much about it. Mort said some more stuff about it on Thursday, and he probably now wishes that he hadn't. Appearing on Ariz…

Share Tweet

Patriots waive/injured 2012 third-rounder Jake Bequette

profootballtalk.com

10 hours ago

The Patriots waived 2012 third-round pick Jake Bequette last year, but brought him back to the practice squad and then moved him from defensive end to tight end this year in an attempt to find a place for him on the roster. That effort has come to an en…

Share Tweet

Patriots release CB Jimmy Jean

patriotsgab.com

16 hours ago

The Patriots announced they released rookie corner Jimmy Jean, yesterday. Jean, played CB and safety during his 2 year college career at UAB. He played his first two seasons at Arkansas Baptist Junior College.

Share Tweet

patriotsgab.com ESPN.com

16 hours ago

Reggie Wayne chats with Aaron Dobson.(Photo by Ted Fitzgerald/Boston Herald) Reggie Wayne's one year deal has been officially field in the league! Below are the details of his deal with New England, first reported by ESPN's Mike Reiss and Boston Herald'…

Share Tweet

Forbes: ESPN's relationship with the NFL is becoming unnerving and edging on uncomfortable.

patriotsgab.com

16 hours ago

Forbes ran a story two days ago, by Maury Brown, talking about ESPN's relationship with the NFL and how it seems ESPN favors the NFL in every story and controversy, especially in the deflategate scandal. Below are highlights from Maury Brown's Forbes ar…

Share Tweet

Alexander Bradley gets immunity in Hernandez double-murder case

profootballtalk.com

17 hours ago

Former Patriots tight end Aaron Hernandez already has been convicted of murder despite the absence of eyewitness testimony. In a separate double-murder case pending against Hernandez, the prosecution has an eyewitness. And the eyewitness now has immunit…

Share Tweet

Josh Boyce among the missing at practice

patriotsgab.com

17 hours ago

Josh Boyce during practice. WR Josh Boyce and CB Jimmy Jean missed practice yesterday, the new additions to the Patriots Did Not Practice list. It is unknown why they did not suit up. WR Brandon LaFell, CB Darryl Roberts, LB Dane Fletcher, OL Marcus Can…

Share Tweet

profootballtalk.com

19 hours ago

The Bills have some tough decisions ahead at WR. Dolphins LT Branden Albert is getting closer to a return. Patriots coach Bill Belichick can't coach forever, can he? Jets S Calvin Pryor remains confident after a rough rookie season. Ravens QB Joe Flacco…

Share Tweet

Tom Brady once endorsed a concussion-prevention drink, too

profootballtalk.com

20 hours ago

Seahawks quarterback Russell Wilson is taking some heat for claiming that a product he endorses, Recovery Water, prevented him from suffering a concussion in the NFC Championship Game. But Wilson isn't the only Super Bowl-winning quarterback who has end…

Share Tweet

Judge Doty wonders whether Goodell "understands there is a CBA"

While Judge Richard M. Berman hasn't been exactly friendly to the NFL's position in the case the NFL filed to uphold the suspension of Patriots quarterback Tom Brady, it could have been worse for the league. If the NFL hadn't won the race to the courtho…

Share Tweet

Earlier this year, Hall of Fame receiver Jerry Rice admitted to putting stickum on his gloves, a significant confession in the early days of #DeflateGate, when Patriots fans were searching for any and all evidence of other teams cheating. Rice later apo…

Share Tweet

Patriots starting right guard Ryan Wendell preparing for game action

Patriots starting right guard Ryan Wendell preparing for game action

Share Tweet

Patriots coach Bill Belichick describes what defines a 'typical Iowa kid'

Share Tweet

One Patriots goal for third preseason game: Get Tom Brady going

One Patriots goal for third preseason game: Get Tom Brady going

Share Tweet

Devin McCourty backs off his objections to playing corner

Maybe it's just because we so rarely hear Patriots speak in anything other than Belichickisms that it stood out. But days after Patriots defensive back Devin McCourty said he hoped his move to cornerback wasn't a permanent one, he did a quick backpedal.…

Share Tweet

Maine man claims he taunted Goodell at grocery store over Brady

profootballtalk.com

Aug 26 (2 days ago)

Last month, the NFL reportedly asked authorities in Maine to keep an eye on a house owned there by Commissioner Roger Goodell, given the potential for Patriots fans shenanigans. The league also should have paid attention to the local grocery stores, too…

Share Tweet

Where are you drafting him?

Aug 27

Field Yates discusses where to take players who have red flags heading into your drafts.

Notable developments at receiver

Aug 26

ESPN NFL Nation reporter Mike Reiss highlights some of the moving parts at WR.

Chandler taking it one day at a time

Aug 26

New England Patriots TE Scott Chandler discusses how it feels returning to practice while recovering from a leg injury.

The Force is with Reggie Wayne

Aug 26

NFL Nation reporter Mike Wells explains why Colts fans should not be upset that Reggie Wayne signed with the Patriots.