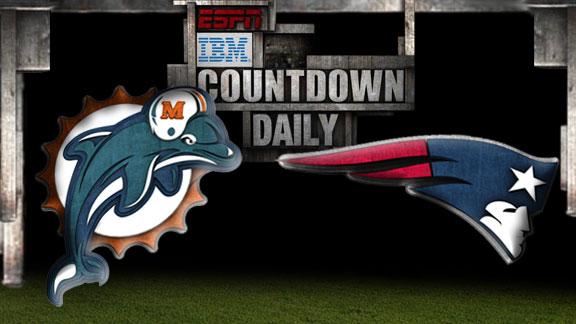 Wilfork fined $30,000, but Chung escapes without one

profootballtalk.com

Dec 28, 2012

Patriots defensive tackle Vince Wilfork was fined $30,000 for unnecessary roughness, after hitting Jaguars offensive lineman Steve Vallos in the head last week. The play resulted in a penalty during the game, occurring after a Patrick Chung interception…

Share Tweet

Friday morning one-liners

profootballtalk.com

Dec 28, 2012

Bills DE Mario Williams donated a pickup truck to a married couple who are both active duty Marines. Dolphins P Brandon Fields feels he was a Pro Bowl snub. Patriots CB Aqib Talib says that his hip injury has improved. Jets offensive coordinator Tony Sp…

Share Tweet

NFL32OT: RG III Best Of The Best?

Dec 28

Episode 240: Suzy Kolber and Chris Mortensen discuss Redskins coach Mike Shanahan comments on RG III. Steve Young breaks down which quarter in the AFC needs home field advantage the most. The NFL32 crew discuss Adrian Peterson and the Vikings.

'Playbook': Are New England Patriots built for playoff success?

Dec 28

Can the New England Patriots make a deep run in the playoffs? Our analysts discuss why the Patriots' rush offense will play a major role in their success.

'Playbook': Miami Dolphins vs. New England Patriots

Dec 28

Can the Miami Dolphins pull off an upset in Foxborough? See why one of our analysts thinks the Dolphins' improved running game will help them compete and keep it close on Sunday.

'NFL Films Presents': Football at Fenway

Dec 28

Did you know the New England Patriots used to play their games at Fenway Park in Boston? Join Patriots owner Robert Kraft as he relives some of the best memories from the historic ballpark.