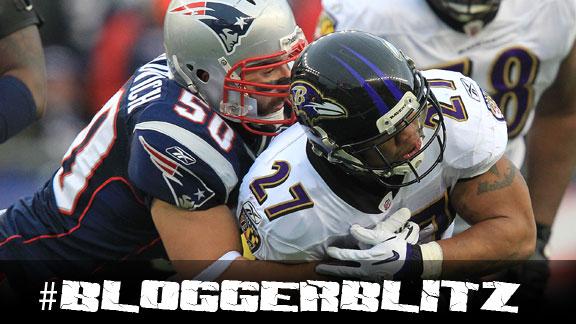 ESPN.com

Jan 15, 2013

The New England Patriots are known to give up "chunk" passing plays on defense. It's the primary reason New England was ranked 29th against the pass this year. The biggest vertical threat for the Baltimore Ravens is second-year receiver Torrey Smith. He

Share Tweet

profootballtalk.com

Jan 15, 2013

The Texans are finished after losing to the Patriots last Sunday, which means one of the greatest individual seasons by a defensive end has also come to an end. J.J. Watt will add no more sacks or batted passes to a resume that's likely to make him the

Share Tweet

ESPN.com

Jan 15, 2013

Two future Hall of Famers will meet Sunday when quarterback Tom Brady of the New England Patriots faces linebacker Ray Lewis and the Baltimore Ravens in Sunday's AFC Championship Game. This is the final meeting between these two football legends. Lewis …

Share Tweet

deadspin.com CNNSI.com

Jan 15, 2013

Rob Gronkowski broke his left forearm back in November, and had surgery to fix it. He returned for Week 17, played sparingly, then broke his left forearm in the Patriots' first playoff game. It's easy enough to jump to the conclusion that he came back t…

Share Tweet

ESPN.com patriotsgab.com

Jan 15, 2013

It's not the Tom Brady versus Peyton Manning showdown many expected in the AFC Championship Game. But the intense rivalry between the New England Patriots and Baltimore Ravens is just as exciting. For the second consecutive year, these familiar foes wil

Share Tweet

profootballtalk.com

Jan 15, 2013

The Bills should have been paying attention to the quality of the quarterbacks in the playoffs last weekend. How far from the playoffs are the Dolphins? Patriots offensive coordinator Josh McDaniels is happy to have Brian Daboll join the coaching staff.…

Share Tweet

Catfish: NFL Style: For those of you that do not know what "Catfish…

patriotsgab.com

Jan 15, 2013

For those of you that do not know what "Catfish The T.V. Show" is, it comes on MTV on Monday Nights and it is about people who fall in love online and might not be exactly who they say they are. In this addition of Patriots Gab, we will take a look at

Share Tweet

NFL32OT: Ravens-Patriots Meet Again

Jan 15

Episode 249: Jason Taylor breaks down the Ravens defense going up against Tom Brady and the Patriots offense. The NFL32 crew discuss Texans head coach Gary Kubiak's comments on Matt Schaub.

Gronk's impact

Jan 15

How big of a hit will the New England Patriots' offense take with the loss of star tight end Rob Gronkowski? Solomon Wilcots and Albert Breer discuss the team's plans moving forward.

Blogger Blitz: Containing Ray Rice

Jan 15

AFC East blogger James Walker talks about the Patriots' past success at limiting Ray Rice's production

Do Ravens Have A Chance To Beat Patriots?

Jan 15

Skip Bayless and Stephen A. Smith discuss the Patriots' being favored by 9.5 points over the Ravens.