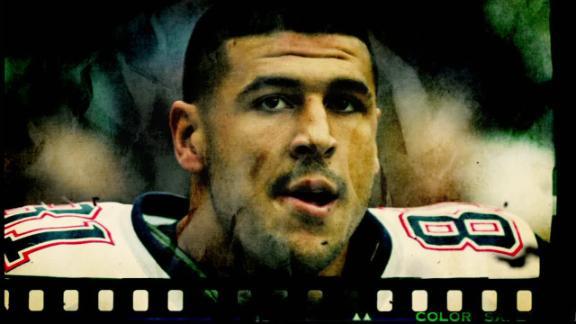 nydailynews.com
CNNSI.com
patriotsgab.com
ESPN.com
profootballtalk.com
Updated Jul 24, 2013
Bill Belichick drafted Aaron Hernandez three years ago despite serious questions about his character. He surely gave owner Robert Kraft his endorsement to sign Hernandez to a $40 million contract extension last summer, which included a $12.5 million bon…
Share
Tweet
nytimes.com yahoo.com boston.com profootballtalk.com ESPN.com patriotsgab.com

Jul 24, 2013

Coach Bill Belichick spoke publicly for the first time about the Aaron Hernandez murder case, expressing sympathy for Odin Lloyd's family and saying the allegations had come as a shock.

Share Tweet

profootballtalk.com ESPN.com

Jul 24, 2013

Former Chargers team doctor David Chao stepped down this summer, after the NFLPA expressed concerns about the care he was providing players. And now, it appears the union has targeted another physician. According to Mike Reiss of ESPNBoston.com, the NFL…

Share Tweet

profootballtalk.com boston.com

Jul 24, 2013

Patriots cornerback Alfonzo Dennard won't miss any of training camp to deal with the fallout from his arrest on suspicion of DUI earlier this month. Dennard was originally scheduled to appear in court next week, in the middle of Patriots camp, but he ap…

Share Tweet

Tom Brady's new Funny or Die video

patriotsgab.com

Jul 24, 2013

Photo Funny or Die Tom Brady is back in another Funny or Die video, this time with his "best friend" Very funny Pats nation, enjoy! Tom Brady's Best Friend from Tom Brady

Share Tweet

boston.com profootballtalk.com

Jul 24, 2013

Patriots coach Bill Belichick will address the media Wednesday for the first time since the team's minicamp in June and the first time since Aaron Hernandez's arrest for his connection to the death of a Dorchester man.

Share Tweet

Constant change on 'D' good vs. Brady

buffalobills.com

Jul 24, 2013

Defensive coordinator Mike Pettine has a defensive scheme that acts a lot like a chameleon, constantly changing it's pre-snap appearance. We examined if the new scheme will make the Bills unit one of the league leaders in sacks in our Top 25 questions u…

Share Tweet

How will the New England Patriots react to Aaron Hernandez?

Jul 24

NFL Network's Albert Breer discusses how the New England Patriots will handle questions regarding Aaron Hernandez.

Reacting To Belichick's Comments

Jul 24

Tim Hasselbeck and Hugh Douglas react to Bill Belichick's comments made about Aaron Hernandez during his press conference.

Aaron Hernandez's Hearing Delayed

Jul 24

Roger Cossack reacts to the news that the judge delayed Aaron Hernandez's probable cause hearing until Aug. 22.

Assessing Belichick's Comments

Jul 24

Mike Reiss and Ron Borges react to the comments Bill Belichick made during his press conference about Aaron Hernandez.