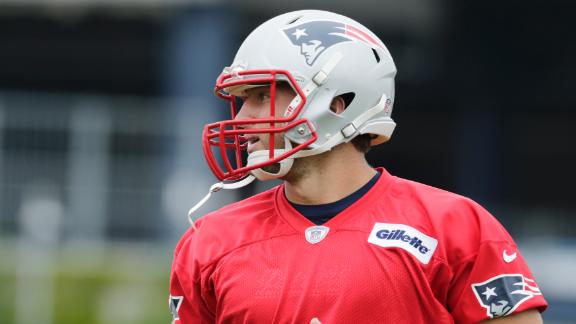 nydailynews.com
patriotsgab.com
boston.com
ESPN.com
profootballtalk.com
nytimes.com
Updated Jun 12, 2013
Bill Belichick isn't the only one growing tired of talking about Tim Tebow. The Patriots coach, who has had to deal with Tebowmania for just 36 hours or so, has already cut short questions about everyone's favorite backup quarterback.
Share
Tweet
The Globe's Ben Volin and Zuri Berry review the Patriots second minicamp practice.

Share Tweet

Ryan Mallett: Patriots have three great quarterbacks

profootballtalk.com

Jun 12, 2013

Patriots quarterback Ryan Mallett says he feels good about having Tim Tebow as a teammate, even though Tebow's presence means Mallett has new competition for the No. 2 quarterback job behind starter Tom Brady. In fact, Mallett says he, Brady and Tebow a

Share Tweet

No Longer Top Dog: Wes Welker was Tom Brady's go-to guy; now he's ju…

CNNSI.com

Jun 12, 2013

Wes Welker was Tom Brady's go-to guy; now he's just another option for Peyton Manning. Welker's skills may not decline, but his role and stats will, Chris Burke writes.

Share Tweet

FOXBOROUGH - The Patriots' first mandatory practice of minicamp was an uneventful one for fourth-year linebacker Brandon Spikes, who participated in just a handful of drills after being the lone no-show for voluntary workouts.

Share Tweet

Tim Tebow arrives in Foxborough with media frenzy in tow

Somewhere between 80-90 credentialed media were at Gillette Stadium on Tuesday, the first day of Patriots' mandatory minicamp, with reporters from CNN, ESPN, NFL Network, USA Today, four of New York's daily newspapers, and even NPR on hand, all to see

Share Tweet

Rob Gronkowski takes part in "Kids Cancer Buzz Off"

patriotsgab.com

Jun 12, 2013

Patriots tight-end Rob Gronkowski took part in "Kids Cancer Buzz Off" for a nonprofit organization One Mission. Gronkowski joined 867 men, women, and children as they buzzed their hair in solidarity and support for those courageously fighting pediatri

Share Tweet

Will Tebow Be A Distraction?

Jun 12

Brian Dawkins assesses Tim Tebow's fit in New England.

Steve Mariucci on Tim Tebow: 'I don't think he'll be a distraction'

Jun 12

Steve Mariucci joins "NFL Total Access" to discuss whether Tim Tebow can conform to the low-profile standards of the New England Patriots.

New England Patriots quarterback Tom Brady not worried about Tim Tebow distraction

Jun 12

New England Patriots quarterback Tom Brady says he has no fears about Tim Tebow causing a distraction for his team.

The Word: The value of Tim Tebow

Jun 12

Chris McKendry, Michele Steele and Prim Siripipat discuss Tebow's signing with the Patriots.