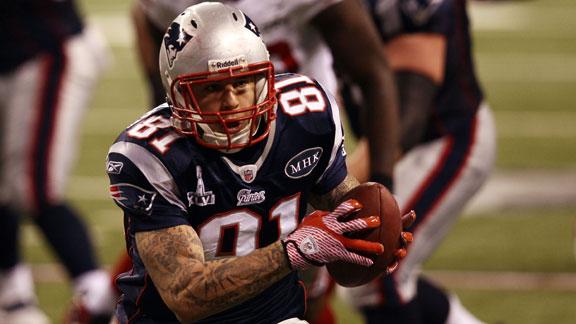 nytimes.com
ESPN.com
Updated Jun 25, 2013
A Massachusetts judge sealed the records of the district court overseeing the murder investigation involving Patriots tight end Aaron Hernandez.
Share
Tweet
Hernandez adds another lawyer to his team

It's not quite a dream team, but it's clear that Patriots tight end Aaron Hernandez is preparing for a potential legal nightmare. According to Nick Underhill of MassLive.com, Hernandez has hired Jamie Sultan, an experienced criminal defense lawyer whose…

Share Tweet

Tom Brady takes a break from golfing to meet a fan

patriotsgab.com

Jun 25, 2013

Tom Brady was enjoying a day of golfing but didn't mind stopping to meet a fan. A young gentlemen saw Brady and asked for a picture, which Brady did, and later on the guy put it on "instagram" saying, "Tom Brady is easily one of the coolest guys I've ev…

Share Tweet

Will off-field distractions be too much for the New England Patriots?

yahoo.com

Jun 25, 2013

The New England Patriots always seem insulated from any distractions surrounding them. They focus on football and keep churning out (at least) 10 wins every season. But the events of this offseason will be pretty hard to ignore. Wes Welker, a key piece …

Share Tweet

buffalobills.com

Jun 25, 2013

The Bills announced Tuesday the date that individual game tickets go on sale. Individual game tickets will go on sale to the general public Wednesday, July 10th at 9 am. Individual game tickets for the regular season opener against the New England Patri…

Share Tweet

As the investigation continues into whether New England tight end Aaron Hernandez played a part in the death of Odin Lloyd, talk has increased that the Patriots should have stayed away from Hernandez in the 2010 NFL draft because of his checkered histor…

Share Tweet

NFL's Top 10 Players of 2013: Can Tom Brady reclaim the top spot?

Can Tom Brady reclaim the top spot? Or will he continue to slide down the rankings? Those are the two big questions for Patriots fans when the NFL Network unveils the final installment of the Top 100 Players of 2013 feature this Thursday at 8 p.m.

Share Tweet

The Bills like the depth they've put together at cornerback. S Reshad Jones is hoping to give the Dolphins even more in 2013. Patriots RB George Winn had an explosive streak in his college days. G Brian Winters said negating the speed of NFL defenders i…

Share Tweet

Mayo says Patriots will "ignore the noise" on Hernandez

Will the Aaron Hernandez situation serve as a distraction for the Patriots? Not according to one of their team leaders. New England linebacker Jerod Mayo says the Patriots all know that they need to focus on their own jobs, and ignore any distractions a…

Share Tweet

New England Patriots – Three Biggest Games Of The 2013 Season

patriotsgab.com

Jun 25, 2013

Week Four Sunday 9/29 at Atlanta – A hot prime-time matchup with a very good Falcons team, the reigning NFC South champs. Matt Ryan, Roddy White, Steven Jackson and Julio Jones highlight a high powered Falcons offense, and the Pats will have to not only…

Share Tweet

One question I've heard a lot since police began questioning Aaron Hernandez in connection to the murder of 27-year-old Odin Lloyd last week: When are the Patriots going to say anything about his involvement, or take any action against him?

Share Tweet

Hernandez Investigation Documents Sealed

Jun 25

A judge has sealed the investigation documents involving the killing of an acquaintance of Aaron Hernandez.

Lawyers meet with New England Patriots' tight end Aaron Hernandez

Jun 25

Lawyers met with New England Patriots tight end Aaron Hernandez Tuesday at his North Attleboro home. Get the latest details on this ongoing story.

Inside the Huddle with John Clayton

Jun 25

John Clayton goes deep on the Seahawk Richard Sherman's defensed passes record, Tom Brady's 44 consecutive conversions running the ball, the Jets running back situation and the Buffalo blitz.