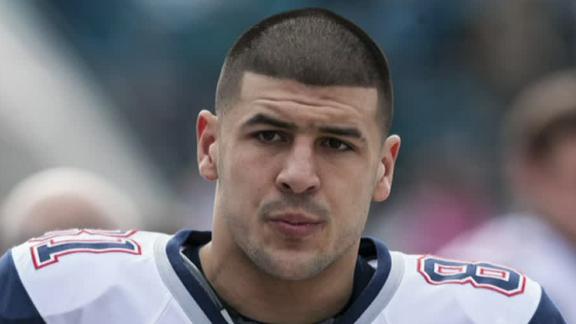 profootballtalk.com
ESPN.com
CNNSI.com
yahoo.com
deadspin.com
boston.com
Updated Jun 27, 2013
I've learned a lot about Aaron Hernandez in the last couple of weeks, and nothing I've learned has made me want to cheer for him. But some fans in New England still believe in the former Patriots tight end. And so, as Hernandez was transported from jail…
Share
Tweet
deadspin.com

Jun 27, 2013

A superior court judge denied bail for Aaron Hernandez during an appeal hearing this afternoon in Fall River, Mass. The former Patriots star must remain in jail pending the outcome of his forthcoming murder case.Read more...

Share Tweet

When the NFL released its 2013 schedule in April, one of the first things that caught my eye was the Week 1, AFC East matchup between the New England Patriots and Buffalo Bills. My initial reaction was this was a very tough draw for Buffalo. "I thought …

Share Tweet

nytimes.com

Jun 27, 2013

Aaron Hernandez, who was charged with murder Wednesday, is also being investigated in connection with a double homicide in Boston in 2012, two law enforcement officials said.

Share Tweet

Dolphins coach Joe Philbin on right path?

It has been a full 24 hours of Aaron Hernandez and New England Patriots coverage in the AFC East blog. It's not every day that a star player in the division gets charged with murder and faces five additional gun charges. Hernandez will continue to garne…

Share Tweet

Kelly sees Patriots as vulnerable

buffalobills.com

Jun 27, 2013

Eager to see the Bills succeed much like they did when he was their quarterback, Hall of Famer Jim Kelly in an appearance on NFL AM on NFL Network shared his opinion on how vulnerable the Patriots are with all that they've lost from their high-powered o…

Share Tweet

Former Baltimore Ravens head coach Brian Billick offered a unique perspective on the New England Patriots' situation with Aaron Hernandez. Thirteen years ago, future Hall of Famer and recently retired Ravens linebacker Ray Lewis was charged with two cou…

Share Tweet

Tim Tebow a tight end option for the Patriots? Not so fast

yahoo.com

Jun 27, 2013

With the New England Patriots parting ways with tight end Aaron Hernandez following Wednesday's arrest on multiple charges, including first-degree murder, there are already those wondering if Patriots quarterback Tim Tebow, Hernandez's former teammate a…

Share Tweet

AFC East over/under: Tom Brady

With training camp just around the corner, the AFC East blog is providing over/under totals throughout the week for key players in the division. On Thursday, we take a look at New England Patriots quarterback and future Hall of Famer Tom Brady, who will…

Share Tweet

profootballtalk.com

Jun 27, 2013

Bills coach Doug Marrone said "We're probably somewhere in the 90th percentile in each phase," in terms of installing new systems before training camp. One writer has dubbed the Dolphins S duo of Reshad Jones and Chris Clemons the league's best. The Pat…

Share Tweet

Hernandez's New Home

Jun 27

Bristol County Sheriff Thomas Hodgson gives an inside look at the Dartmouth Detention Center.

Piecing The Puzzle Together

Jun 27

Bob Holtzman with the timetable of events detectives have pieced together to charge Aaron Hernandez with murder.

Second person in custody for Hernandez case

Jun 27

Rich Hollenberg provides the latest details on former New England Patriots' tight end Aaron Hernandez's case, including a second person being taken into custody.

Hernandez Denied Bail

Jun 27

Roger Cossack reacts to the news that a judge denied Aaron Hernandez's request for bail.