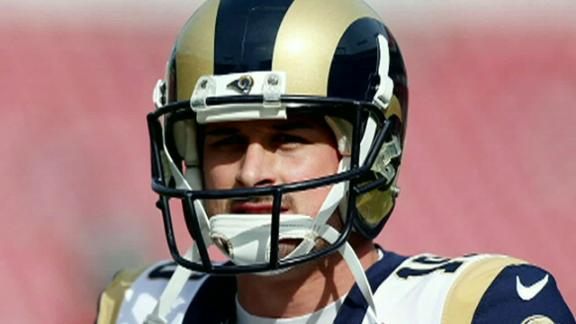 Updated Mar 29
Share
Tweet
New England Patriots wide receiver Danny Amendola touched on starting the process of developing a rapport with quarterback Tom Brady in an interview this week on 101ESPN St. Louis. The work apparently will start next week.
Sources:
ESPN.com
profootballtalk.com
Updated Mar 29

Share Tweet

Patriots safety Devin McCourty under went surgery on his shoulder earlier this offseason, but is expected to be ready in plenty of time before the start of training camp. The surgery was considered routine, aimed at strengthening the shoulder. It is not…

Sources:

patriotsgab.com boston.com

Updated Mar 29

Share Tweet

During a Wednesday appearance on ESPN New York, New England Patriots tight end Rob Gronkowski repeated his stance that a gay teammate would be accepted in his locker room. "I got this question before, about a year ago, and I basically will say the …

Source:

yahoo.com

Updated Mar 29

Share Tweet

Former LSU CB Tyrann Mathieu will visit the New England Patriots reportedly on April 5th. The Patriots are trying to get to know the CB better but their interest comes from meeting him at the NFL Combine. The interest I would believe is a real one, I'm

Sources:

patriotsgab.com profootballtalk.com

AFC East 2013 breakout players

Updated Mar 29

Share Tweet

The AFC East saw several breakout players make their marks last season. Buffalo Bills tailback C.J. Spiller, New England Patriots left tackle Nate Solder, and Miami Dolphins receiver Brian Hartline are among the players who had career years in 2012. So …

Source:

ESPN.com

Friday morning one-liners

Updated Mar 29

Share Tweet

The Dolphins signed Vaughn Martin before he could visit the Seahawks. Fifty years ago Thursday marked an important date in Jets history. Patriots right tackle Sebastian Vollmer, per the Boston Herald, feels "really good now" as he recovers from knee s

Source:

profootballtalk.com

Scouting the draft: Washington CB Desmond Trufant

Updated Mar 29

Share Tweet

With two brothers already having played professional football, Desmond Trufant will be the third member of his family to crash the pro ranks.

Source:

boston.com

Updated Mar 29

Share Tweet

A couple of days after signing a four-year contract to remain with the Patriots after nearly two weeks as a free agent, offensive lineman Sebastian Vollmer explained in a conference call why he wanted to remain with New England.

Source:

boston.com

ESPNBoston.com Daily Download

Mar 29

Michele Steele recaps the day in Boston sports which saw the Red Sox win in spring training action and the Bruins get jilted by Jarome Iginla.

On The Clock: Brady Or Manning?

Mar 29

Mel Kiper Jr., Chris Mortensen and Trent Dilfer discuss which quarterback has the better chance at winning the Super Bowl, Tom Brady or Peyton Manning.

Sports Columnists

Don Banks: Meet the Tampa 7, the successful spawn of a league laughingstoc…

Mar 29

As the 2013 NFL Draft looms less than four weeks away, first-year New York Jets general manager John Idzik likely feels the heat of the spotlight on him as much or more so than any club executive in the league. As a rookie GM in the NFL's biggest media …

NFL draft - A better way to correctly evaluate quarterback prospects might…

Mar 29

The next generation of combine drills could be a tool to evaluate draft prospects far more accurately.