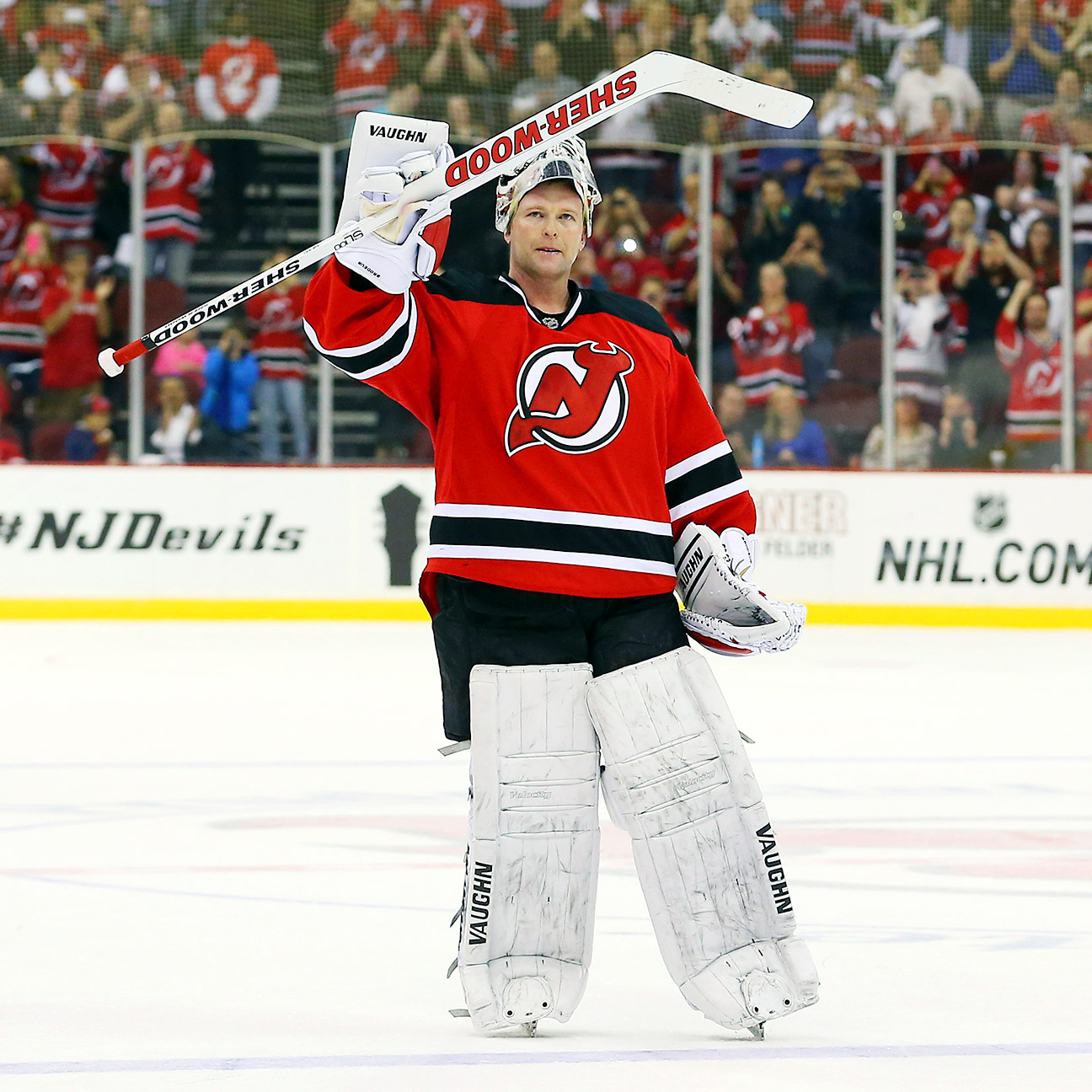 ESPN.com
NHL.com
thehockeynews.com
Updated 1 hour ago
Devils to retire Brodeur's No. 30 jersey on Feb. 9
Share
Tweet
NHL.com

1 hour ago

NEWARK, N.J. - New Jersey Devils will retire the No. 30 jersey of goaltender Martin Brodeur. The Devils announced Tuesday they also will erect a statue of their longtime goaltender during ceremonies at the game on Feb. 9 against the Edmonton ...

Share Tweet

thehockeynews.com

4 hours ago

When Scott Gomez was a Montreal Canadien, his inability to find the back of the net became a running joke. For more than a year — from Feb. 5, 2011 to Feb. 9, 2012 — Gomez hadn't scored a single regular season goal. It turned Gomez, who was earning $7 m…

Share Tweet

Devils acquire forward O'Neill from Kings

NHL.com

5 hours ago

Newark, NJ – The New Jersey Devils today acquired forward Brian O'Neill from the Los Angeles Kings in exchange for a conditional seventh-round selection in the 2017 NHL Entry Draft. In the event that New Jersey signs O'Neill to a new NHL Standard ...

Share Tweet

Getting To Know: Adam Larsson

thehockeynews.com

Oct 4 (2 days ago)

Status: New Jersey Devils defenseman. Ht: 6-3 Wt: 205 pounds DOB: November 12, 1992 In: Skelleftea, Sweden First Hockey Memory: "Tough one … I just remember I was playing on outside rink with my dad and brother, skating." Hockey Inspirations: "I would s…

Share Tweet

Rumor Roundup: Hurricanes, Flyers and Devils buzz

thehockeynews.com

Oct 3 (3 days ago)

As the upcoming NHL season draws near, the Carolina Hurricanes and captain Eric Staal have yet to reach an agreement on a long-term contract extension. Staal, 31, is eligible next summer for unrestricted free agency. If he tests the market in July, ther…

Share Tweet

Roundup: Capitals score late, top Bruins in shootout

NHL.com

Oct 2 (4 days ago)

Alex Ovechkin had the tying goal with 2:34 remaining in the third period, and T.J. Oshie and Evgeny Kuznetsov scored in the shootout to give the Washington Capitals a 2-1 preseason win against the Boston Bruins at Verizon Center on Friday. The ...

Share Tweet

Arizona State's new jerseys are in – with an awesome twist

thehockeynews.com

Oct 2 (4 days ago)

The Arizona State Sun Devils will kick off their new Division 1 existence this Saturday by playing against their former ACHA rivals, the University of Arizona Wildcats, at the NHL Coyotes' Gila River Arena. And since the Sun Devils are new to D1, they h…

Share Tweet

NHL.com thehockeynews.com

Sep 30 (6 days ago)

Travis Zajac broke a tie late in the second period and added an empty-net goal with 32 seconds left in the visiting New Jersey Devils' 4-2 victory over the Philadelphia Flyers in exhibition play Wednesday night. Tuomo Ruutu and Adam Henrique ...

Share Tweet

NHL.com

Sep 26

Derek Stepan scored two third-period goals to help the New York Rangers to a come-from-behind, 4-3 preseason win against the New Jersey Devils at Prudential Center on Saturday. After Reid Boucher gave the Devils a 1-0 lead 2:34 into the second ...

Share Tweet

thehockeynews.com

Sep 26

It hasn't taken long for speculation to arise tying Toronto Maple Leafs general manager (and former New Jersey Devils GM) Lou Lamoriello with a player on his former team. Sportsnet's Elliotte Friedman reports "more than one NHL exec" believes Lamoriello…

Share Tweet

thehockeynews.com

Sep 25

Yogi Berra played baseball and loved it, but when the World Series ended he adored his hockey as much as a Gordie Howe or Rocket Richard. I learned of Berra's ice passion when he hosted a book signing for my Metro Ice, a history of New York hockey, at t…

Share Tweet

NHL.com

Sep 23

Max McCormick, Alex Chiasson and Zack Stortini scored in 3:26 span in the second period to help the visiting Ottawa Senators beat the Buffalo Sabres 5-2 in exhibition play Wednesday night. Mika Zibanejad and Ryan Dzingel also scored for Ottaw...

Share Tweet

NHL.com

Sep 23

TORONTO - Five or six days a week, New York Yankees legend Yogi Berra would work out at the New Jersey Devils' practice facility and chat up former general manager Lou Lamoriello and his players. Lamoriello remembered his close friend, who di...

Share Tweet

Watch Jiri Tlusty and Tanner Glass exchange slashes, Glass nearly sucker punch Tlusty

thehockeynews.com

Sep 22

There isn't quite as much on the line in the pre-season as there is during the regular season, but that doesn't mean some on-ice battles can't get heated. And in the pre-season tilt between the New York Rangers and New Jersey Devils, Tanner Glass nearly…

Share Tweet

Preseason roundup: Gibbons, Megna lead Rangers

NHL.com

Sep 21

Jayson Megna had two goals, Kevin Klein had three assists, and the New York Rangers scored three unanswered goals to break open a 2-2 game and defeat the New Jersey Devils at Madison Square Garden. Rangers forward Brian Gibbons opened the scori...

Share Tweet

Islanders win preseason debut in Brooklyn, lose to Flyers on road; Rangers top Devils

NHL.com

Sep 21

John Tavares and Anders Lee each had a goal and an assist to help a New York Islanders split squad win its first preseason game in Brooklyn, 3-2 over a Philadelphia Flyers split squad Monday night. Kirill Petrov also scored for New York, whic...

Share Tweet

NHL.com

Sep 20

Matt Irwin scored twice on the power play and Jonas Gustavsson and Jeremy Smith combined for a shutout in the Boston Bruins' 2-0 win against the New Jersey Devils at Dunkin' Donuts Center in Providence, R.I. Irwin, who had eight goals in 53 ga...

Share Tweet

thehockeynews.com yahoo.com

Sep 19

2014-15 Record: 32-36-14 (78 Pts.) THN's Prediction: 7th, Metropolitan Division What To Expect: A new era begins in New Jersey, as the organization starts a season without Lou Lamoriello as GM for the first time in 28 years. Ownership nudged 'Lou' to st…

Share Tweet

Rumor Roundup: Will Grabner trade impact Okposo's future?

thehockeynews.com

Sep 19

The New York Islanders made a trade on the opening day of training camp, shipping winger Michael Grabner to the Toronto Maple Leafs for five minor leaguers. An unrestricted free agent next July, Grabner's slide down the Isles depth chart made him the su…

Share Tweet

NHL.com

Sep 17

NEW YORK, N.Y. - The New York Islanders agreed to a one-year deal with right wing Steve Bernier on Thursday. Financial terms of the deal weren't disclosed. The 30-year-old Bernier matched his career high with 32 points for New Jersey last ...

Share Tweet

thehockeynews.com

Sep 17

It took nearly the entire summer, but Jiri Tlusty has finally found a home for the 2015-16 season. The New Jersey Devils announced they have signed the left winger to a one-year, $800,000 contract, which stands to be an absolute steal of a deal for the …

Share Tweet

Bernier Scores Twice In Devils' Win

Mar 20

Steve Bernier scored his 100th career goal in the Devils' 3-1 win over the Sabres.

Devils Blank Penguins

Mar 17

Cory Schneider had 35 saves in the Devils' 2-0 win over the Penguins.

'SportsCenter's' Inside The NHL: Top 3 Goals

Mar 10

Jim Basquil counts down the top goals of the week from across the NHL.

Wild Rout Devils

Mar 10

Thomas Vanek scored two goals in the Wild's 6-2 win over the Devils.