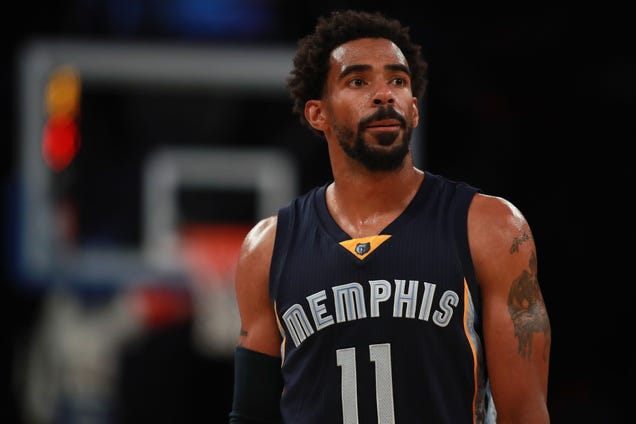 nba.com
deadspin.com
dimemag.com
Updated Nov 29
Grizzlies' guard Mike Conley is out at least six weeks after suffering transverse process fractures in the vertebrae during last night's loss to the Hornets, the Grizzlies confirmed on Tuesday:
Share
Tweet
Hornets' Marvin Williams (knee) expected to miss 1 week

nba.com

Nov 26

CHARLOTTE, N.C. (AP) - Charlotte Hornets forward Marvin Williams is expected to miss about a week after an MRI revealed a bone bruise in his left knee.

Share Tweet

nba.com

Nov 26

Warriors less 'awful' than Lakers | Record night for 3-pointers | Lee shows Celtics what could have been | Hornets' roster, record take hits

Share Tweet

Carmelo Anthony's Turnaround OT Dagger Kept The Knicks Winning Streak Alive

dimemag.com

Nov 26

The best player on the floor doesn't always make the most impactful play on a given night in the NBA, but on Friday, Carmelo Anthony checked both boxes for the New York Knicks. The Charlotte Hornets invaded Madison Square Garden for a post-Thanksgiving …

Share Tweet

yahoo.com

Nov 24

Tony Parker only made three field goals on Wednesday, but one of them was really big. (AP) It hasn't been the smoothest start to the season for Tony Parker. The San Antonio Spurs point guard entered the 2016-17 NBA campaign after an underwhelming turn w…

Share Tweet

Ricky Rubio Is Done Waiting For The Timberwolves To Get Good

deadspin.com

Nov 16

It's still way too early to be disappointed in the Minnesota Timberwolves, who fell to 3-7 after losing to the Charlotte Hornets last night. Still, this is a team that came into the season riding a massive wave of hype—KAT and Wiggins are stars! Thibode…

Share Tweet

Man, those hippos sure look hungry. (Screencap via NBA) Hey, need a break from whatever else is going on in your life and the world for a while? Please enjoy watching human beings dressed up like cartoon hippopotamuses and trying like hell to grab as ma…

Share Tweet

Shootaround (Nov. 9) -- Kyrie Irving bemoans his fourth-quarter woes

nba.com

Nov 9

Irving knows he must improve in 4th quarter | Knicks turn to Rambis to fix defense | Gasol a solid fit with Spurs' chemistry | Embiid stands by Sixers' rest plan | Barnes says Finals loss led to his exit

Share Tweet

yahoo.com

Nov 8

Charlotte Hornets big man Spencer Hawes is not a crook. (Getty Images) We're only a fortnight removed from Spencer Hawes disapproving of people more interested in "blurting the talking points that you see on cable news" than having a civil discussion ab…

Share Tweet

nba.com

Nov 8

Curry his record 13 3s vs. Pelicans | Wade wants Heat fans to embrace new era | Walker enjoying Hornets' success | Report: Lack of triangle bothers Jackson | Beal says Wizards have 'no toughness, no swag'

Share Tweet

yahoo.com

Nov 7

Matt Barnes (left) has Lance Stephenson's back. (Getty Images) Lance Stephenson entered the 2016-17 NBA season with a chance to make lemonade. No, the burly combo guard who rose with the Indiana Pacers before setting after cashing in with the Charlotte …

Share Tweet

Sixers And Hornets Give Up, Decide To Just Sort Of Flail Everywhere

deadspin.com

Nov 2

We've brought you a lot of dumb basketball lately, but good lord, this here sequence from the Sixers and Hornets is the worst offense yet. Read more...

Share Tweet

nba.com

Nov 1

CHARLOTTE, N.C. (AP) -- Cody Zeller said he's always considered himself a simple kid from Indiana.

Share Tweet

Shootaround (Oct. 29): Victor Oladipo settling in next to Russell Westbrook

nba.com

Oct 29

Oladipo settling in alongside Westbrook | Curry awakens, sparks Warriors | Hornets are all about the fight | A kinder, gentler Thibodeau in Minnesota?

Share Tweet

dimemag.com

Oct 21

Getty Image Welcome to Hoop Dreams, a season preview unlike any other you'll read before the 2016-17 season tips off. The premise is simple. We'll be providing 30 of these fictional forays because it simply stinks that only one team can win the title ea…

Share Tweet

Charlotte Hornets' Marvin Williams out with broken finger

nba.com

Oct 19

CHARLOTTE, N.C. (AP) -- Hornets forward Marvin Williams will miss the remainder of the preseason with a non-displaced fracture of his left middle finger.

Share Tweet

yahoo.com

Oct 6

The 2015-16 campaign was supposed to be cut short before it even started. Michael Kidd-Gilchrist was knocked out of a heavy chunk of the season during the team's training camp with a bum shoulder, limiting the team's options even in the wake of the acqu…

Share Tweet

yahoo.com

Oct 3

Anthony Carter drives on Baron Davis. (Getty Images) Anthony Carter played his final NBA game on Leap Year Day in 2012. Then a member of the Toronto Raptors, Carter missed his lone shot attempt in ten seconds of play in an 11-point Raps win over the the…

Share Tweet

Warriors Cruise Past Shorthanded Pelicans

Mar 20

Playing without Anthony Davis, the Pelicans fell to the Warriors, who got 22 points from Harrison Barnes in a 112-96 win.

Suns Beat Davis-Less Pelicans

Mar 19

The Suns held on to beat the Pelicans, who played without center Anthony Davis.

Nuggets Survive In Double OT

Mar 15

Kenneth Faried dropped 20 points and pulled down 10 rebounds to help the Nuggets outlast the Pelicans in double overtime 118-111.

NBA Top Plays

Mar 15

Anthony Davis' block that led to a high-flying slam is the top play of the night in the NBA.