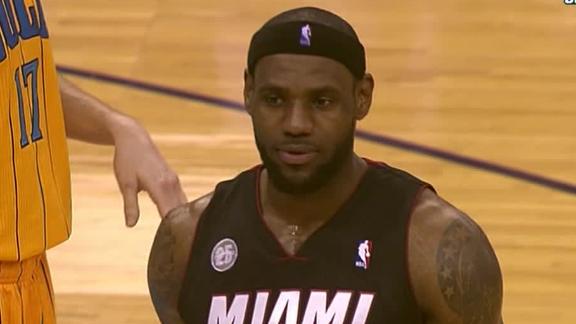 ESPN.com
Updated Mar 29, 2013
LeBron James scored 36 points, hitting six consecutive 3-pointers in less than six minutes during the first half, and the Miami Heat rebounded from their first loss in nearly two months to beat the New Orleans Hornets 108-89 on Friday night.
Share
Tweet
LeBron James' Hot Hand Lifts Heat

Mar 29

Behind 36 points from LeBron James, the Heat beat the Hornets 108-89 to clinch the top seed in the East.
Sports Columnists
Jack McCallum: Syracuse's NCAA tournament success re-energizes coach Jim B…

Mar 29

WASHINGTON, D.C. -- A couple hours after the 61-50 victory over Indiana, Syracuse coach Jim Boeheim and his oldest son, Jimmy, pondered the family's postponed trip to Disney World.