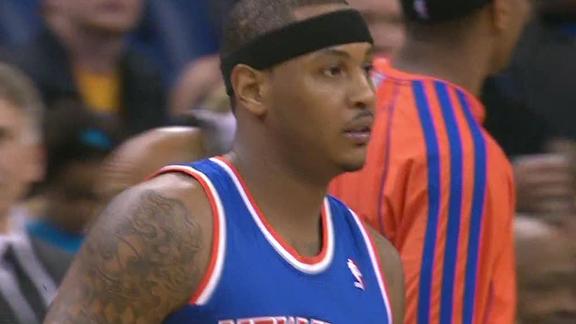 Carmelo Anthony scored 29 points and the New York Knicks extended the undermanned New Orleans Hornets' losing streak to four games with a 102-80 victory Tuesday night.
Share
Tweet
Somehow The Knicks Managed To Get Even Older

deadspin.com

Nov 20, 2012

Popped on ESPN.com to check the boxscore of tonight's Knicks-Hornets game. Had to see how the local basketball team was doing. According to the boxscore, the Knicks have on their bench a 54-year-old guard/forward who last played in 1991. That's a vetera…

Share Tweet
Knicks Roll Hornets, 102-80

Nov 20

Carmelo Anthony leads Knicks to big win over Hornets.

TrueHoop TV: Austin Rivers

Nov 20

ESPN Insider Amin Elhassan with Henry Abbott on why Hornets rookie Austin Rivers will continue to struggle until he learns to trust his teammates.