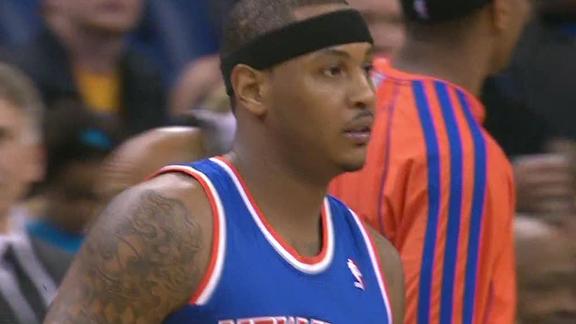 Updated Nov 20, 2012
Share
Tweet
Carmelo Anthony scored 29 points and the New York Knicks extended the undermanned New Orleans Hornets' losing streak to four games with a 102-80 victory Tuesday night.
Somehow The Knicks Managed To Get Even Older

Updated Nov 20, 2012

Share Tweet

Popped on ESPN.com to check the boxscore of tonight's Knicks-Hornets game. Had to see how the local basketball team was doing. According to the boxscore, the Knicks have on their bench a 54-year-old guard/forward who last played in 1991. That's a vetera…

Source:

deadspin.com
Knicks Roll Hornets, 102-80

Nov 20

Carmelo Anthony leads Knicks to big win over Hornets.

TrueHoop TV: Austin Rivers

Nov 20

ESPN Insider Amin Elhassan with Henry Abbott on why Hornets rookie Austin Rivers will continue to struggle until he learns to trust his teammates.
Sports Columnists
Ian Thomsen: Why Cavaliers' Irving is not yet an elite point guard; more m…

Nov 20

Last week I compiled a list of the NBA's top point guards. There turned out to be nine of them, headed by Rajon Rondo, and your responses focused on one player from Cleveland who didn't make the list. So let's get straight to your questions (and suggest…