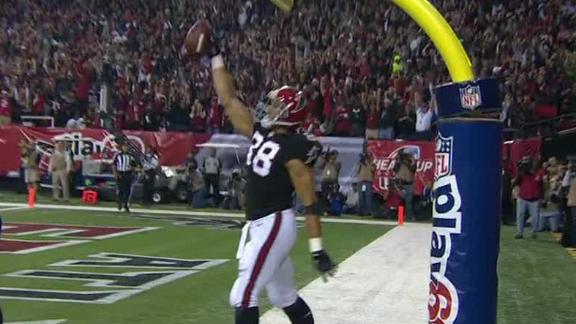 ESPN.com
nola.com
profootballtalk.com
Updated Nov 29, 2012
The Atlanta Falcons raced to a 17-0 lead and the defense made it stand up, picking off five of Drew Brees' passes and ending his NFL-record touchdown streak with a 23-13 victory Thursday night.
Share
Tweet
profootballtalk.com tampabay.com ESPN.com

Nov 29, 2012

The Atlanta Falcons intercepted quarterback Drew Brees five times on Thursday night as the Falcons improved to a league-leading 11-1 with a 23-13 win over Saints. Atlanta's defense helped snap Brees' streak of 54 consecutive games with a touchdown pas

Share Tweet

deadspin.com ESPN.com

Nov 29, 2012

Falcons 23, Saints 13: I'll admit, I wasn't too high on the Falcons coming into tonight's contest, which seemed not like the typical "trap game"-the Saints are way too talented to catch anyone off guard in such a respect-but it just felt like perhaps

Share Tweet

ESPN.com

Nov 29, 2012

Lawyers for players appealing NFL suspensions in the New Orleans Saints bounties case cross-examined one key witness Thursday. Now they're supposed to get a chance to confront another central figure: former Saints defensive coordinator Gregg Williams.

Share Tweet

The Falcons were trying to extend their unbeaten record at the Georgia Dome this season and an eight-game winning streak overall at home. They have won all five home games this season entering their game with the Saints on Thursday...

Share Tweet

nola.com profootballtalk.com

Nov 29, 2012

In New Orleans, Judge Berrigan issues order requesting more information

Share Tweet

New court order suggests judge is leaning against NFL in bounty case

profootballtalk.com

Nov 29, 2012

On the same day that former Saints assistant Mike Cerullo testified in the bounty appeal hearing convened by former Commissioner Paul Tagliabue, Judge Helen Berrigan issued a reminder that she has ultimate jurisdiction over the process. And she hinted t…

Share Tweet

profootballtalk.com yahoo.com nola.com ESPN.com

Nov 29, 2012

Falcons cornerback Asante Samuel was listed as questionable for tonight's game against the Saints. But Samuel's hurt shoulder held up well enough in pregame warmups that he's good to go. Samuel is active for Atlanta, which is very good news: The Sai

Share Tweet

Strief set to start after missing the last three games

Share Tweet

nola.com profootballtalk.com

Nov 29, 2012

The egg throwing incident involving a Saints busing leaving the Hartsfield-Jackson Atlanta International Airport on Wednesday remains under investigation. But according to the airport's director of marketing and stakeholder engagement Myrna White, the s…

Share Tweet

ATLANTA -- Want to see what the New Orleans Saints bus looked like after being egged on Wednesday when the team arrived here for tonight's NFC South clash with the Falcons? Atlanta's Fox 5 has a couple of photos.  The...

Share Tweet

New Orleans Saints vs. Atlanta Falcons: Gameday breakdown

nola.com

Nov 29, 2012

Everything you need to know about Thursday night game

Share Tweet

ESPN.com

Nov 29, 2012

NFL officials and Sean Payton's agent, Don Yee, are finalizing the conditions under which the suspended New Orleans Saints coach can attempt to negotiate a contract extension with New Orleans, according to a league source.

Share Tweet

Drew Brees: Everyone knows the bounty investigation was a sham

profootballtalk.com

Nov 29, 2012

Saints quarterback Drew Brees is once again ripping the NFL for suspending some of his teammates and coaches for violating the league's bounty rules. Brees told Michael Irvin on NFL Network that the bounty discipline, including the yearlong suspension o

Share Tweet

Saints' Brees looks to lead team, city once again

Nov 29

New Orleans Saints quarterback Drew Brees sits down with Michael Irvin to discuss bountygate, his contract situation, a slew of head coaches in 2012 and everything else included in what has been an emotional year for the Saints' quarterback.

Brees, Saints continue to overcome adversity

Nov 29

New Orleans Saints quarterback Drew Brees sits down with Michael Irvin and discusses the adversity his team has overcome in 2012 and the cohesiveness it takes to continue to rise above.

Saints Team Bus Egged In Atlanta

Nov 29

ADam Schefter reports on the Saints players saying that the team bus was egged by ramp workers at the Atlanta airport.

Breaking Down The Falcons' Win

Nov 29

Tim Hasselbeck breaks down the Falcons win over the Saints.

Sports Columnists

AFC playoff races wrapping up early -- John Clayton's First & 10

Nov 29

The AFC playoff races are on the verge of wrapping up early, John Clayton writes.