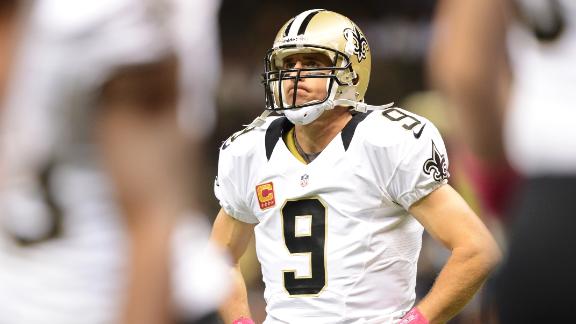 ESPN.com
profootballtalk.com
CNNSI.com
nola.com
Updated Oct 7, 2012
Thoughts on the New Orleans Saints' 31-24 victory against the San Diego Chargers on Sunday night at the Mercedes-Benz Superdome: What it means: It was a nice night for the Saints. Suspended coach Sean Payton, assistant head coach Joe Vitt and general ma…
Share
Tweet
CNNSI.com yahoo.com ESPN.com nola.com profootballtalk.com

Oct 7, 2012

The Saints notched their first win in style. Drew Brees broke Johnny Unitas' record by throwing a TD in his 48th straight game, helping New Orleans rally to overtake San Diego 31-24.

Share Tweet

ESPN.com profootballtalk.com

Oct 7, 2012

Saints starting cornerback Jabari Greer has left Sunday night's game against San Diego because of what team officials say is a hip injury.

Share Tweet

Since his arrival in New Orleans in 2006, Drew Brees has been piling up huge numbers. He's set records and won a lot of games -- and a Super Bowl. But I don't think those records or even the Super Bowl are what define Brees. I think the record he set

Share Tweet

Robert Meachem caught 23 touchdown passes in four years with the Saints. And though his first four games as a Charger were frustrating, he's on the board with his 24th now. The Chargers jumped out to a 7-0 lead over the Saints, when Meachem caught a  1

Share Tweet

The Colts Discount Double Checked And B.J. Raji-Shuffled All Over The Packers: Your Sunday NFL GIF Roundup

deadspin.com

Oct 7, 2012

Here's where we're putting the GIFs of the week, from Donald Brown triumphantly trolling the Packers to Brandon Lloyd dancing around like no one's looking. Only the Chargers and Saints have yet to play, so let's see what the week had to offer. More »

Share Tweet

Chris Ivory active for first time this season

The Saints say that Mark Ingram isn't the only thing wrong with their running game, but they've decided to take a look at another running back for Sunday night's game against the Chargers all the same. Chris Ivory is on the 46-man roster for the fir

Share Tweet

Lance Moore, Nate Kaeding headline Chargers, Saints inactive lists

yahoo.com

Oct 7, 2012

New Orleans Saints quarterback Drew Brees is poised to surpass Hall of Fame quarterback Johnny Unitas' for the most consecutive games with a touchdown pass. If Brees can add a touchdown pass against the San Diego Chargers on Sunday night, he'll have had…

Share Tweet

nola.com

Oct 7, 2012

CB Jabari Greer leaves with undisclosed injury in second quarter

Share Tweet

Mike Smith understands Falcons won't get respect until they win in "second season"

The Falcons have rocketed to 5-0, and only a home game with the Raiders next Sunday stands in their way of entering the bye week at 6-0.  Coupled with the struggles of teams like the Panthers, Buccaneers, and Saints, it's a matter of when Atlanta clinc

Share Tweet

Eli extends 200-yard streak to 24 games

On the same day that Saints quarterback Drew Brees could set the record for consecutive games with a touchdown pass at 48, Giants quarterback Eli Manning has extended his streak of consecutive games with 200 yards or more passing to 24. It's the second

Share Tweet

Like the Saints, the Colts don't have immediate access to their head coach. Unlike the Saints, the Colts can hear from their head coach on a regular basis.  And they apparently will. Chuck Pagano remains hospitalized while he undergoes treatment for le

Share Tweet

Wilson's sack-fumble seals victory

Oct 7

New Orleans Saints DE Martez Wilson recovers the football after sacking San Diego Chargers QB Philip Rivers, helping solidify a 31-24 victory.

Colston gets his third TD

Oct 7

New Orleans Saints QB Drew Brees lobs the ball to WR Marques Colston who comes down with the catch for a 5-yard TD to gain a 28-24 lead over the San Diego Chargers in the fourth quarter.

Colston 19-yard TD

Oct 7

New Orleans Saints QB Drew Brees hits WR Marques Colston for a 19-yard TD to gain a 14-10 lead over The San Diego Chargers in the second quarter.

WK 5 Can't-Miss Play: Brees breaks Unitas' record

Oct 7

New Orleans Saints QB Drew Brees hits WR Devery Henderson for a 40-yard touchdown to make it his 48th straight game with a touchdown pass, breaking Johnny Unitas' old record.

Sports Columnists

Don Banks: Broncos were prepared mentally, but not physically, for Patriot…

Oct 7

FOXBORO, Mass. -- After another loss to New England was in the books -- their third in the span of 10 games, including last season's playoffs -- Champ Bailey and the rest of his Broncos teammates found the repetition of it all a little wearing.