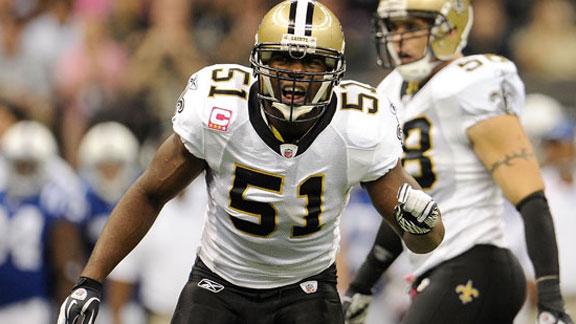 profootballtalk.com
ESPN.com
Updated Oct 9, 2012
The Commissioner's re-issued bounty discipline resulted in, as a practical matter, a $564,000 gift to Saints linebacker Jonathan Vilma, given that his one-year ban has been reduced to 10 games without pay, following the completion of his six-week stint
Share
Tweet
ESPN.com nytimes.com

Oct 9, 2012

The Pro Football Hall of Fame has received the football Drew Brees threw to eclipsed Hall of Fame quarterback Johnny Unitas' record of 47 consecutive games with a touchdown pass.

Share Tweet

Will Smith complains about "arrogance and agenda" of NFL investigators

Of the four players who received renewed discipline for their involvement in the Saints' alleged bounty program, only Saints defensive end Will Smith had no changes made to his penalty. He initially was suspended four games, and he once again has been s

Share Tweet

Opinion: New Orleans Saints punishments still too severe, but at least NFL being open with its evidence

There's no debating that Saints' crimes existed -- only whether punishment fits the crime

Share Tweet

Roger Goodell Reinstates Saints Bounty Program Suspensions, Writes Prickish Letters To Those Involved

deadspin.com

Oct 9, 2012

Roger Goodell, having tripped all over his dick as regards the Saints' bounty program, is back to swinging the stupid thing in our faces again. Today, he reinstated the suspensions of all four players, although three of them were given more lenient puni…

Share Tweet

Goodell: Saints targeted Panthers in 2010

ESPN.com

Oct 9, 2012

In a memo to all 32 NFL teams announcing the revised punishment from the alleged three-year bounty program run by the New Orleans Saints, NFL commissioner Roger Goodell revealed a significant detail about a 2010 game with Carolina. In a previous memo, G…

Share Tweet

NFLPA fires back after bounty discipline announcement

If you think the drama surrounding the Saints bounty penalties is going to die down anytime soon, think again. The NFLPA released the following statement, moments after the NFL released Roger Goodell's slight changes to the punishments of four players:

Share Tweet

profootballtalk.com ESPN.com

Oct 9, 2012

NFL Commissioner Roger Goodell has altered the suspensions of three of the four players who were disciplined as a result of the league's investigation into the Saints' bounty program. The player who got the best result was Browns linebacker Scott Fuji

Share Tweet

Outside the Game: Kyle Turley hopes to get back to NFL stadiums - this time, with his band

yahoo.com

Oct 9, 2012

As a football player, offensive lineman Kyle Turley was best-known for one incident. When Turley's Saints played the New York Jets at the Superdome in November of 2011, there was a play in which Jets defensive player Damien Robinson was trying to twist …

Share Tweet

NFL reduces many original penalties for players connected to New Orleans Saints bounty scandal

Jonathan Vilma suspended for remainder of the season

Share Tweet

Suspended New Orleans Saints snared by own words

ESPN.com

Oct 9, 2012

Roger Goodell used the suspended Saints' own words against them in the bounty case, writes Jeffri Chadiha.

Share Tweet

Four weeks and three days after an internal appeals panel vacated suspensions imposed on Saints linebacker Jonathan Vilma, Browns linebacker Scott Fujita, Saints defensive end Will Smith, and free-agent defensive end Anthony Hargrove, the league has re-…

Share Tweet

New Super Bowl book will interest New Orleans Saints fans

Veteran NFL writer Bob McGinn says Saints were aggressors in Super Bowl XLIV

Share Tweet

New Orleans Saints interim coach Aaron Kromer from Monday's press conference: replay

Aaron Kromer goes over the Saints' plan for the bye week

Share Tweet

New Orleans Saints chat with beat writer Nakia Hogan at noon

Join New Orleans Saints beat writer Nakia Hogan for a chat, as the Saints settle into their bye week following Sunday's 31-24 victory over the San Diego Chargers. The chat will begin at noon, and it will continue for about...

Share Tweet

New Orleans Saints finally produce a pass rush, even when they weren't blitzing: Film study

Saints blitzed on 13 of the Chargers' 51 drop-backs in 31-24 victory

Share Tweet

Countdown Daily Insight: Record-Breaking Brees

Oct 9

Prim Siripipat and Eric Allen break down Drew Brees' performance on Sunday and talk about the Saints' season outlook

Goodell Upholds Vilma Penalty

Oct 9

Roger Goodell has reduced the bounty-related suspensions of two players while upholding the punishment of two others.

NFL Live OT: Saints' Suspensions

Oct 9

NFL Live OT on Roger Goodell reducing the bounty-related suspensions of two players while upholding the punishment of two others.