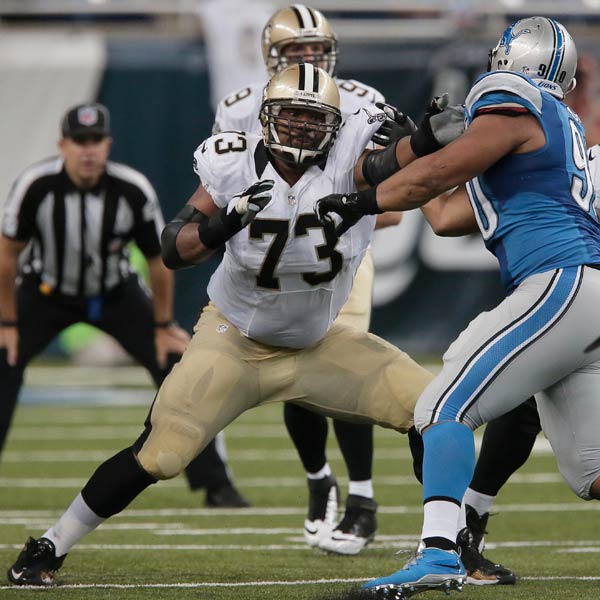 Roman Harper, Pierre Thomas accepted similar 'extensions' in previous offseasons.
Share
Tweet
nola.com profootballtalk.com

13 minutes ago

Cornerbacks Kyle Wilson, Patrick Robinson share similar paths

Share Tweet

New Orleans Saints top list of 2014 non-playoff teams to advance to 2015 postseason, website says

nola.com

4 hours ago

One prognosticator sees the Saints going 12-4 in 2015

Share Tweet

Saints TE Josh Hill flattered by Sean Payton's praise, but still driven

Share Tweet

New Orleans Saints head to Miami to check out Denzel Perryman

nola.com

20 hours ago

Perryman is considered one of the draft's top inside linebacker prospects and could be a second-round option for the Saints.

Share Tweet

Lance Stephenson doesn't regret his decision to sign with the Charlotte Hornets as a free agent, even though this season has been a huge struggle for the five-year NBA veteran.

Share Tweet

New Orleans Saints need the Brandon Browner who shut down Calvin Johnson: Film Study

The 6-foot-4, 221-pound cornerback turned 'Megatron' into a non-factor en route to the Patriots' 34-9 win over Detroit last season

Share Tweet

New Orleans Saints kept 1 of 3 restricted free agents: Should they have tendered the others?

The team re-signed Bryce Harris earlier this month, while running back Travaris Cadet and defensive lineman Tyrunn Walker left for other clubs.

Share Tweet

Will the Saints make more moves prior to the draft? Chat with Katherine Terrell at 11 a.m.

Send in your questions about the Saints for beat writer Katherine Terrell

Share Tweet

Mark Ingram "looking forward" to splitting time with C.J. Spiller

profootballtalk.com

Mar 31 (yesterday)

Mark Ingram got the most work of his NFL career during the 2014 season and responded with 964 rushing yards and nine touchdowns in the final year of his rookie contract. Ingram parleyed that success into a new four-year, $16 million deal with the Saints…

Share Tweet

Columnist Jeff Duncan predicts the New Orleans Saints' 7-round NFL Draft.

Share Tweet

Saints down to $850K in cap space based on Dannell Ellerbe deal

ESPN.com

Mar 30 (yesterday)

The New Orleans Saints are down to roughly $850,000 in salary-cap space according to updated information from ESPN Stats & Information and the NFL Players Association -- a decrease of $700,000 from previous estimates. The difference comes from lineb…

Share Tweet

New Orleans Saints offseason summary, NFL Draft outlook | Black and Gold Today

nola.com

Mar 30 (yesterday)

Your daily snapshot of all things New Orleans Saints

Share Tweet

Chris Myers visiting Seahawks

profootballtalk.com

Mar 30 (2 days ago)

The Seahawks traded last year's starting center Max Unger to the Saints in the deal for tight end Jimmy Graham and they're visiting with a potential replacement on Monday. PFT has learned, via a league source, that Chris Myers is in Seattle for a visit.…

Share Tweet

Chat with Larry Holder at 11 a.m. as New Orleans Saints move forward in NFL draft process

nola.com

Mar 30 (2 days ago)

Free agency has slowed down in the NFL, but the Saints could become active within the NFL draft

Share Tweet

nola.com profootballtalk.com

Mar 30 (2 days ago)

Saints will be a headliner in draft, writes Peter King

Share Tweet

Extra Points: How the PAT Could Change by This Fall

CNNSI.com

Mar 30 (3 days ago)

We're exactly one month out from round one of the NFL draft. There's a lot to cover this week, including: Ten questions for eight coaches at the league meetings, which just concluded in Arizona Pete Carroll tells me he is not tortured. (Didn't think he …

Share Tweet

Inside The Huddle: C.J. Spiller A Saint

Mar 26

Coach Sean Payton loves C.J. Spiller. He sees Spiller being great at screens, sweeps and inside runs, an explosive runner..

Saints Need To Catch A Star With First Pick

Mar 26

ESPN Saints reporter Mike Triplett says New Orleans must land a Pro Bowl-caliber player with the 13th overall draft pick, with pass-rusher and wide receiver atop the list of need positions.

Payton: Brees One Of The Best

Mar 25

Saints coach Sean Payton talks about New Orleans' re-tooled offense and how it will help Drew Brees. Then Adam Schefter, Chris Mortensen and Bill Polian break down his comments.

Benson: State Of Saints, Pelicans 'Very Strong'

Mar 24

Saints reporter Mike Triplett discusses New Orleans Saints and Pelicans owner Tom Benson's comments on both the difficult decisions he's made in ousting his former heirs from the family business and the significant changes to the Saints' roster.