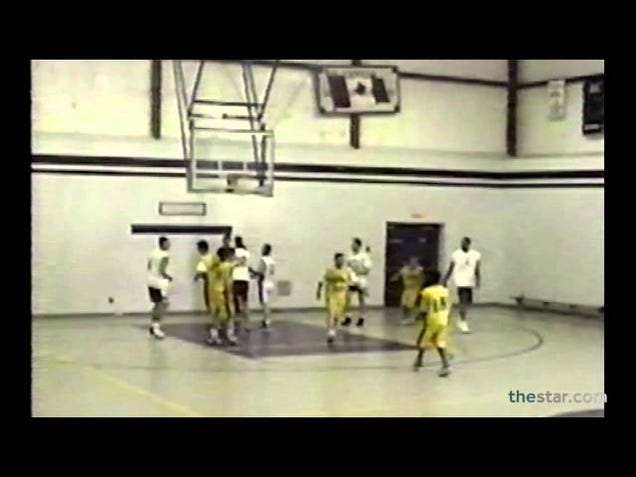 13-Year-Old Steph Curry Already Had Sick Moves
deadspin.com
Updated 20 hours ago
The Toronto Star found this video of a 13-year-old Curry (number 12) leading the Queensway Christian College Saints Grade 7 and 8 boys basketball team up against the school staff—and his father—during the 2001-02 school year. Not surprisingly, the team …
Upvote
Share
Tweet
New Orleans Saints coaching staff: How they connected before they were here

nola.com

19 hours ago

The coaching business is a small world, and head coach Sean Payton could rely on both connections and resumes when hiring new staff members.

Upvote Share Tweet

Recent cuts put Atlanta Falcons in far different free-agent buying position than New Orleans Saints, report says

nola.com

21 hours ago

Recent cuts by the Falcons have put the team $31.8 million below the expected $143 million salary cap, the Atlanta Journal-Constitution website reported.

Upvote Share Tweet

profootballtalk.com nola.com

21 hours ago

The Benson Family Feud features hard feelings and strong opinions and high stakes and plenty of lawyers, sparked by Saints owner Tom Benson's decision to re-write his will in a way that altered the succession plan for his NFL and NBA franchises. A new r…

Upvote Share Tweet

New Orleans Saints' Orson Charles receives diversion in alleged 'road rage' incident, according to report

Charles was signed to the Saints practice squad last September. He signed a futures contract for 2015 after the season.

Upvote Share Tweet

"I think you have to rely on your gut, but during the week that data can shape the way you feel and what your gut is," Payton said.

Upvote Share Tweet

The Saints are capable of creating more than enough cap room to make improvements for 2015

Upvote Share Tweet

As Junior Galette's giant bonus looms, New Orleans Saints face tough decisions

nola.com

Feb 27 (2 days ago)

Galette's fully guaranteed roster bonus takes effect March 13. If the Saints can't void the guarantee, they'll likely convert the roster bonus to a signing bonus, alleviating what would be a brutal salary cap hit in 2015.

Upvote Share Tweet

Could flooded RB market lower Mark Ingram's price tag?

ESPN.com

Feb 27 (2 days ago)

New Orleans Saints running back Mark Ingram did just about everything he could last season to boost his value heading into free agency. But I still think it's possible that Ingram can remain in an affordable price range for the Saints to keep him (maybe…

Upvote Share Tweet

Does New Orleans Saints helmet need a makeover?

New Orleans Saints helmet listed as one of top five in need of a makeover.

Upvote Share Tweet

profootballtalk.com nola.com

Feb 26 (3 days ago)

On February 9, a judge in Bexar County, Texas ruled that Saints owner Tom Benson needed assistance in managing his assets and appointed two people to do that while Benson and members of his family continue their litigation in New Orleans over Benson's d…

Upvote Share Tweet

NFL spokesman Brian McCarthy said the league will "review the decision."

Upvote Share Tweet

ESPN.com

Feb 26 (3 days ago)

ESPN draft analyst Todd McShay stuck with a pass-rusher for the New Orleans Saints in his latest mock draft (requires Insider access). But he switched from Florida's Dante Fowler Jr. to Clemson's Vic Beasley after both improved their stock during last w…

Upvote Share Tweet

Tyler Jangula, who went through mini-camp with Saints in 2009, dies in North Dakota

Jangula, who was 28, died on Feb. 1, just two days after undergoing surgery for a torn Achilles, according to the Fargo (N.D.) Forum.

Upvote Share Tweet

Mark Ingram, Patrick Robinson top Saints' potential free agents, and other links

Three mock drafts, three different opinions on the Saints' pick

Upvote Share Tweet

Former Saints star is a long shot to sign with Saints

Upvote Share Tweet

LSED, SMG awaiting offical commitment from Saints on Mercedes-Benz Superdome upgrades

A new HD room and scoreboards and video boards are in the works for Mercedes-Benz Superdome and Smoothie King Center.

Upvote Share Tweet

New Orleans Saints' Terry Fontenot has greater 'voice' in front office after changes

"When you have a person like Ryan (Pace) leave, multiple people have to step up," Fontenot said.

Upvote Share Tweet

Former New Orleans Saints tight end Boo Williams shares struggle with depression in ESPN story

Williams told ESPN he planned to end his life on the railroad tracks in the shadow of the team's headquarters in Metairie.

Upvote Share Tweet

Winners from the 2015 NFL Scouting Combine

A look at 10 players that improved their draft stock with strong performances a the NFL Scouting Combine in Indianapolis last weekend.

Upvote Share Tweet

Pelicans Squeak By Heat

Feb 27

Alexis Ajinca had 24 points, including the game winner, in the Pelicans' 104-102 victory over the Heat.

Friday's Pro Basketball Picks

Feb 27

ESPN Chalk's Erin Rynning takes a look at Friday's Miami-New Orleans and Oklahoma City-Portland matchups.

Pelicans Stun Raptors

Feb 23

Six Pelicans scored in double figures in New Orleans' 100-97 win over Toronto.

Wade, Whiteside In Sync

Feb 21

Heat center Hassan Whiteside throws down a two-handed alley-oop from guard Dwyane Wade in the second quarter against the Pelicans.