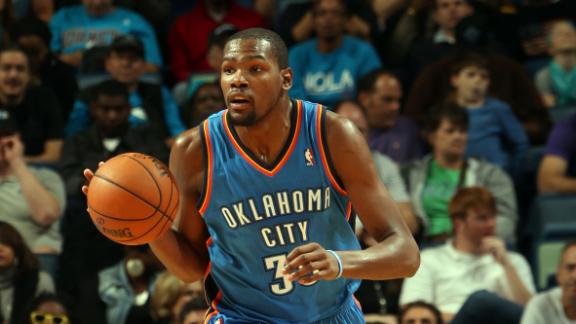 ESPN.com
Updated Dec 1, 2012
Kevin Durant scored 20 points, Russell Westbrook added 18 points and 10 assists, and the Oklahoma City Thunder won their fifth straight game, 100-79 over the struggling New Orleans Hornets on Saturday night.
Share
Tweet
Meet New Orleans Saints super fans Mark Glorioso, Stephen Leger: The Sainturions

nola.com

Dec 1, 2012

You wouldn't notice unassuming pair outside of Superdome

Share Tweet

Drew Brees' mistakes add up to worst performance with New Orleans Saints: Film Study

nola.com

Dec 1, 2012

A breakdown of Brees' Thursday night breakdown vs. Atlanta Falcons

Share Tweet

nytimes.com

Dec 1, 2012

Last week Michael Jordan, the owner of the Charlotte Bobcats, said that he would be open to changing the team's name to the Hornets should the franchise in New Orleans follow through with plans to change its name to something more befitting that city.

Share Tweet

Vilma provides simple summary of Friday's bounty hearing

profootballtalk.com

Dec 1, 2012

No one is talking about this week's bounty developments.  Yet. Asked by the powers-that-be to be discreet, none of the lawyers or other attendees have cracked the cone of silence regarding the testimony of former Saints assistant Mike Cerullo and forme

Share Tweet

Vitt confident Brees will bounce back after debacle in Atlanta

profootballtalk.com

Dec 1, 2012

Saints quarterback Drew Brees had a stunningly bad game on Thursday night in Atlanta, with no touchdowns and five interceptions. But Saints coach Joe Vitt says his quarterback is the least of his worries. Vitt said on Friday that there's no difference b

Share Tweet

Thunder Roll To Fifth Straight Win

Dec 1

Kevin Durant scores 20 points to lead Thunder to 100-79 win over Hornets.