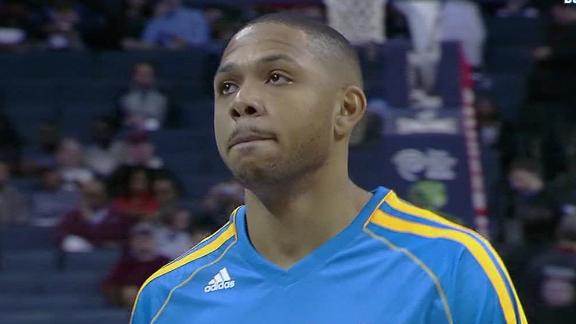 Eric Gordon had 24 points and seven assists, helping the New Orleans Hornets overcome a 21-point first-half deficit and extend the Charlotte Bobcats' losing streak to 18 games with a 98-95 victory Saturday night.
Share
Tweet
profootballtalk.com ESPN.com deadspin.com

Dec 29, 2012

When Sean Payton returns to coach the Saints after his yearlong suspension, he'll do so with a salary that may make him America's highest-paid coach, in any sport. Payton's five-year contract with the Saints is expected to pay him more than $8 milli

Share Tweet

Drew Brees Is Now Being Used To Sell Bath Salts (The Kind You Smoke)

deadspin.com

Dec 29, 2012

This should be obvious, but if you want to sell narcotic bath salts masquerading as aromatherapy powder, there's no better packaging than Drew Brees, photoshopped to make it look like he's wearing Heath Ledger's Joker makeup (we think). It's basic marke…

Share Tweet

Feelin' the Brees: New Orleans Saints' offensive stats through Game 15

nola.com

Dec 29, 2012

An illustrated look at how Drew Brees and the 7-8 New Orleans Saints' top five offensive playmakers have performed this season and during their 34-31 overtime victory over the Dallas Cowboys

Share Tweet

Benson, Brees remained confident of Payton deal

profootballtalk.com

Dec 29, 2012

New Orleans NFL and NBA owner Tom Benson sat in his courtside seats for Friday night's Hornets game, joined by the Archbishop of New Orleans, and eventually, the head Saint. Before the game ended, Sean Payton joined his boss after agreeing in principle

Share Tweet

Garrett Staying Put After Payton Deal

Dec 29

John Clayton talks about Sean Payton's deal with the Saints and what that means for Jason Garrett and the Cowboys.

Hornets Hand Bobcats Their 18th Straight Loss

Dec 29

Eric Gordon scores 24 in his season debut, leading Hornets to 98-95 win over Bobcats.