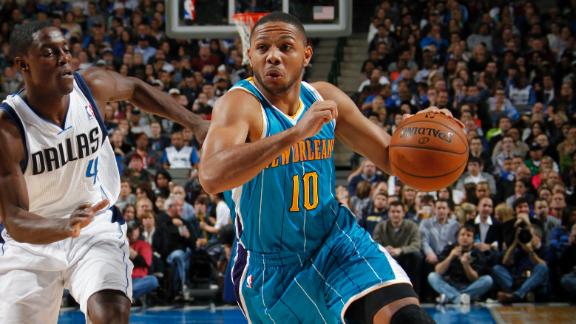 Updated Jan 5
Share
Tweet
Eric Gordon completed a three-point play with 4.7 seconds left in overtime and the New Orleans Hornets won 99-96 Saturday night at Dallas to spoil the Mavericks' first game this season with Dirk Nowitzki in the starting lineup.
Source:
ESPN.com
Updated Jan 5

Share Tweet

Earlier today, Adam Schefter of ESPN reported that NFL Commissioner Roger Goodell won't consider a reinstatement request from Saints coach Sean Payton until after the Super Bowl. Not so fast, the NFL says. According to league spokesman Greg Aiello, no t

Sources:

profootballtalk.com ESPN.com nola.com

A son of a New Orleans Saint makes his mark: Jeff Duncan's Weekly Reader

Updated Jan 5

Share Tweet

Cincinnati Bengals Pro Bowl defensive tackle Geno Atkins is the son of former Saints safety Gene Atkins.

NFL playoff picks from NOLA.com panel

Updated Jan 5

Share Tweet

NFL playoffs begin with wild-card round this weekend

Updated Jan 5

Share Tweet

A look at what is happening in the NFL on Saturday

Hornets Topple Mavs In OT

Jan 5

Eric Gordon's three-point play in OT propels Hornets to 99-96 win over Mavericks.