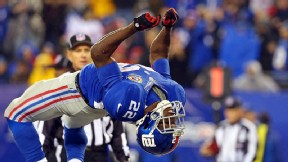 nydailynews.com
profootballtalk.com
ESPN.com
giantsfootballblog.com
nytimes.com
Updated Dec 14, 2012
The Giants' offense won't quite be its fearsome self on Sunday in Atlanta. But a bigger concern for the Super Bowl champs just may be this: Their defense won't be itself, either.
Share
Tweet
Cruz says contract is a "matter of time"

Earlier in the season, Giants receiver Victor Cruz said the structure was in place for a new contract, which would compensate the third-year, minimum-salary wideout far more handsomely for his performance. Since then, the deal hasn't been finalized. "

Share Tweet

Giants head coach Tom Coughlin announced today that rookie David Wilson would start Sunday's contest in Atlanta. Ahmad Bradshaw was ruled out with knee and foot injuries, leaving Wilson to handle the bulk of the workload in the running game in what will

Share Tweet

CNNSI.com ESPN.com giantsfootballblog.com profootballtalk.com

Dec 14, 2012

EAST RUTHERFORD, N.J. (AP) -- The New York Giants will play a critical game Sunday afternoon against the Atlanta Falcons without their leading rusher.

Share Tweet

For each sack, 49ers linebacker Aldon Smith donating $5,099 to Boys & Girls Clubs

yahoo.com

Dec 14, 2012

San Francisco 49ers outside linebacker and Defensive Player of the Year candidate Aldon Smith is approaching former New York Giants and current FOX pregame panelist Michael Strahan's single-season record for quarterback sacks. Smith needs just three sac…

Share Tweet

Temple hires Giants assistant as new head coach

Temple has offered its head coaching job to Giants assistant offensive line coach Matt Rhule, according to OwlScoop.com. He was one of two NFL assistants to interview for the job, along with Eagles defensive coordinator (and former Temple safety) Todd B…

Share Tweet

Giants will be shorthanded in Atlanta

The New York Giants have ruled out running back Ahmad Bradshaw, cornerback Prince Amukamara and safety Kenny Phillips for Sunday's critical game against the Falcons in Atlanta due to their injuries. All of the injuries are major as the Giants try to bec…

Share Tweet

Quirks of the Game: Should the N.F.L. Kill the Kickoff?

nytimes.com

Dec 14, 2012

Tampa Bay Coach Greg Schiano has proposed doing away with kickoffs to make the game safer. The idea has yet to gain much support.

Share Tweet

Week 15 Sunday Picks: Falcons out to show they're legitimate Super Bowl contenders

yahoo.com

Dec 14, 2012

New York Giants at Atlanta Falcons The Falcons are in the midst of the most successful period in the organization's history, but have yet to win the playoff game necessary to validate the Mike Smith/Thomas Dimitroff Era. The Giants have won the last fou…

Share Tweet

Coordinator Corner: Kevin Gilbride Prepares for Falcons' Defense

Giants offensive coordinator Kevin Gilbride met the media Thursday, and of course, one of the main topics of discussion was Ahmad Bradshaw. Bradshaw's sprained knee may keep him out of Sunday's contest against the Atlanta Falcons. That just means that

Share Tweet

Osi Umenyiora sees opportunities for Giants D-line

Numbers never lie. Not only is a TV program on ESPN2, but it's a common phrase when it comes to qualifying the legitimacy of statistics. In many instances, however, statistics can be manipulated to give credence to any point trying to be made. The New

Share Tweet

Better to receive: A Friday debate post

There are few teams (if any) in the NFL that can match the New York Giants for the quality of their top two wide receivers, but they play one of them Sunday. The Atlanta Falcons' outstanding duo of Roddy White and Julio Jones is a vital reason the Falco…

Share Tweet

With Prince Amukamara questionable, Perry Fewell relying on Jayron Hosley

Giants defensive coordinator Perry Fewell won't officially rule out safety Kenny Phillips for Sunday's contest in Atlanta. Nor would he hint as to what Prince Amukara's status is. It's a next man up mentality for Big Blue. And since a number of ro

Share Tweet

The war of words between the Giants and Falcons regarding who has the better receiving corps has quelled the past few days. With the Giants' Hakeem Nicks and Atlanta's Roddy White hobbling around, both teams will be at less than 100% Nicks (knee) prac

Share Tweet

Giants defensive end Osi Umenyiora didn't know Pat Hill was the Falcons new offensive line coach. But he said he could tell from watching tape things were different. Some accused the Falcons blockers of dirty play last year, and after other teams accus

Share Tweet

Breakfast links: Giant hopes for Hokies

New York Giants If Prince Amukamara can't play Sunday because of his hamstring injury, rookie Jayron Hosley would get the start at cornerback for the Giants in his place. That would mean they could be counting on two Virginia Tech rookies to help them w…

Share Tweet

Former Super Bowl winning coach and FOXSports analyst Brian Billick previews the Giants' Week 15 trip to Atlanta.

Share Tweet

NFL Kickoff OT: Key Games For Week 15

Dec 14

NFL Kickoff OT breaks down the big games for week 15.

New York Giants Stevie Brown providing boost to G-Men

Dec 14

New York Giants safety Stevie Brown discusses his success, the Giants' remaining schedule and the feel around the team's locker room.

Best Week 15 Matchups

Dec 14

Mark Schlerth and Tedy Bruschi break down which matchups they are looking forward to this weekend.

Giants Field Pass: at Falcons

Dec 14

Ohm Youngmisuk previews Sunday's playoff rematch, and possible playoff preview, when the Giants head to Atlanta to take on the Falcons.