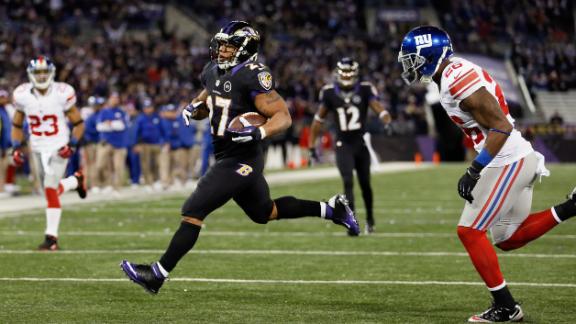 Tom Coughlin PostGame Comments

Tom Coughlin met the media after the Giants' disappointing showing in Baltimore today….. "I thought our week was a good week. I thought last night our meetings were well done. I think we came in here and we tried hard. We worked hard at it. We obvio

Upvote Share Tweet

nytimes.com

Dec 23, 2012

If the Giants are not able to get the help needed to slip into the playoffs, what is the most glaring area of need that must be addressed in the off-season?

Upvote Share Tweet

giantsfootballblog.com nytimes.com

Dec 23, 2012

Let's make this as easy as possible. First, don't get your hopes up. Second, get ready to do some scoreboard watching. If Seattle wins tonight, they are still alive for the division and can win it next week. The 49ers will get at least a wildcard. The

Upvote Share Tweet

Giants have a meltdown in Baltimore, Cowboys' NFC East hopes alive again

yahoo.com

Dec 23, 2012

The Cowboys' sorrow on Sunday didn't last too long, because the Giants had a loss that was just as disappointing and nowhere near as competitive. New York put up an absolute stink-bomb in Baltimore, losing 33-14 at Baltimore. So even though Dallas lost …

Upvote Share Tweet

SUPER COAL: Giants spending Christmas with season on brink

The defending Super Bowl champions stepped onto the turf at M&T Bank Stadium and gave yet another listless, passionless performance, falling to the Ravens, 33-14, and completely losing control of their destiny.

Upvote Share Tweet

They couldn't have played any worse in a game where they needed to be at their best. The Giants were trounced by the Baltimore Ravens this afternoon, 33-14, in a game that Baltimore took control of from the first minute and never let go. The Giants were

Upvote Share Tweet

For the second straight week, the Giants forgot they had a football game to play on Sunday. The Ravens exploited the Giants' defense for a 33-14 blowout victory. And Corey Webster was one of the main defensive culprits for the Giants. Play after play, J

Upvote Share Tweet

CNNSI.com

Dec 23, 2012

The Bengals are playoff-bound and the Steelers aren't. Cincinnati's 13-10 win was a tour de force performance by maybe the NFL's most off-the-radar defense, says Don Banks.

Upvote Share Tweet

Members of the Giants talked a lot about how the team waits to flip the switch until the last possible second this week. That moment is drawing closer by the second. The Giants trail the Ravens 14-0 with 4:24 left in the first quarter of a game they nee…

Upvote Share Tweet

ESPN.com profootballtalk.com giantsfootballblog.com

Dec 23, 2012

The New York Giants will be without defensive captain Justin Tuck and safety Kenny Phillips for Sunday's game against the Baltimore Ravens.

Upvote Share Tweet

After a loaded early part of the schedule on Sunday, the late afternoon slate is light on action. There are just three games, but there are playoff consequences to all of them. The inactive players for those games have rolled in and we've got them all h

Upvote Share Tweet

Eli should take Peyton's advice, do the opposite

For the fourth time this year, Eli Manning's Giants will be facing a team that his brother's Broncos previously played.  For the fourth time this year, Eli has gotten some information from Peyton regarding the defense Eli will be facing, after Peyton

Upvote Share Tweet

ESPN.com

Dec 23, 2012

Join our ESPN.com NFL experts as they break down the contest between the New York Giants and the Baltimore Ravens. Contribute your thoughts and questions beginning at 4:25 p.m. ET. See you there. Countdown Live: Giants-Ravens

Upvote Share Tweet

profootballtalk.com giantsfootballblog.com

Dec 23, 2012

From the moment former Giants GM Ernie Accorsi was enlisted to help the Panthers with their search for a new general manager, two names surfaced immediately as potential replacements for Marty Hurney - Giants college scouting director Marc Ross and long

Upvote Share Tweet

What to Expect Today: The Unexpected

Jim Mancari: Everyone has been saying that the Giants come through with the season on the line. I also believe this is true, but I have a feeling it's not going to be easy beating the Ravens traveling to Baltimore. I'm expecting a tight contest with a

Upvote Share Tweet

The Giants (8-6) are in Baltimore this afternoon to face the playoff-bound Ravens. It is a must-win game if they have any designs on qualifying for the postseason, although they would not necessarily be eliminated should they lose. The Ravens come into …

Upvote Share Tweet

The Giants are the big game in town now, because of the two Super Bowls in the five seasons before this one, because of the way they won those Super Bowls, two championships that stand with anything that has ever happened in New York sports, any sport, …

Upvote Share Tweet

Manning, Cruz, know 1 play can boost G-Men

In the Giants' darkest moment one year ago, their backs weren't just against the wall, they were against their own end zone, too. It was third-and-10 from their own 1 and they were a 7-7 team staring at elimination and trailing the Jets 7-3 with halft

Upvote Share Tweet

Giants postgame press conference

Dec 23

Giants react following game with Ravens

Ravens Clinch AFC North With Win Over Giants

Dec 23

The Ravens tallied more than 500 yards of offense in a 33-14 victory against the Giants.

Sunday Blitz: Giants-Ravens Recap

Dec 23

Jim Basquil and Eric Allen break down the Ravens' 33-14 win over the Giants.

Giants vs. Ravens highlights

Dec 23

Baltimore Ravens quarterback Joe Flacco throws for 309 yards and two touchdowns as the Ravens beat the New York Giants 33-14 to clinch the AFC North.