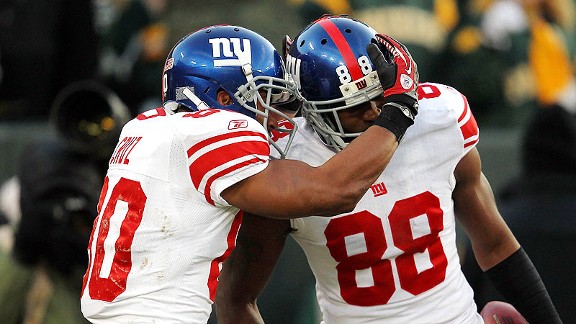 ESPN.com
giantsgab.com
Updated Feb 15, 2013
Eli Manning knows he has it pretty good. The New York Giants quarterback won his second Super Bowl title (and MVP award) last year with the help of two star wide receivers who bring none of the diva element often associated with star wide receivers. Man…
Share
Tweet
Offense Positional Analysis: Offensive Line

Unlike years past, the 2012 Giants offensive live experienced a great deal of shuffling. For the most part as a unit, the line did a good job of protecting Eli Manning. But the performance against the Atlanta Falcons in the 34-0 loss unfortunately cast …

Share Tweet

Can Andre Brown be the Giants' starting RB?

Earlier today, the New York Post reported Giants RB Andre Brown is come September. Obviously, with the release of incumbent Ahmad Bradshaw, the battle for the No. 1 spot on the depth chart is between Brown and David Wilson. It does beg the question, how…

Share Tweet

Sports Columnists

Jim Trotter: San Diego Chargers 2013 Offseason Preview

Feb 15

SI.com is laying out offseason road maps for all 32 teams as they start their journey for the Lombardi Trophy -- two teams per day, from the teams that need the most work to contend in 2013 to the ones that are in pretty good shape. See them all.