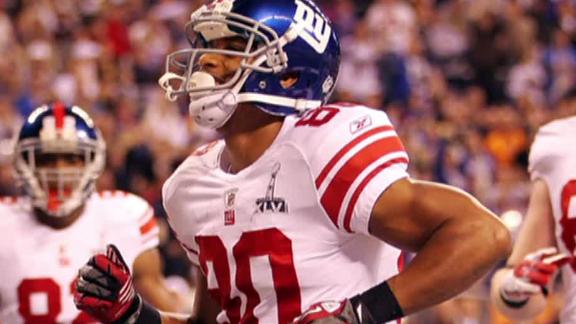 giantsfootballblog.com
nytimes.com
profootballtalk.com
ESPN.com
yahoo.com
CNNSI.com
nydailynews.com
Updated Jun 14, 2013
Now that WR Victor Cruz has signed his tender, the road ahead is clearer. Both sides are playing it by the book. A del is forthcoming somewhere between what Cruz is asking and what the Giants are offering. Book it. It will get done. From Mike Florio of …
Share
Tweet
Prince Amukamara shooting to be best corner in the league

profootballtalk.com

Jun 14, 2013

Giants defensive back Terrell Thomas says that his teammate Prince Amukamara is "still a little wet behind the ears mentally" entering his third NFL season. That's not a reference to Amukamara's infamous trip into the cold tub at Giants training c

Share Tweet

Signs of Summer: Giants Break for Six Weeks

giantsfootballblog.com

Jun 14, 2013

The Giants begin their break for summer vacation today and won't return until July 26, when the team opens training camp. Camp will be held here at TPC this year, not in Albany, so we will keep you posted on which dates will be open to the public. From

Share Tweet

profootballtalk.com nydailynews.com

Jun 14, 2013

The Giants were next-to-last in the league in total defense last year, and it took the Saints breaking the league record for charity to surpass them. And then, instead of adding a lot of parts, the Giants lost some, moved others, and walk into the year …

Share Tweet

Special Teams: Kicker and Both Returner Spots Remain Open

giantsfootballblog.com

Jun 14, 2013

WR Rueben Randle is in the mix for both kick and punt returns. For the first time in several years, the Giants are facing multiple changes on special teams. The constants they will carry into this season are the punter (Steve Weatherford) and the long s…

Share Tweet

Rex Ryan may have to follow Tom Coughlin's lead with Eli Manning and Kurt Warner by benching Mark Sanchez for Geno Smith

nydailynews.com

Jun 14, 2013

Tom Coughlin waited until the first sign of trouble, which came after the ninth game of the 2004 season. The Giants had just lost two in a row when he made the franchise-defining decision to switch from veteran Kurt Warner to rookie Eli Manning, even th…

Share Tweet

Giants WR Victor Cruz signs restricted free agent tender

Jun 14

New York Giants wide receiver Victor Cruz has signed his restricted free agent tender, Ian Rapoport reported Friday.

Cruz Signs Tender

Jun 14

Ed Werder discusses why Giants WR Victor Cruz decided to sign his first-round restricted free agent tender worth $2.879 million.