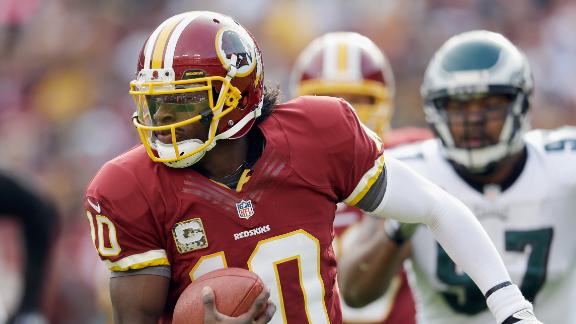 ESPN.com
Updated Nov 18, 2012
LANDOVER, Md. -- A few thoughts on the Washington Redskins' fairly easy victory over the Philadelphia Eagles on Sunday at FedEx Field. What it means: The Redskins move within two games of the division-leading Giants, and at 4-6, they are not, technicall…
Share
Tweet
Top 10 NFL Quarterbacks to Date: Where Eli Manning fits in

giantsfootballblog.com

Nov 18, 2012

Every week we debate whether quarters are elite or not. We say "these are the top 5 guys," referring to Peyton Manning and Tom Brady and Drew Brees, and we forget about an Aaron Rogers or an Eli Manning, and then we fret when someone doesn't mention

Share Tweet

NFC East Blog: Boys, Skins Should Prevail

giantsfootballblog.com

Nov 18, 2012

from Jimmy Kempski of Blogging the bEast….. Browns at Cowboys: The Cowboys have three consecutive home games against bad teams (Browns, Redskins, Eagles).  This is an absolute golden opportunity for them to make a serious run at the Giants for the div

Share Tweet

Sports Columnists

Don Banks: Luck, Colts get an up-close lesson about what it takes to be el…

Nov 18

FOXBORO, Mass. -- By late Sunday night there was still no word yet on whether Andrew Luck's mother (or perhaps his father in this case) told him there'd be days like this. But no matter. By the time this one was over, it was well understood that a messa…

Don Banks: NFC East again a mess you can't take your eyes off of; more Sna…

Nov 18

FOXBORO, Mass. -- Musings, observations and the occasional insight from a wild, overtime-drenched Week 11 in the NFL...