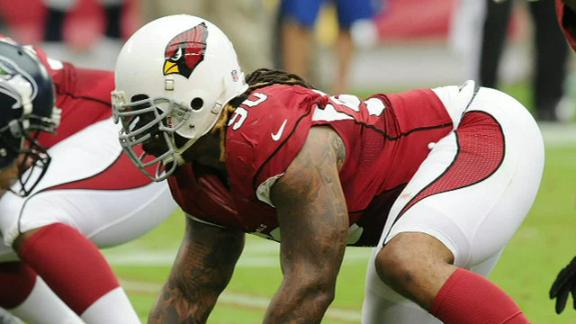 ESPN.com
CNNSI.com
profootballtalk.com
Updated Dec 7, 2012
Arizona Cardinals defensive end Darnell Dockett has been fined a "six-figures" amount for allegedly spitting at teammate Kerry Rhodes and disobeying the team's plan to let the Jets score, a source told ESPN.
Share
Tweet
New York Jets Head Coach Rex Ryan 12.7

 Opening Statement… We'll start with injuries because nobody likes to do that. Clyde Gates will be out, obviously with the concussion. He's still wearing sunglasses. He's out. "Snacks" Damon Harrison, he is doubtful. He had an ankle injury ye

Share Tweet

Here's three players that the Jets will have to take special attention of come Sunday's game against Jacksonville. Chad Henne — Henne is playing well in relief of Blaine Gabbert, but he's still only connecting with his targets at a 52% completion

Share Tweet

CNNSI.com ESPN.com profootballtalk.com

Dec 7, 2012

FLORHAM PARK, N.J. (AP) -- Rex Ryan says he'll make a game-time decision on whether Tim Tebow plays in the New York Jets' game in Jacksonville against the Jaguars on Sunday.

Share Tweet

ESPN.com

Dec 7, 2012

New York Jets quarterback Mark Sanchez will be back under center this weekend, but he most likely will be without his most reliable weapon. The Jets listed starting tight end Dustin Keller (ankle) as "doubtful" for Sunday's game against the Jacksonville

Share Tweet

ESPN.com profootballtalk.com CNNSI.com

Dec 7, 2012

The Jaguars have ruled wide receiver Cecil Shorts out for Sunday's game against the New York Jets due to concussion symptoms.

Share Tweet

Great Gains in the Run?

While there's lots of problems with the Jets, one of the areas of marked improvement has been the team's ability to run the ball over the last month. Ryan told reporters yesterday that keeping players healthy is paramount. The key, Ryan says, is the v

Share Tweet

Steelers, Broncos, Giants and Jets: Answers to Readers' Questions

nytimes.com

Dec 7, 2012

Judy Battista, the N.F.L. reporter for The Times, answers questions from readers.

Share Tweet

At Least It's Not For Granted Anymore

Jane McManus chronicles Sparano's thoughts on Mark Sanchez and how he's responded this week to being benched last weekend to the lusty cheers of the home crowd. Mark Sanchez and his return from the Jets bench has gone well this week, offensive coordin

Share Tweet

A Breath of Fresh Air?

Mike Kurlyo writes for Fifth Down that sometimes the best thing for a player who has struggled in one environment is to try their luck in another city.  Of course in the case of the Jets, getting rid of Mark Sanchez is easier said than done with the con…

Share Tweet

ESPN.com

Dec 7, 2012

Authorities who raided Indiana properties owned by former New York Jets offensive lineman Jason Fabini and his brother have searched three more Fort Wayne sites.

Share Tweet

BGA Extra: Cardinals at Jets

This analysis is based on watching and re-watching TV footage. As such, it is not always possible to accurately determine everything that was going on. However, every effort has been made to ensure that the information below is as complete and correct a…

Share Tweet

profootballtalk.com

Dec 7, 2012

G Andy Levitre is the iron man of an injury-ravaged Bills offensive line. Dolphins T Jonathan Martin isn't getting an easy task in his first start at left tackle. CB Kyle Arrington has adjusted well to his role as the Patriots' nickel corner. The Jets

Share Tweet

'Playbook': New York Jets vs. Jacksonville Jaguars

Dec 7

Can the New York Jets win with Mark Sanchez as their quarterback? The "Playbook" guys discuss if the Jets' offense can provide enough to get past the Jacksonville Jaguars.

Three Keys For The Jets

Dec 7

Rich Cimini with his three keys for the Jets Sunday versus the Jaguars and a preview.