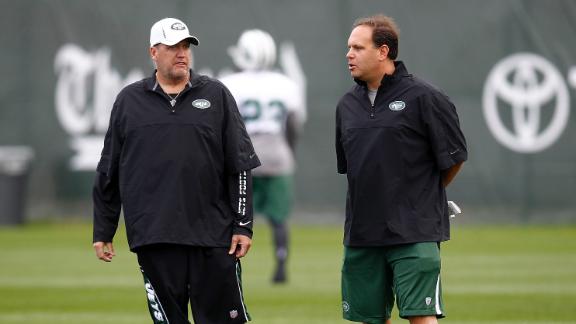 nydailynews.com
ESPN.com
CNNSI.com
profootballtalk.com
yahoo.com
thejetsblog.com
Updated Dec 31, 2012
That huge sigh of relief you heard on Monday morning was emanating from Florham Park and it came from Rex Ryan. On Black Monday around the NFL, Ryan was not singing the same blues as seven of his other coaching brethren from around the league.
Share
Tweet
nydailynews.com profootballtalk.com

Dec 31, 2012

There's at least one person who's optimistic about Mark Sanchez's future, and that would be Sanchez himself. The Jets' quarterback isn't allowing a disastrous season to get him thinking what many Jets fans are: that he is toast as a New York Jet.

Share Tweet

thejetsblog.com ESPN.com

Dec 31, 2012

While everyone expected Tony Sparano gone today, it looks like it's not yet happened according to Jane McManus of ESPN NY. Sparano was back to work on Monday. Mark Sanchez said he had met with his coordinator that morning, and Sparano is keeping up the

Share Tweet

nytimes.com

Dec 31, 2012

Darrelle Revis, out since Week 3 with a torn anterior cruciate ligament, said he would like to stay with the Jets for the long term.

Share Tweet

Bill Polian apparently turned down a request from the Jets to interview for the GM job before they engaged with Korn/Ferry to take care of the search according to USA Today. Before the New York Jets hired a search firm to look for a new general manager,…

Share Tweet

Jets Sign Eight to Future/Reserve Contracts

On an odd day for the organization the Jets have signed eight players to reserve/future contracts.  Here's the list … more on them later. JoJo Dickson - LB 6-1 245 Idaho Tevita Finau —DT 6-5 288 Utah Jaiquawn Jarrett —FS 6-0 196 Temple Den

Share Tweet

thejetsblog.com buffalobills.com

Dec 31, 2012

This analysis is based on watching and re-watching TV footage. As such, it is not always possible to accurately determine everything that was going on. However, every effort has been made to ensure that the information below is as complete and correct a…

Share Tweet

thejetsblog.com ESPN.com

Dec 31, 2012

The Jets have already reached out to a few candidates as far as we know.  Here's a list of some suspects that the Jets might consider interviewing for the current GM opening. Tom Gamble - The current director of player personnel in San Francisco has

Share Tweet

Jets hold nose, ask Giants for help

Perhaps Jets owner Woody Johnson is finally interested in stealing something besides the back pages from the Giants. According to Kimberly Jones of the NFL Network, the Jets have asked permission to talk to Giants college scouting director Marc Ross for…

Share Tweet

Plenty of Questions Remain

After terminating Mike Tannenbaum from the organization, a meeting was held this afternoon for the assistant coaches. Apparently, it yielded little information about their futures and they may be in the dark until a new general manager is found. Assista…

Share Tweet

Jets and Jags ask to interview Tom Gamble

At the moment, Tom Gamble works for one of the league's more stable franchises. The 49ers director of player personnel apparently will have a chance to fix two that don't share that designation. ESPN's Adam Schefter reports that both the Jets and Ja

Share Tweet

Jets postpone Rex presser, trigger collective "Hmmmmmm"

If you take it at face value, the fact Rex Ryan isn't talking today might mean nothing. But with the Jets, seldom does anything mean nothing. Ryan, who the owner has already said he would retain after the firing of general manager Mike Tannenbaum, had b

Share Tweet

NFL Network Not Even Bothering To Spell "Jets" Correctly Anymore

deadspin.com

Dec 31, 2012

When you go 6-10 without once starting a competent quarterback, when your season is derailed by locker room backbiting and anonymous shit-talk, when your second-string QB generates the biggest awareness-to-playing-time ratio in football's history, then …

Share Tweet

Jets' potential GM candidates

ESPN.com

Dec 31, 2012

Now that Mike Tannenbaum is out as the Jets' general manager, ESPNNewYork.com's Rich Cimini takes a look at some names that likely are on the team's radar. Jerry Angelo, former Bears GM -- A well-respected football man who built the Bears' 2006 Super Bo…

Share Tweet

Jets correct to fire Tannenabum, keep Ryan

ESPN.com

Dec 31, 2012

The New York Jets are far from done. But their two initial moves were both correct. New York fired embattled general manager Mike Tannenbaum and retained head coach Rex Ryan on Monday. This pair suffered back-to-back non-winning seasons in New York (6-1…

Share Tweet

Bills RB C.J. Spiller squeezed in one more big play before the end of the season. Dolphins RB Reggie Bush wound up 14 yards shy of 1,000 for the season. The Patriots' offensive line put together a stronger game than in recent weeks. Said Jets CB Antonio

Share Tweet

Two Bad Traits That Don't Go Great Together

Jason over at NYJetsCap.com has a great article in which he does a quick recap of the Jets game/season and he talks about a lot of topics.  It's well worth the read, but two of the most interesting points in his article were about Rex Ryan's fatal fl

Share Tweet

A year ago, Tim Tebow was a playoff-winning quarterback. Sunday, he was again reduced to a fan with a good seat, as his little-used year with the Jets ended in familiar fashion. He took one snap in Sunday's finale, handed off to Joe McKnight, and then b

Share Tweet

nytimes.com nydailynews.com

Dec 31, 2012

The Jets will make many changes in the off-season, but the biggest question will probably be answered later Monday: whether Rex Ryan will return as coach.

Share Tweet

Tebow's tiny role done

nydailynews.com

Dec 31, 2012

The lost season of Tim Tebow's football career ended with the reserve quarterback rotating between a standing position on the sideline and a heater near the bench. He was on the field Sunday at Ralph Wilson Stadium for one play - a handoff to tailback

Share Tweet

Historic Day Of Moves In The NFL

Dec 31

Adam Schefter discusses the number of head coaches and general managers who have been fired.

Countdown Daily Hot Topics: Week 17

Dec 31

Antonio Pierce answers your facebook questions

Tannenbaum Fired, Ryan Safe

Dec 31

Chris Mortensen and Adam Schefter discuss the Jets' firing of general manager Mike Tannenbaum and Rex Ryan's future as head coach.

Mike Tannenbaum out as New York Jets GM

Dec 31

The "NFL AM" crew talks about what it means for Rex Ryan now that Mike Tannenbaum is out as New York Jets general manager..