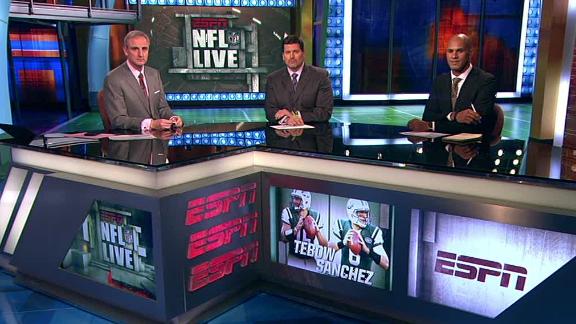 ESPN.com
deadspin.com
nydailynews.com
Updated Jan 2, 2013
With the New York Jets organization preparing to begin interviews with general manager candidates, and with his coaching staff in limbo, Rex Ryan is on vacation in the Bahamas, sources confirmed Wednesday night.
Share
Tweet
Though no official decision has been made on New York Jets offensive coordinator Tony Sparano, sources told ESPNNewYork.com that Rex Ryan wants to bring in a new coordinator, and former San Diego Chargers coach Norv Turner is said to be on his short lis…

Share Tweet

Ryan to Return and Address Media Thursday

jetsgab.com

Jan 2, 2013

After a formal complaint was filed by the Pro Football Writers Association, the Jets have suddenly put together the year end media session with coach Rex Ryan and owner Woody Johnson. The Jets canned the coach talking Monday after players cleaned out th…

Share Tweet

Next Tuesday's press conference featuring Jets owner Woody Johnson and Jets coach Rex Ryan will be the franchise's most anticipated press conference since officially introducing the quarterback they never used. This time, the anticipation comes from t

Share Tweet

Jets Sign Four to Future/Reserve Contracts

In addition to the eight announced yesterday, the Jets have signed four more players to future/reserve contracts. WR Joseph Collins (6'3"³, 200), Weber State, Seaside, CA DE Claude Davis (6'2"³, 234), South Florida, Lakeland, FL WR Emmanuel Arceneau

Share Tweet

#Jets GM interviews will commence on Friday.- Rich Cimini (@RichCimini) January 02, 2013 So with that, the Jets have slated to start their interviews at the end of this week.  Expect to hear names like Gamble, Ross, Heckert, Gaines, Caldwell and others

Share Tweet

Blogger Blitz: Rebuild or reload?

AFC East blogger James Walker talks about the questions surrounding the Jets organization as they head into the offseason.

Share Tweet

Jets miss 7-day media window, violate policy

The New York Jets announced Wednesday that Woody Johnson and Rex Ryan will conduct a "season ending" news conference next Tuesday. By waiting that long, the Jets will be in violation of the league's media policy.

Share Tweet

Questions Remain After Jets Cancel Presser with Ryan

jetsgab.com

Jan 2, 2013

The Jets cancelled a scheduled press conference with head coach Rex Ryan on Monday after firing GM Mike Tannenbaum and there has been no mention of rescheduling according to Manish Mehta of the New York Daily News reports. According to NFL media policy,…

Share Tweet

yahoo.com

Jan 2, 2013

Run, Rex, run! You didn't think the NFL's greatest reigning dumpster fire would just flicker and die at the end of the season, did you? No, the New York Jets remain the gift that keeps on giving, even after they've stumbled into the offseason. The New Y…

Share Tweet

ESPN.com profootballtalk.com

Jan 2, 2013

Jonathan Vilma on Wednesday reacted angrily to a report citing an anonymous New Orleans Saints player criticizing defensive coordinator Steve Spagnuolo, saying "we're not the Jets."

Share Tweet

Jets will hold press conference next Tuesday

We won't be getting any more daily updates about whether or not the Jets are going to hold a press conference. The team announced Wednesday that owner Woody Johnson and coach Rex Ryan will meet the media next Tuesday at 11 a.m. ET. That will be the firs

Share Tweet

The Silence Ends Next Tuesday

The Jets have announced that Woody Johnson and Rex Ryan will hold a press conference to address the media next Tuesday (January 8). There has been considerable wetting of the trousers on Twitter as an NFL spokesman has pointed out that this violates the…

Share Tweet

Hope and concern: New York Jets

The New York Jets finished another disappointing season with a 6-10 record in 2012. Here are reasons to be hopeful and concerned about New York's 2013 offseason: Reason for hope: A new general manager Former embattled Jets general manager Mike Tannenbau

Share Tweet

Every NFL coach who still has a job has addressed the media since the conclusion of the regular season.  Every coach except Jets coach Rex Ryan. Ryan's Monday press conference was canceled.  Via Rich Cimini of ESPNNewYork.com, neither Ryan nor owner W

Share Tweet

There was speculation early in the process about former Browns general manager Tom Heckert wanting to link up with coach Andy Reid at his next stop, fueled largely by the words out of Heckert's own mouth. Now as the rumor mill spins, comes new word that

Share Tweet

NFL32OT: Will Cowboys Make Big Changes?

Jan 2

Episode 241: Suzy Kolber and Chris Mortensen discuss the adjustments the Cowboys could make in the offseason. Steve Young breaks down what went wrong with Jets and Tim Tebow. The NFL32 crew discuss the Vikings-Packers matchup.

NFL Live OT: Future Of Sanchez, Tebow

Jan 2

Mark Schlereth and Jason Taylor discuss Mark Sanchez's future with the Jets and Tim Tebow's future as a starting quarterback.

Blogger Blitz: Rebuild Or Reload?

Jan 2

AFC East blogger James Walker talks about the questions surrounding the Jets organization as they head into the offseason

Sports Columnists

Kerry J. Byrne: Momentum means a lot in the playoffs, but who has it?

Jan 2

The Denver Broncos and Seattle Seahawks enter the 2012 postseason red hot and razor sharp. If momentum matters, they're heading for a collision course in New Orleans.