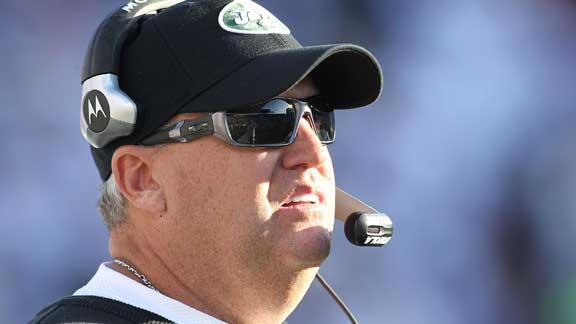 ESPN.com
yahoo.com
nydailynews.com
thejetsblog.com
CNNSI.com
profootballtalk.com
Updated Jun 14, 2013
After a three-day tryout, tight end Kellen Winslow Jr. signed a one-year contract Friday with the New York Jets, the team announced.
Share
Tweet
Antonio Cromartie will have a house full of teammates

Jets cornerback Antonio Cromartie has reached the point of his career when he's the veteran mentor, and so he's going to get together with some teammates over the next month to show them the right way to stay in shape for the time off between the end

Share Tweet

Rex Ryan thinks he's a great coach, and he's half-right

yahoo.com

Jun 14, 2013

In Rex Ryan's first two seasons as the New York Jets' head coach, his team went 20-12 in the regular season and booked trips to two straight AFC Championship games. In his most recent two seasons in that same role, however, a series of personnel disaste…

Share Tweet

Geno expects to attend Jets West

thejetsblog.com

Jun 14, 2013

There was some premature hubbub Wednesday about whether or not Geno would attend Jets West, but it sounds as if the whole thing was overblown. "We haven't talked about it, but from my understanding its something that's done annually and all the guys

Share Tweet

Through Jets unrest, Rex's self-worth intact

ESPN.com

Jun 14, 2013

New York Jets coach Rex Ryan lost a good chunk of his roster through a turbulent offseason, but he hasn't lost his bravado.

Share Tweet

Rex Ryan: I'm a lot better coach than I'm given credit for

Jets coach Rex Ryan has taken a lot of criticism as his team has missed the playoffs in the last two years, but he doesn't believe that criticism is justified. In fact, Ryan believes that he should be viewed more as the coach who took the Jets to back-t

Share Tweet

Ryan thinks CB Kyle Wilson is having his best offseason so far

thejetsblog.com

Jun 14, 2013

The Jets will go into the 2013 season without Darrelle Revis, but will the cornerbacks be stronger on the whole this year? Last year Antonio "Robin" Cromartie proved his mettle without Batman, this year the team drafted the best overall cornerback in

Share Tweet

LB Kiko Alonso said that the pace of practices with the Bills reminded him of the pace at Oregon. The Dolphins signed WR Joe Hastings and DT Tracy Robertson after minicamp ended. Questions at outside receiver remain for the Patriots. There's going to be

Share Tweet

Is New York Jets head coach Rex Ryan's ego harmful to Jets?

Jun 14

Heath Evans and Darren Sharper weigh in on New York Jets coach Rex Ryan's comments about how he is underrated at his job.