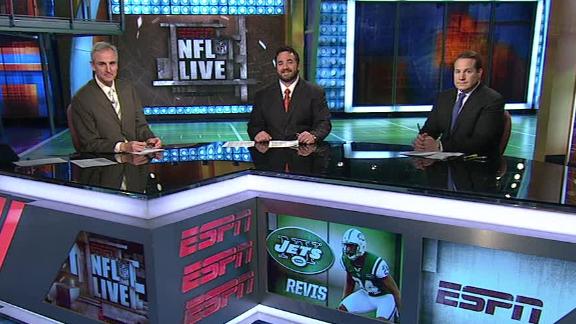 profootballtalk.com
ESPN.com
Updated Mar 5, 2013
Indeed, the Jets are shopping cornerback Darrelle Revis.  Which means that owner Woody Johnson has decided not to pay him. Which means that, if the deal is right, Revis will be traded. So when will it happen?  The current thinking is that a deal would g
Share
Tweet
thejetsblog.com

Mar 5, 2013

While John Idzik told season ticke-tholders on a half-hour conference call yesterday that Darrelle Revis's injury is recovering well and that he is ahead of schedule, the Jets might be behind in their efforts to move Tim Tebow to another team, via Bart

Share Tweet

Garrard feeling healthy, calls Jets 'ideal' spot

ESPN.com

Mar 5, 2013

Free-agent quarterback David Garrard, looking for a job after two years out of the league, took to the airwaves Monday to make his case on why he'd be perfect for the New York Jets.

Share Tweet

profootballtalk.com

Mar 5, 2013

A look at the free agent tight end market through the eyes of the Bills. Profiling the potential for WR Mike Wallace landing with the Dolphins. The Patriots have several potential paths to follow in free agency. David Garrard thinks the Jets offer him a…

Share Tweet

thejetsblog.com

Mar 5, 2013

According to Manish Mehta of the Daily News, the Jets are contemplating using a tender on former UDFA Jeff Cumberland. As expected, Jets didn't use franchise tag on TE Dustin Keller. #NYJ has had discussion about giving RFA tender (2nd rd) to Jeff Cumbe…

Share Tweet

NFL32OT: Will Welker Remain A Patriot?

Mar 5

Episode 282: Wendi Nix and Ed Werder discuss the contract negotiations with Wes Welker and the Patriots. Herm Edwards evaluates Dee Milliner heading into the NFL Draft. The NFL32 crew discuss the latest on Darrelle Revis.

Can the New York Jets afford to trade Darrelle Revis?

Mar 5

Charley Casserly joins "NFL Total Access" to discuss the likelihood of the Jets trading Darrelle Revis this offseason.

Can the New York Jets afford to trade Darrelle Revis?

Mar 5

Charley Casserly joins "NFL Total Access" to explain why the trade market for Darrelle Revis is not an optimal one, and why the cornerback and the New York Jets are unlikely to part ways.

NFL Live OT: Does Trading Revis To 49ers Make Sense?

Mar 5

Jeff Saturday and Eric Mangini discuss whether trading Jets CB Darrelle Revis to the 49ers makes sense.

Sports Columnists

Jim Trotter: Hue Jackson left wondering what derailed a once promising fut…

Mar 5

This is not the Hue Jackson most football fans have come to know. He is seated on the edge of his king bed in a downtown Indianapolis hotel room, the smell of onions from room service heavy in the air. He is talking softly and slowly -- a strong contras…

Peter King: Kuechly goes back to school; Chiefs break from Pioli's way; ma…

Mar 5

We interrupt the never-ending hype for NFL free agency (when, by the way, is the last time a great free agent class led a team deep into that season's playoffs?) to talk about 15 weeks that no one ever talks about. But people should.