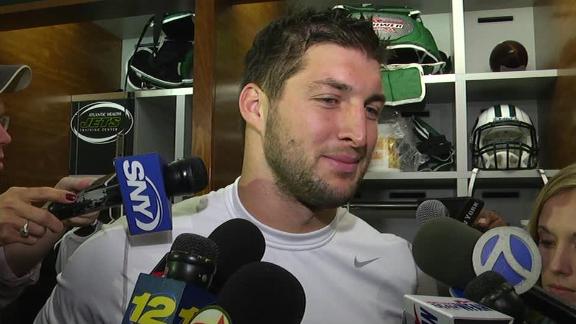 ESPN.com
profootballtalk.com
Updated Nov 14, 2012
On the same day some New York Jets players anonymously ripped Tim Tebow in a newspaper article, Shonn Greene told Yahoo! Sports changes are needed.
Share
Tweet
nydailynews.com ESPN.com CNNSI.com profootballtalk.com thejetsblog.com

Nov 14, 2012

It didn't take an advanced degree in molecular science to determine that the dynamics of the Jets offense weren't compatible with Tim Tebow taking over as the starting quarterback. It was an unrealistic possibility, and now we've discovered that it

Share Tweet

How Did We Get Here?

thejetsblog.com

Nov 14, 2012

  At 3-6 things look like they are only getting worse for the New York Jets, as they have looked inept on offense and continue to shoot themselves in the foot on Special Teams. The question probably at the forefront of most fans minds is "how could thi

Share Tweet

Mark Sanchez And The Jets Are Wearing Team Shirts That Say "We Will Persist"

deadspin.com

Nov 14, 2012

The New York Jets have had a rough few days. Killed on the road in Seattle, killed by the media, and now killed-if you consider dismissing the throwing abilities of a backup quarterback who can't pass "killing"-by an anonymous member of their own defe

Share Tweet

Rex Ryan sounds like a coach in denial

New York Jets head coach Rex Ryan says a lot of things. To the point that it is getting increasingly difficult to separate fact from fiction. Did Ryan really think the Jets (3-6) had a shot at the playoffs before last week's blowout loss to the Seattle …

Share Tweet

Remember Brian Schottenheimer? He was the former New York Jets offensive coordinator who shouldered most of the blame for the team's downfall and eventual implosion last year. The Jets finished 25th in total offense and it cost Schottenheimer his job. H…

Share Tweet

profootballtalk.com

Nov 14, 2012

Optimus Prime needs to find a little room on his mantle. Seahawks cornerback Richard Sherman has been named the NFC defensive player of the week for his work in the team's 28-7 win over the Jets. Sherman intercepted a pass on the goal line to kill a Jet

Share Tweet

The Sniping Begins: Let's admit it.  When the Jets traded for Tim …

thejetsblog.com

Nov 14, 2012

Let's admit it.  When the Jets traded for Tim Tebow, we knew that the day would come when the Jets players would start anonymously sniping about the quarterback position … but little did we think that the bullets would be aimed at Tebow. Everyone kne

Share Tweet

Let's take a look at which players are rising and falling in the AFC East. Falling 1. Mark Sanchez, New York Jets quarterback: It's starting to look like a lost cause for Sanchez. The arrow continues to point down as Sanchez's bad performances are a

Share Tweet

profootballtalk.com

Nov 14, 2012

Bill Parcells told Patriots coach Bill Belichick that he believes this year's Patriots team is better than last year's AFC championship team. Opposing defenses may be catching up with Dolphins QB Ryan Tannehill. Asked about how to deal with a tough se

Share Tweet

yahoo.com profootballtalk.com nydailynews.com

Nov 14, 2012

The Tim Tebow faithful are going to have a tough time with this one: The New York Daily News has consulted more than a dozen of Tebow's Jets teammates and officials, and their assessment of The Chosen Quarterback is not a kind one. One unnamed teammate …

Share Tweet

nytimes.com

Nov 14, 2012

A former Giants quarterback says the current one is not elite. It's an impossible debate, but it's one the Jets wish they were having.

Share Tweet

Tim Tebow Responds

Nov 14

Tim Tebow responds to negative comments from anonymous Jets players.

Rex Ryan defends Tim Tebow

Nov 14

New York Jets head coach Rex Ryan defends quarterback Tim Tebow against recent comments from anonymous teammates.

Countdown Daily AccuScore: NYJ-STL

Nov 14

Prim Siripipat goes inside the numbers for the Jets-Rams

Is Teammate's Criticism Of Tebow Fair?

Nov 14

Skip Bayless and Rob Parker discuss one of Tim Tebow's teammates on the Jets telling the New York Daily news that "he's terrible."