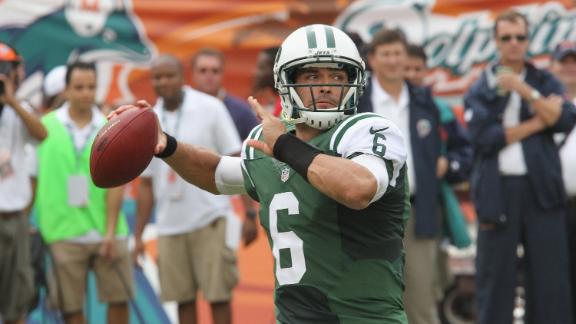 nydailynews.com
ESPN.com
jetsgab.com
CNNSI.com
profootballtalk.com
thejetsblog.com
Updated Oct 2, 2012
The Jets have been dealt a second devastating blow in a season quickly spiraling out of control.
Share
Tweet
nydailynews.com

Oct 2, 2012

T IM Tebow has a quarterback rating 34.6 points higher than Mark Sanchez, even though the backup has thrown only one pass. Imagine what he could do if he threw, say, four or five passes.

Share Tweet

ESPN.com

Oct 2, 2012

One of the worst defensive performances in Rex Ryan's coaching career turned even worse Tuesday night, when San Francisco 49ers cornerback Carlos Rogers accused the New York Jets of quitting late in Sunday's 34-0 blowout.

Share Tweet

In 2012, Kaepernick is the real Wildcat quarterback

With all the talk (and, to date, that's what it's primarily been) about the Jets using the Wildcat formation, the 49ers quietly have outdone the Jets. There was nothing quiet about the Niners' use of Colin Kaepernick on Sunday, who rushed for 50 yar

Share Tweet

thejetsblog.com profootballtalk.com

Oct 2, 2012

On Monday, the Jets signed free agent cornerback Aaron Berry to a two-year contract, having worked out Berry and three other cornerbacks last week (including Darrin Walls, who went onto the practice squad). Jets fans might not know too much about Berry,…

Share Tweet

CNNSI.com thejetsblog.com profootballtalk.com

Oct 2, 2012

FLORHAM PARK, N.J. (AP) -- The New York Jets have signed fullback Lex Hilliard and waived wide receiver Patrick Turner.

Share Tweet

"TEWBOW AT QB," And More Fan Suggestions To Improve The Jets

deadspin.com

Oct 2, 2012

The Jets are in trouble. Their last game against the 49ers was an embarrassing 34-0 rout. Mark Sanchez passed for 103 yards. The Jets' next game is Monday night against the Texans, and the team has to improve. So someone on the Jets' Facebook page came …

Share Tweet

Sanchez-Fitzpatrick-Tannehill Watch

ESPN.com

Oct 2, 2012

The race to determine the second-best quarterback in the AFC East continues to heat up. We are at the quarter mark of the season. Let's check out the latest "Sanchez-Fitzpatrick-Tannehill Watch." Mark Sanchez, New York Jets Result: L, 34-0 aga…

Share Tweet

Rex rules out none of the free-agent receivers

With all signs pointing to receiver Santonio Holmes being done for the season and with several big-name free-agent receivers on the market, it makes sense to wonder whether the Jets would try to replace Holmes with someone like Terrell Owens, Chad Johns…

Share Tweet

Saints kick tires on five receivers

At a time when the Jets should be looking for help at receiver (more on that in a bit), the Saints have brought in five wideouts for a tire-kicking. A league source says the Saints worked out Brian Robiskie, Deon Butler, Jason Hill, Rasheed Davis, and P…

Share Tweet

thejetsblog.com

Oct 2, 2012

  This morning on ESPN New York , Rich Cimini noted that Aaron Maybin, he who Many Good Things were expected of this season, only saw two defensive snaps in the game against the Niners last weekend. What gives? We really like Maybin, but one of the bigg…

Share Tweet

Holmes out for the season

Oct 2

New York Jets head coach Rex Ryan announces Wednesday that wide receiver Santonio Holmes has a Lisfranc injury and is out for the remainder of the season.

Buy or Sell?: Should Tebow start?

Oct 2

Is it time for Tim Tebow to replace Mark Sanchez? Darren Sharper and Heath Evans debate that, plus whether the Packers are the best team in the NFL and if it's time for the Cowboys to get rid of Dez Bryant.

T.O. or Ochocinco in NYC?

Oct 2

Should the Jets pursue Plaxico Burress, Terrell Owens or Chad Johnson? Charlie Casserly explains what the Jets need to do to replace Santonio Holmes.

Has Tim Tebow Ruined Mark Sanchez?

Oct 2

Stephen A. Smith and Skip Bayless debate if Tim Tebow's presence has ruined Mark Sanchez.