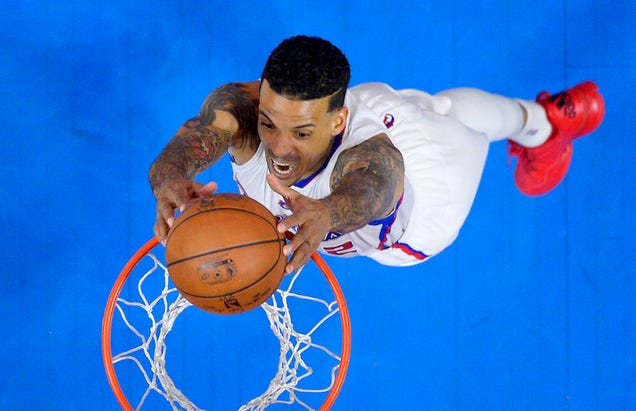 nba.com
nydailynews.com
deadspin.com
ESPN.com
Updated Oct 8 (yesterday)
The NBA is investigating the incident between Grizzlies forward Matt Barnes and Knicks coach and former teammate Derek Fisher, a situation Barnes said is "personal matter" involving someone who was a good friend at one point.
Share
Tweet
Matt Barnes Terrorizes Ex, Amusing Sportswriters

deadspin.com

Oct 8 (yesterday)

This past Saturday, Memphis Grizzlies forward Matt Barnes reportedly drove nearly a hundred miles from Santa Barbara to the Los Angeles home of his estranged wife Gloria Govan—whom he was arrested on suspicion of abusing in 2010—to harass and physically…

Share Tweet

Isola: Derek Fisher should be held accountable

nydailynews.com

Oct 7 (yesterday)

It wasn't the worst season in Knicks history that has Derek Fisher on the clock.

Share Tweet

nydailynews.com yahoo.com

Oct 7 (yesterday)

Kristaps Porzingis arrived at the court 2 1/2 hours before his Garden debut, hoping to get a feel for his new home.

Share Tweet

nba.com nydailynews.com

Oct 7 (2 days ago)

Harry Gallatin, the Hall of Fame basketball player who was a seven-time All-Star forward for the New York Knicks in the 1950s, died Wednesday. He was 88.

Share Tweet

'Hell no!' Carmelo Anthony not thinking of asking for trade

nydailynews.com

Oct 5 (4 days ago)

Carmelo Anthony holds a no-trade clause and the biggest contract on the Knicks.

Share Tweet

Bondy: Lopez twins add twist to Knicks - Nets 'rivalry'

nydailynews.com

Oct 3 (7 days ago)

The "rivalry" is now about as lively as an upside down goldfish, featuring two teams that can't even set a goal of making the playoffs.

Share Tweet

Knicks rookie Kristaps Porzingis tweaks knee in practice

nydailynews.com

Oct 1

Kristaps Porzingis, the Knicks' prized rookie, tweaked his knee and was limited in practice Thursday on the third day of training camp.

Share Tweet

Knicks' Kyle O'Quinn reflects on late father, returning home

nydailynews.com

Sep 30

Kyle O'Quinn imagines the way it should've been for his homecoming. His father would be there at the open practice at the Garden.

Share Tweet

Despite losses, 'Melo's Knicks focus on 'big-picture goal'

nba.com

Sep 30

The longer Carmelo Anthony plays, the further he's gotten from a championship.

Share Tweet

Knicks should call him Phil 'Distraction' Jackson

nydailynews.com

Sep 30

Raissman calls Phil Jackson out for being a distraction so fans pay less attention to the fact that the Knicks are a terrible team.

Share Tweet

nydailynews.com nba.com

Sep 29

Kristaps Porzingis completed his first training camp session to rave reviews and Carmelo Anthony went through the drills without limitation.

Share Tweet

Derek Fisher on Knicks president Jackson: 'I coach the team'

nydailynews.com

Sep 29

Phil Jackson sat there with his arms folded, chatting it up with his famous ex-teammate from the last time the Knicks won a championship.

Share Tweet

Noel Guides 76ers Past Knicks

Mar 20

Nerlens Noel's double-double of 23 points and 14 rebounds carried the 76ers to a 97-81 win over the Knicks.

Wolves Top Knicks In OT

Mar 19

Kevin Martin, Zach LaVine, Andrew Wiggins and Gorgui Dieng combined to score 81 of the Timberwolves' 95 points in an overtime win over the Knicks.

Knicks Stun Spurs In OT

Mar 17

SportsCenter Highlight of the Night: Langston Galloway and Alexey Shved combined to score 43 points in the Knicks' 104-100 overtime win against the Spurs.

Another Classic From Shved

Mar 16

The "Highly Questionable" crew examines Knicks guard Alexey Shved's latest trick shot.

Sports Columnists

Derek Fisher of New York Knicks, Matt Barnes of Memphis Grizzlies scuffle …

Oct 7

Knicks coach Derek Fisher and Grizzlies forward Matt Barnes were involved in a physical altercation Saturday night in Los Angeles at the home of Barnes' ex-wife, sources say.

NBA - Blake Griffin wants to take his defense and the Clippers to another …

Oct 7

Blake Griffin is looking to become an elite defender and a vocal leader, and in turn take the Clippers to a championship, writes J.A. Adande.

ESPN Now

Oct 6

ESPN's Kevin Arnovitz and Brian Windhorst provide the low down on how a tangle inside the Hawks' front office led to a racially-charged scandal and th...