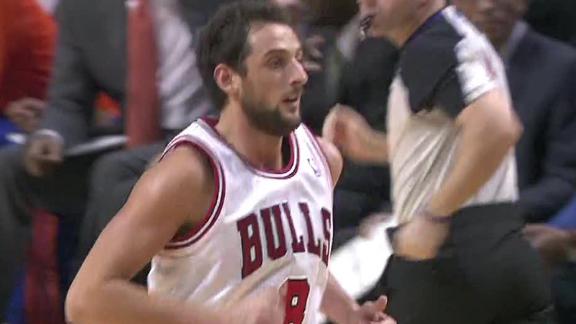 Knicks' five-game win streak snapped by Bulls

On a night where both teams played as if they could have used the day off, the Knicks saw their five-game winning streak snapped in a 93-85 loss to the Bulls.

Share Tweet

The Score: Greer's Broadway debut a good omen for Knicks

It's a busy time of year again for actress Judy Greer, who's currently making her Broadway debut in "Dead Accounts," starring Katie Holmes, and had her latest film, "Playing For Keeps," starring Gerard Butler and Jessica Biel, open this weeken

Share Tweet

Anthony Will Sit for a Second Straight Game

nytimes.com

Dec 8, 2012

A deep cut on Carmelo Anthony's left middle finger will keep him out of the Knicks' game Saturday against the Bulls. He hopes to return Sunday night against Denver.

Share Tweet

ESPN.com

Dec 8, 2012

The New York Knicks won't have Carmelo Anthony in the lineup on Saturday.

Share Tweet

It's not listed as an official date on the schedule, but the Knicks will be holding their version of Old-Home Week when Mike D'Antoni comes back to the Garden this Thursday and Jeremy Lin returns with the Rockets four days later. At the end of their r

Share Tweet

Bulls Stop Knicks without Carmelo

Dec 8

Knicks' five-game win streak comes to an end with 93-85 loss to the Bulls.