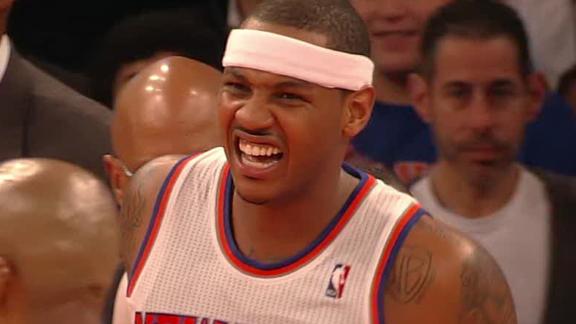 ESPN.com
nydailynews.com
Updated Dec 13, 2012
Carmelo Anthony scored 22 of his 30 points in the first quarter, and the New York Knicks held on after he departed with a sprained left ankle to beat the Los Angeles Lakers 116-107 in coach Mike D'Antoni's return to Madison Square Garden.
Share
Tweet
Knicks forward Carmelo Anthony sprained his left ankle in the third quarter and was not expected to return to the game against the Los Angeles Lakers.

Share Tweet

LeBron James and Kobe Bryant are the leading vote-getters, while Jeremy Lin has a chance to bring Linsanity to the NBA All-Star game.

Share Tweet

The Houston Rockets Singing "The Dreidel Song" Is Simply Fantastic

deadspin.com

Dec 13, 2012

When paraded one after the other, it's really easy to see which Houston Rockets were ready to bring the Hanukkah spirit and which ones were sorely lacking. (Good job, good effort there, Jeremy Lin.) More »

Share Tweet

James Dolan, according to Madison Square Garden lore, had to be told who Fmr. Attorney General John Ashcroft was

yahoo.com

Dec 13, 2012

It is incredibly easy to feel good for New York Knicks fans, as their team races out to a superb 16-5 record as they prepare to take on the Los Angeles Lakers Thursday night at Madison Square Garden. Not only did Knicks fans have to sit through the unea…

Share Tweet

ESPN.com nydailynews.com

Dec 13, 2012

Mike D'Antoni says coming to New York in 2008 to coach the New York Knicks wasn't a bad thing -- but leaving Steve Nash and the Phoenix Suns was.

Share Tweet

nytimes.com

Dec 13, 2012

J. R. Smith is giving the Knicks some quality minutes.

Share Tweet

Carmelo Injured In Knicks' Win

Dec 13

Knicks hold off Lakers, 116-107.

TrueHoop TV: John Hollinger

Dec 13

John Hollinger drops in to talk about the Lin-Harden dilemma in Houston, the ongoing problems in L.A., and Dwight Howard's likely destination next season.

Kobe: Carmelo Harder To Guard Than LeBron

Dec 13

Stephen A. Smith and Skip Bayless discuss Kobe Bryant's comments about guarding Carmelo Anthony.

Dunk Of The Night

Dec 13

Carmelo Anthony dunks on the Lakers.