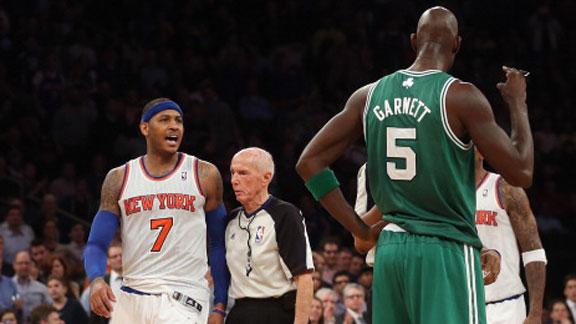 Updated Jan 9
Share
Tweet
Carmelo Anthony was suspended one game by the NBA on Wednesday for confronting Kevin Garnett after the New York Knicks' loss to Boston on Monday.
Sources:
nba.com
ESPN.com
nydailynews.com
yahoo.com
Updated Jan 9

Share Tweet

Team doctors have instructed Knicks coach Mike Woodson to cut Amar'e Stoudemire's minutes after the player experienced soreness in his surgically repaired left knee in Monday's loss to Boston.

Sources:

ESPN.com nydailynews.com

The 5 Teammates & Coaches Who Owe Steve Nash The Most

Updated Jan 9

Share Tweet

Steve Nash became just the fifth player to record 10,000 assists last night, even as his disappointing Lakers team got manhandled by Houston's backcourt of James Harden and Jeremy Lin. But Nash has always been all about the team and making other guys be

Source:

dimemag.com

Updated Jan 9

Share Tweet

The Pacers, who will host the Knicks on Thursday night, have kept winning without their leading scorer, Danny Granger, thanks to defense and a favorable schedule.

Source:

nytimes.com

Report: The Knicks Are Interested In Signing Kenyon Martin

Updated Jan 9

Share Tweet

The summer's running joke was that New York was turning into the old timers' playground. Jason Kidd. Kurt Thomas. Pablo Prigioni. When they brought Rasheed Wallace out of retirement, the Internet nearly exploded. But now they're 23-11, Carmelo Antho

Source:

dimemag.com

Cereal Offender! Knicks star spats with Celtic for 'Cheerios' comment about estranged wife

Updated Jan 9

Share Tweet

Knicks star Carmelo Anthony lost his cool after Boston Celtics bigmouth Kevin Garnett reportedly said his wife "tastes like Honey Nut Cheerios" - a dig at Anthony, who is estranged from his sweet spouse. The NBA superstars nearly came to blows Monda

Source:

nydailynews.com

Carmelo Anthony Suspended One Game

Jan 9

Carmelo Anthony has been suspended one game for confronting Kevin Garnett in the arena tunnel.

Update on the Knicks

Jan 9

Ian Begley and Jared Zwerling on the return of Iman Shumpert, Carmelo's feud with KG, the backcourt play of Kidd and Smith and a look at their upcoming games against the Pacers and Bulls.

Sports Columnists

Ian Thomsen: A perfect fit in Utah, Millsap may find himself elsewhere soo…

Jan 9

Unrestricted free agency is on the way for Paul Millsap. Its reward has been a long time coming.