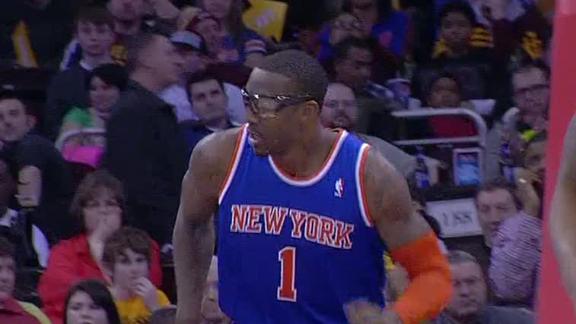 nydailynews.com
nba.com
ESPN.com
nytimes.com
Updated Mar 6, 2013
Even with Carmelo Anthony holed up in the locker room receiving treatment for his aching knee, the Knicks eventually overpowered a weak Detroit Pistons team that played without their leading scorer, Greg Monroe.
Share
Tweet
The Nets' Continuing Identity Crisis

nytimes.com

Mar 6, 2013

The move to Brooklyn, with the stars Deron Williams and Joe Johnson, was supposed to help the Nets escape the Knicks' shadow. It hasn't exactly worked out that way.

Share Tweet

Knicks owner James Dolan is footing the bill for the health care of former Knick Ray Williams

yahoo.com

Mar 6, 2013

Three years ago, we relayed a story about 10-year NBA veteran Ray Williams, who had fallen prey to a series of financial blows and was then destitute while living in Florida. Things turned up for Williams later in the year, he was given a job in his hom…

Share Tweet

dimemag.com

Mar 6, 2013

Coming into a meaningful matchup with OKC, the Lakers were 1-9 against the top four seeds in the West, and 1-10 on the road against the top eight in the West. Maybe they saw a performance like last night coming? They looked rattled and nervous, like a b…

Share Tweet

Short-Handed Knicks Pull Away From Pistons In Fourth

Mar 6

Raymond Felton poured in 26 points to help the Carmelo-less Knicks top the Pistons.

Crashing The Glass

Mar 6

Is it more valuable to get back on defense, or crash the offensive glass? New research shows a little more crashing could help.