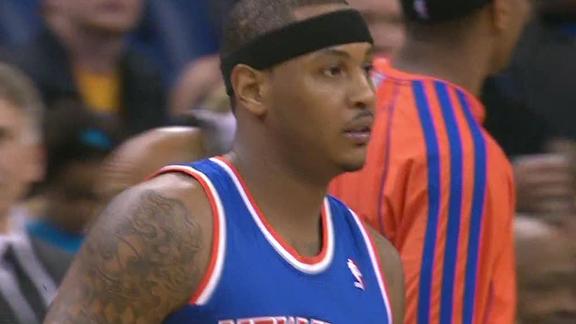 nydailynews.com
ESPN.com
Updated Nov 20, 2012
Mike Woodson's club is working on another winning streak after the Knicks defeated New Orleans, 102-80. At 8-1, the Knicks once again own the NBA's best record and they head into Dallas tonight having won two straight after losing for the first and on
Share
Tweet
ESPN error activates coach Woodson

nydailynews.com

Nov 20, 2012

Just when you thought the Knicks couldn't get any older. During the Knicks' 102-80 rout of the New Orleans Hornets Tuesday night, ESPN.com's box score listed 54-year-old coach Mike Woodson, 6-5, on the bench as a guard/forward.

Share Tweet

Somehow The Knicks Managed To Get Even Older

deadspin.com

Nov 20, 2012

Popped on ESPN.com to check the boxscore of tonight's Knicks-Hornets game. Had to see how the local basketball team was doing. According to the boxscore, the Knicks have on their bench a 54-year-old guard/forward who last played in 1991. That's a vetera…

Share Tweet

Why New York Shouldn't Be Overly Excited About The Knicks & Nets

dimemag.com

Nov 20, 2012

The Knicks are 7-1 as the toast of the town, and their Jay-Z-owned brothers across the East River, the Nets, are 6-2 and second in the Atlantic Division. That means the Post and Daily News are foaming at the mouth to stir up a little New York rivalry an…

Share Tweet

Knicks Roll Hornets, 102-80

Nov 20

Carmelo Anthony leads Knicks to big win over Hornets.

SportsCenter Conversation: Mike Woodson

Nov 20

Mike Woodson sits down with Bob Knight to talk about their time together in Indiana and the future of the Knicks.

THTV: Knicks Thanksgiving

Nov 20

Author Alan Hahn offers Knicks fans six things to be thankful for, and one other thing to settle down about.

TrueHoop TV: Austin Rivers

Nov 20

ESPN Insider Amin Elhassan with Henry Abbott on why Hornets rookie Austin Rivers will continue to struggle until he learns to trust his teammates.