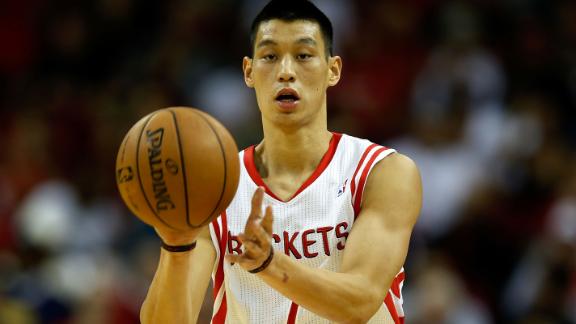 Updated Nov 23, 2012
Share
Tweet
It wasn't Linsanity that got the Knicks but rather their unwillingness to defend, rebound and above all else maintain their composure. From a Knicks perspective, this was insanity and embarrassing in every way imaginable.
Sources:
nydailynews.com
CNNSI.com
ESPN.com
Weekend Dime: Melo and the Knicks

Updated Nov 23, 2012

Share Tweet

The real reason Melo is better than ever? Marc Stein reveals all in the Weekend Dime.

Source:

ESPN.com

Updated Nov 23, 2012

Share Tweet

If New York Knicks guard Raymond Felton ever had a chance to remind anyone of the Knicks' fortunes without current Houston Rocket point guard Jeremy Lin, this would be it. Actually, scratch that - New York's home game against the Houston Rockets on Dec.

Sources:

yahoo.com dimemag.com

Rating Jeremy Lin's Performance

Nov 23

Stephen A. Smith thinks Jeremy Lin's performance this season has been average.

Highlight Of The Night

Nov 23

Jeremy Lin and the Rockets rout the Knicks, 131-103, handing them their second straight loss.

Lin, Rockets Destroy Knicks

Nov 23

Jeremy Lin one of six Rockets to reach double digits as Knicks suffer second straight loss, 131-103.