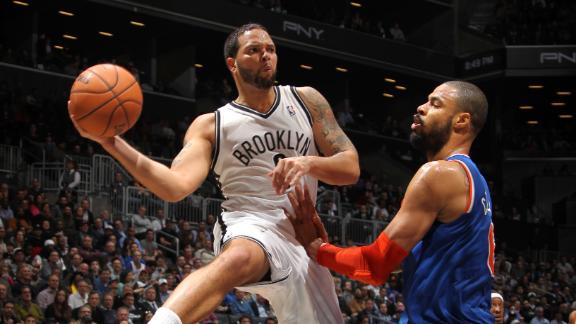 ESPN.com
nydailynews.com
CNNSI.com
nba.com
Updated Nov 26, 2012
The Brooklyn Nets worked overtime to pull out the opener of their new-look rivalry with the New York Knicks, winning 96-89 on Monday night to tie their city rivals for first place.
Share
Tweet
New York Knicks point guard Jason Kidd did not play in Monday's showdown with the Brooklyn Nets due to lower back spasms.

Share Tweet

deadspin.com

Nov 26, 2012

Thank you for your continued support of Deadspin. There's Panthers-Eagles on Monday Night Football, Knicks-Nets to highlight the NBA slate, and Big Daddy Kane and his flat-top now and forever. More »

Share Tweet

ESPN.com nytimes.com

Nov 26, 2012

5-on-5: In the battle of New York, which franchise has the bigger advantage?

Share Tweet

Will The Real Danilo Gallinari Please Stand Up?

dimemag.com

Nov 26, 2012

Danilo Gallinari used to be the shooter's shooter, earning praise as one of the greatest long-range shooters in the game. But what he brings to an offense has blossomed with his move to Denver, and he's become more capable at driving for a layup rathe

Share Tweet

The Chinese government declined a political party's application to name itself after Jeremy Lin

yahoo.com

Nov 26, 2012

Goofball fringe political parties, candidates, motions, petitions, and movements aren't unique to American politics. Neither is an obsession with sports that borders on the fanatical and often crosses over to the weird. For further proof of this, witnes…

Share Tweet

The Spurs Win One Of The Tightest Games In NBA History; The Nets And Knicks Set Up An Epic Duel

dimemag.com

Nov 26, 2012

Think about all of those games you remember that came down to a final shot, the ones where you thought you'd pass out if it got any more intense. Technically, San Antonio's 111-106 win over Toronto on Sunday was the NBA's most tightly contested win

Share Tweet

Nets Win Battle Of New York In OT

Nov 26

Despite 35 from Carmelo Anthony, Deron Williams' double-double leads Nets to 96-89 win over Knicks.