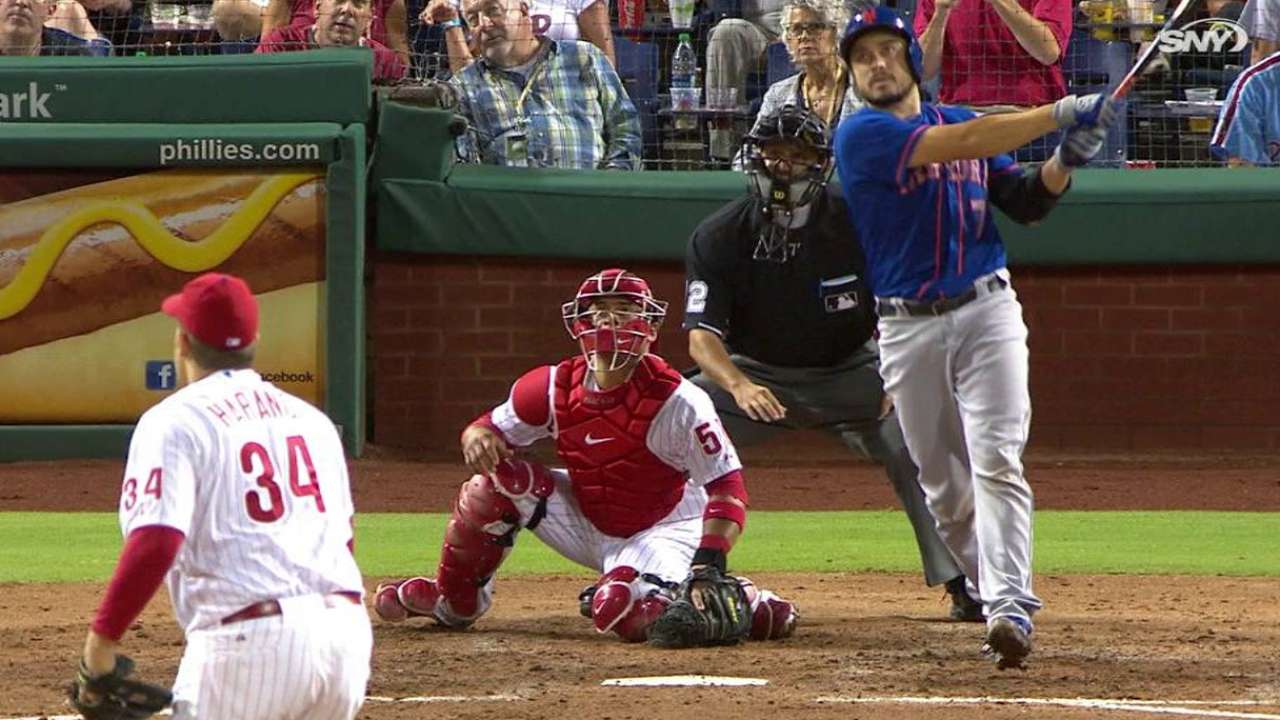 ESPN.com
nytimes.com
MLB.com
Updated 41 minutes ago
Thursday's Top 5: Mets keep winning baseball games
Share
Tweet
Mets explode in extras, retain lead in National League East

yahoo.com

32 minutes ago

Take a look around the league with Big League Stew's daily wrap up. We'll hit on all of the biggest moments from the day that you may have missed, while providing highlights, photos and interesting stats. The New York Mets will never lose again. At leas…

Share Tweet

nytimes.com MLB.com

1 hour ago

Daniel Murphy hit a go-ahead double in the 13th inning after making a spectacular defensive play to end the 10th, leading the New York Mets over Philadelphia for their seventh straight win.

Share Tweet

Mets and Blue Jays thriving off deadline deals, but will it equate into October success?

nydailynews.com

2 hours ago

If the Mets and Blue Jays meet in the World Series, would such a matchup influence the way GMs handle the trading deadline in the future?

Share Tweet

Ross goes 6 strong as Nationals top Padres

MLB.com

3 hours ago

The Nationals, who are chasing the Mets in the National League East race, got a much-needed win on Thursday night against the Padres. Right-hander Joe Ross pitched six strong innings in a 4-2 win at Nationals Park. Washington remains 6 1/2 games back of…

Share Tweet

MLB.com nytimes.com

Aug 27 (yesterday)

For the third time this season, the Mets own a winning streak of at least half a dozen games. They grabbed their sixth straight win with a 9-4 victory over the Phillies at Citizens Bank Park on Wednesday night, extending their National League East lead …

Share Tweet

nytimes.com

Aug 27 (yesterday)

Right-hander Bartolo Colon threw seven shutout innings as the New York Mets beat the Philadelphia Phillies 9-4 at Citizens Bank Park on Wednesday for their sixth consecutive victory.

Share Tweet

Larry Bowa Is Ejected, Drops F-Bombs, Threatens Daniel Murphy With A Beaning

deadspin.com

Aug 26 (2 days ago)

Phillies bench coach Larry Bowa was ejected in the seventh inning of tonight's 6-5 loss to the Mets, and made sure to get his money's worth as he threw a couple of F-bombs Daniel Murphy's way and threatened him with a beaning.Read more...

Share Tweet

Mets rally to give Syndergaard first road win

MLB.com

Aug 26 (2 days ago)

Noah Syndergaard earned his first road victory of the year, Travis d'Arnaud tied things on a bases-loaded walk and Michael Cuddyer gave the Mets the lead for good with a pinch-hit, two-run single in the sixth of New York's 6-5 win over Philadelphia on T…

Share Tweet

Mets Top Phillies for Fifth Straight Win

nytimes.com

Aug 25 (2 days ago)

Michael Cuddyer hit a go-ahead two-run, pinch-hit single in the sixth inning and Noah Snydergaard finally won on the road as the New York Mets beat the Philadelphia Phillies 6-5 on Tuesday night for their fifth straight victory.

Share Tweet

MLB.com

Aug 25 (3 days ago)

The Mets piled out of their team bus late Sunday night and rode an elevator up to the lobby of their hotel, exhausted from their day game in Colorado and flight across the country. Then the elevator door opened and there was David Wright.

Share Tweet

The Mets Are Homering For Fun, And Probably Going To Make The Playoffs

deadspin.com

Aug 25 (3 days ago)

We're used to writing about the Mets for other reasons around here, so please forgive me if I make any mistakes while trying to play this one straight, but the Mets offense absolutely went bonkers Monday night, and it increasingly looks like they are go…

Share Tweet

Mets Bash Team-Record Eight Homers, Rout Phils

nytimes.com

Aug 25 (3 days ago)

Second baseman Wilmer Flores hit two of the Mets' franchise-record eight homers and drove in five runs on Monday to welcome back third baseman David Wright as New York cruised to a 16-7 victory over the Philadelphia Phillies.

Share Tweet

Gee, Wheeler React To TJ Surgery News

Mar 17

placeholder

Mets Fall To Red Sox

Mar 16

Matt Harvey allowed three hits over four scoreless innings for his second strong start following elbow surgery, but the Mets lost to the Red Sox 4-3.

Matt Harvey Day, Part 2

Mar 11

Adam Rubin delivers Wednesday news from Mets camp, including Matt Harvey's second Grapefruit League outing and Dillon Gee getting acclimated to a relief role.

Harvey Tosses 2 Perfect Innings In Mets' Win

Mar 6

The Mets beat the Tigers 5-4 in Matt Harvey's return to the mound.