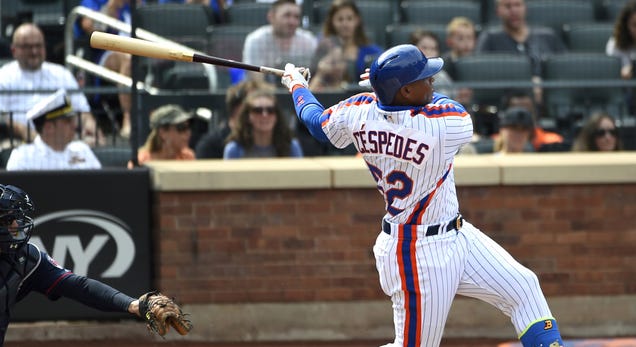 deadspin.com
yahoo.com
Updated 7 hours ago
Mets fans got a brief respite from seeing the squad hamstrung by its penny-pinching owners when the team signed Yoenis Cespedes to a three-year, $75 million deal last winter. There was a catch, though, in that the deal came with an opt-out clause after …
Share
Tweet
10 Years Ago Today, Carlos Beltran Didn't Swing

deadspin.com

Oct 19

It's got to be the single most famous baseball play in which a hitter didn't take the bat off his shoulder. Oct. 19, 2006, bottom of the ninth, two outs, bases loaded, the Cardinals clinging to a two-run lead in Game 7 of the NLCS, and the Mets' most fe…

Share Tweet

And during the 14th at-bat, he singled. It may have taken a little while, but former quarterback turned New York Mets outfielder Tim Tebow finally picked up his first hit in the Arizona Fall League. The base hit came during Tebow's second at-bat during …

Share Tweet

nytimes.com yahoo.com

Oct 14

The former N.F.L. quarterback is clearly good for business, but whether baseball is good for him remains to be seen.

Share Tweet

MLB.com

Oct 14

In the National League Championship Series last year, Mets pitchers stifled the Cubs and swept the series. Now that the Cubs have ousted the Giants in the NL Division Series, they need to regroup for the next round, which starts Saturday vs. the Dodgers…

Share Tweet

Tide Turner: LA's 3B shining in postseason

MLB.com

Oct 12

The last time Daniel Murphy spent much time with Justin Turner, the latter was a 28-year-old Mets utility infielder, known as much for his clubhouse DJ duties -- "Swaggy" was his nickname -- as for his bat. When he cracked the lineup, Turner h…

Share Tweet

nytimes.com yahoo.com MLB.com

Oct 11

After his Arizona Fall League debut, Tebow spent time with a man who appeared to have a seizure while waiting for his autograph.

Share Tweet

Hell Yes Tim Tebow's Teammates Should Be Trying To Make Money Off Him

deadspin.com

Oct 11

Patrick Mazeika is a catcher currently playing Class A ball in the Mets' organization. This classifies him both as a person who is struggling to make a living and also as a teammate of ultra-famous Tim Tebow. To Mazeika's credit, he seems to have found …

Share Tweet

Hitters Still Can't Touch Madison Bumgarner But A Pitcher Just Knocked One Of His Balls To Fiji

deadspin.com

Oct 10

If failure is success in Silicon Valley, then Madison Bumgarner is a champion tonight. The Giants ace, last seen choking the life out of the Mets, is laying an egg in an must-win against the Cubs. He came into the game with a streak of 23 straight score…

Share Tweet

MLB.com

Oct 8

Jack Morris' 10-inning complete game in Game 7 of the 1991 World Series has become the standard by which other great postseason performances are measured. It became a central point of conversation when the Giants' Madison Bumgarner pitched a complete-ga…

Share Tweet

Flores undergoes wrist surgery

MLB.com

Oct 7

Mets infielder Wilmer Flores underwent surgery on Friday to remove part of the hamate bone in his right wrist. The Mets expect Flores, whose absence proved significant for the team down the stretch, to be ready well in advance of Spring Training.

Share Tweet

Gee, Wheeler React To TJ Surgery News

Mar 17

placeholder

Mets Fall To Red Sox

Mar 16

Matt Harvey allowed three hits over four scoreless innings for his second strong start following elbow surgery, but the Mets lost to the Red Sox 4-3.

Matt Harvey Day, Part 2

Mar 11

Adam Rubin delivers Wednesday news from Mets camp, including Matt Harvey's second Grapefruit League outing and Dillon Gee getting acclimated to a relief role.

Harvey Tosses 2 Perfect Innings In Mets' Win

Mar 6

The Mets beat the Tigers 5-4 in Matt Harvey's return to the mound.