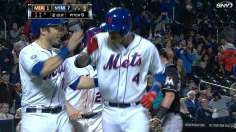 nytimes.com
MLB.com
Updated 8 hours ago
Just hours after Commissioner Bud Selig said he was impressed with the manner in which the Mets were rebuilding, the team got two home runs and six runs batted in from Wilmer Flores.
Upvote
Share
Tweet
Lagares exits with hyperextended right elbow

MLB.com

11 hours ago

Juan Lagares left the Mets' game with the Marlins on Tuesday in the top of the fifth inning with what the team announced as a hyperextended right elbow. Kirk Nieuwenhuis entered the game, playing center and batting leadoff.

Upvote Share Tweet

Selig backs Mets' approach for building team

MLB.com

12 hours ago

Commissioner Bud Selig expressed support for Mets chairman Fred Wilpon and COO Jeff Wilpon on multiple matters Tuesday, including the team's payroll.

Upvote Share Tweet

Alteration to Mets Logo on Twitter and Facebook Draws Attention

nytimes.com

12 hours ago

Someone mysteriously changed the Mets' 53-year-old logo on the team's social media accounts for a few days, replacing the United Nations headquarters with the Citigroup Center.

Upvote Share Tweet

Why Did The Mets Briefly Drop The United Nations From Their Logo?

deadspin.com

20 hours ago

Illuminati-related? Probably not. (But probably.)Read more...

Upvote Share Tweet

nytimes.com deadspin.com ESPN.com yahoo.com

Sep 15 (yesterday)

The Mets rookie Jacob deGrom struck out eight straight batters, tying a major league record to start a game, but a flare to right field ended the streak.

Upvote Share Tweet

MLB.com

Sep 15 (yesterday)

Though the night started rocky for the Miami offense, Jeff Mathis capped a three-run eighth-inning with a two-out RBI single that lifted the Marlins to a 6-5 victory over the Mets on Monday night at Citi Field.

Upvote Share Tweet

Black temporarily shut down with rotator cuff strain

MLB.com

Sep 15 (yesterday)

Vic Black has a mild rotator cuff strain -- or, as general manager Sandy Alderson called it, "normal fatigue." As a result, the Mets are shutting him down for 5-6 days before trying to ramp him up again in an effort to allow the right-hander t…

Upvote Share Tweet

ESPN.com

Sep 15 (yesterday)

New York Mets ace Matt Harvey's rehab from Tommy John surgery is headed into offseason hibernation.

Upvote Share Tweet

nytimes.com

Sep 15 (2 days ago)

Wilson Ramos hit a two-run homer in the seventh inning, and the Nationals won a ninth straight game started by Jordan Zimmermann.

Upvote Share Tweet

Ramos, Zimmermann Lead Nats to 3-0 Win Over Mets

nytimes.com

Sep 14 (3 days ago)

Jordan Zimmermann made clutch pitches when he was in trouble, and Wilson Ramos gave Jonathon Niese's one mistake a soaring ride.

Upvote Share Tweet

Desmond in exclusive SS club with third 20/20

MLB.com

Sep 14 (3 days ago)

Nationals shortstop Ian Desmond set a personal milestone in Saturday night's game against the Mets, as he reached the 20/20 (homers and stolen bases) plateau for the third straight season.

Upvote Share Tweet

Harper, Nats Rout Mets 10-3 to Close In on NL East

nytimes.com

Sep 13 (3 days ago)

Bryce Harper homered, Ian Desmond drove in three runs and the Washington Nationals moved a step closer to their second NL East title in three years with a 10-3 victory over the New York Mets on Saturday night.

Upvote Share Tweet

yahoo.com

Sep 13 (4 days ago)

New York Mets closer Jenrry Mejia is one of the more animated relievers in the game today. His post-save celebrations are known to be both entertaining and somewhat head-scratching, which would probably put him in the same category as a former Mets' rel…

Upvote Share Tweet

Beat goes on as the Mets are the latest team to ignore domestic abuse issues by calling up Wally Backman

nydailynews.com

Sep 13 (4 days ago)

The Mets have invited Wally Backman to join them as a coach for the rest of the season, beginning next Friday in Atlanta, which is of course the wrong message to send at the moment, in light of the Ray Rice furor.

Upvote Share Tweet

The Mets Face a Vista of Empty Seats and a Lawsuit Charged With Criticism

nytimes.com

Sep 13 (4 days ago)

The Mets' steadily dwindling crowds at Citi Field are the backdrop to a federal lawsuit filed last week by a former ticket sales executive.

Upvote Share Tweet

Not even big hits from Chris Young can save Yankees as playoffs look all but lost

nydailynews.com

Sep 13 (4 days ago)

Brandon McCarthy appropriately called it a "lifeline" for a dying ballclub. From the outside looking in, it felt more like the mother of all late-season miracles, Mets castoff Chris Young reborn as a Yankee hero, hitting his second game-winning home run…

Upvote Share Tweet

Yankees Walk Off On Young's Three-Run Homer

Sep 11

Chris Young broke up Alex Cobb's no-hitter in the eighth and hit a three-run homer in the ninth to lift the Yankees to a 5-4 win over the Rays.

Buster's Blog: Big Apple Spending

Sep 11

Buster Olney takes a look at why the Mets, whose GM alluded to not being spenders in the offseason, might want to change course soon.

Nationals Cruis Past Mets

Sep 11

Adam LaRoche and Anthony Rendon both homered in the Nationals' 6-2 win over the Mets.

DeGrom Pitches Mets Past Rockies

Sep 9

Jacob deGrom struck out nine in the Mets' 2-0 win over the Rockies.