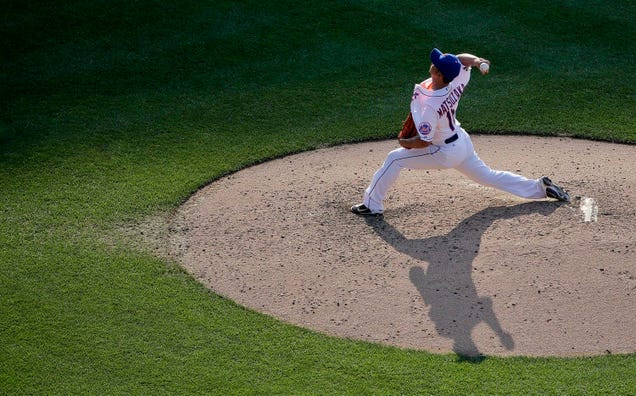 Dice-K To Return To Japan, Take His Mythical Gyroball With Him
deadspin.com
Updated 14 hours ago
After six seasons with the Red Sox and two with the Mets, Daisuke Matsuzaka is apparently returning to Japan, considering a contract with the defending champion Fukuoka Softbank Hawks. He'll always be remembered for the hype, and for his unhittable pitc…
Upvote
Share
Tweet
nytimes.com

Nov 23 (2 days ago)

Sadecki, a left-handed pitcher, won 135 games in his 18 seasons in the major leagues, finishing his career with the Mets.

Upvote Share Tweet

Marlins, Blue Jays, Cardinals, Athletics and Mets make early splash, but what's next?

nydailynews.com

Nov 22 (4 days ago)

It's already been one of the busiest baseball Novembers in recent memory with the Marlins, Blue Jays, Cardinals, Mets and even the A's (Billy Butler) all having made bold statements as to their playoff intentions for next season.

Upvote Share Tweet

nytimes.com MLB.com

Nov 20 (6 days ago)

The team is hoping that Kevin Long, who throws batting practice left-handed to lefty hitters, will help Curtis Granderson and Lucas Duda.

Upvote Share Tweet

nytimes.com ESPN.com

Nov 18

On Tuesday, General Manager Sandy Alderson unveiled the pitching-rich team's latest attempt to win more games than it loses: It moved in the right-center-field fence.

Upvote Share Tweet

Alderson: Soft innings cap for Harvey in '15

ESPN.com

Nov 18

If the Mets reach the postseason in 2015, returning ace Matt Harvey will not face a Stephen Strasburg-like shutdown.

Upvote Share Tweet

Terry Collins thinks Mets will make playoffs in 2015

yahoo.com

Nov 16

It's November, which means optimism is running wild around Major League Baseball. Yes, that even includes the New York Mets camp. Despite six straight losing seasons, there's a real feeling within the organization that they've finally turned the corner …

Upvote Share Tweet

After playoff prediction, Mets skipper Terry Collins must manage expectations

nydailynews.com

Nov 13

Unlike Sandy Alderson, who never meant for last spring's 90-win projection to be for public consumption, Terry Collins wanted fans everywhere on Thursday to hear him say the Mets should be "playing in October" next season.

Upvote Share Tweet

Specific plan not yet in place for Harvey

MLB.com

Nov 13

The Mets intend to have some sort of plan in place on how exactly to handle Matt Harvey and his usage in his return from Tommy John surgery, though the specifics are still in the works.

Upvote Share Tweet

Jon Niese said 'F-U' to Terry Collins, but that's not only reason Mets might send him packing

nydailynews.com

Nov 12

If Jon Niese has become the pitcher the Mets are most inclined to trade this winter, it's not necessarily because he got into a dugout confrontation with Terry Collins during his final start of the season.

Upvote Share Tweet

nytimes.com

Nov 11

The team has continued talks to bring back the free-agent Chase Headley and has been exploring the trade market for an infielder who could take over the position Rodriguez has held for a decade.

Upvote Share Tweet

MLB.com

Nov 11

On Tuesday at the General Managers Meetings in Phoenix, there were reports of the Royals being interested in Ryan Howard and the Mets investigating Jimmy Rollins' availability. Subsequent reports said there is little there. Get used to it. If a team dis…

Upvote Share Tweet

The lure of New York and the appeal of becoming a teammate of his childhood friend, David Wright, were two significant reasons Michael Cuddyer signed a two-year deal with the Mets.

Upvote Share Tweet

Mets Sign Michael Cuddyer

Nov 10

ESPNNewYork.com's Adam Rubin breaks down the Mets' signing of outfielder Michael Cuddyer to a two-year deal.

Jacob deGrom Named NL Rookie Of The Year

Nov 10

Adam Rubin discusses Jacob deGrom being named the National League Rookie of the Year.

LaRoche, Nats Top Mets

Sep 23

Adam LaRoche hit a two-run homer in the Nationals' 4-2 win over the Mets.

MLB Daily Download: Monday

Sep 22

Prim Siripipat recaps Sunday's action from around the league, including Jacob deGrom's and Corey Kluber's dominant starts on the mound and Matt Kemp staying hot at the plate.