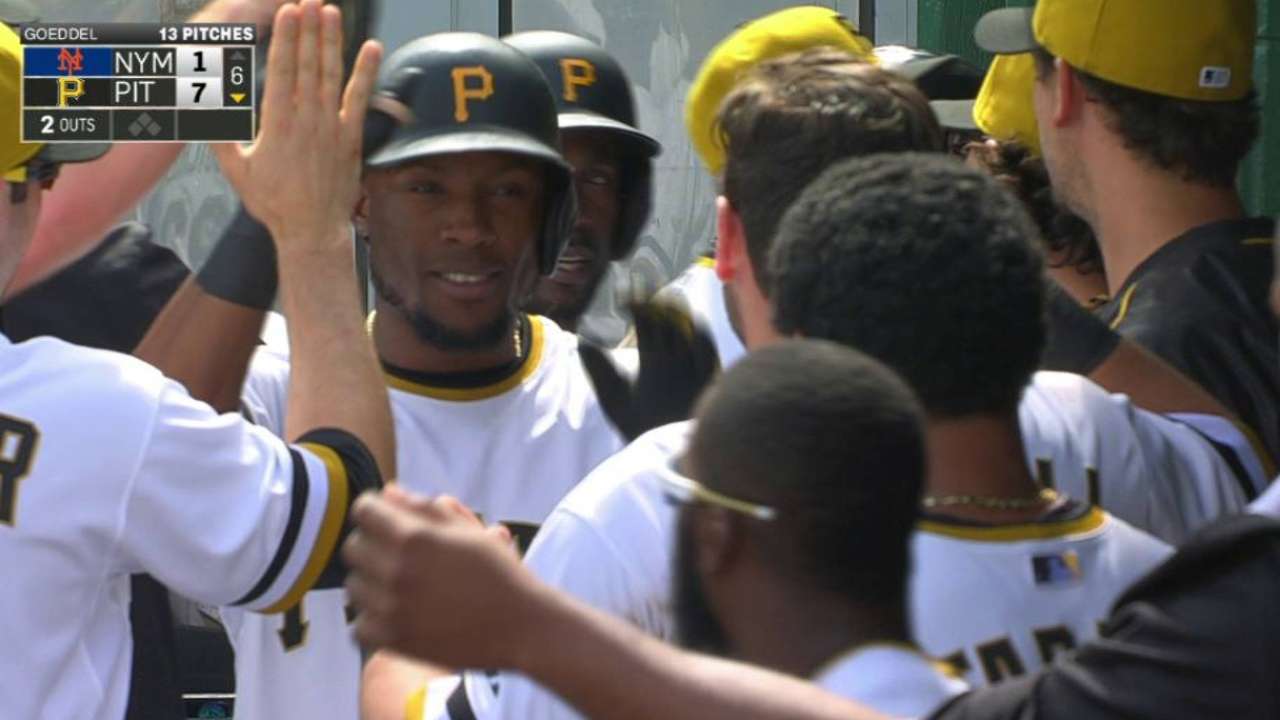 nytimes.com
MLB.com
Updated 1 hour ago
The Mets struck out 32 times during their three straight losses in Pittsburgh.
Share
Tweet
Frustrated Gee will make 1 more rehab start

MLB.com

5 hours ago

In a continuation of what he called "the weirdest year in baseball I've ever had," Dillon Gee returned to the Mets on Sunday only to be told he's about to leave again.

Share Tweet

Constructing the perfect Cubs-Mets trade

MLB.com

9 hours ago

Many evaluators can see a good trade fit between two rising organizations, the Cubs and Mets. Both sides would benefit from making a deal from depth, so here are three deals that would make sense for them to consider.

Share Tweet

MLB.com nytimes.com

21 hours ago

Saturday's game at PNC Park was billed as a pitchers' duel, a showdown between Mets ace Matt Harvey and veteran A.J. Burnett. But the Pirates quickly turned it into the worst start of Harvey's young career, running away with an 8-2 win over the Mets. Bu…

Share Tweet

yahoo.com

22 hours ago

As of Friday, New York Mets third baseman David Wright appeared to be nearing a rehab assignment as he worked his way back from a strained right hamstring suffered in April. However, as learned on Saturday, the concern has now shifted to his ailing back…

Share Tweet

Mets 3B Wright Has Back Problem, Shut Down for Another Week

nytimes.com

May 23 (yesterday)

New York Mets third baseman David Wright has been shut down for at least another week because of a back problem, further delaying his return from the disabled list.

Share Tweet

Actions Speak Louder for a Pirates Rookie

nytimes.com

May 23 (yesterday)

Jung Ho Kang, a 27-year-old shortstop from South Korea, has secured a regular place in the lineup with the Pittsburgh Pirates.

Share Tweet

nytimes.com

May 22 (yesterday)

Mets Manager Terry Collins hinted his team would use a six-man rotation indefinitely in order to give some pitchers rest and keep the number of innings down for others.

Share Tweet

nytimes.com MLB.com

May 22 (yesterday)

Gerrit Cole struck out 10 over 8 1-3 dominant innings to outduel New York Mets rookie Noah Syndergaard and lift the Pittsburgh Pirates to a 4-1 win Friday night.

Share Tweet

With Gee returning, Mets go with 6-man rotation

MLB.com

May 22 (2 days ago)

Manager Terry Collins indicated Friday that the Mets plan to proceed with a six-man starting staff indefinitely, fitting both Noah Syndergaard and Dillon Gee into their rotation while offering strategic rest to Matt Harvey, Jacob deGrom, Bartolo Colon a…

Share Tweet

MLB.com yahoo.com nytimes.com

May 21 (3 days ago)

Jacob deGrom's early-season rough patch has officially come to an end. deGrom's eight shutout innings led the Mets to a 5-0 win over the Cardinals at Citi Field on Thursday afternoon, giving the clubs a four-game series split and boosting the Mets to th…

Share Tweet

yahoo.com MLB.com nytimes.com

May 21 (4 days ago)

For all the talk about a universal designated hitter, perhaps the greatest argument against its seemingly inevitable implementation into MLB revolves around the existence of New York Mets pitcher Bartolo Colon. As we've noted in the past, Colon's plate …

Share Tweet

yahoo.com

May 20 (4 days ago)

Since launching three home runs against the New York Mets on May 6, Washington Nationals outfielder Bryce Harper has been baseball's hottest hitter. Over a 12-game stretch that began that afternoon leading up until Wednesday's game against the New York …

Share Tweet

MLB.com

May 20 (4 days ago)

Eleven months and a day will have passed between Jaime Garcia's final outing in 2014 and his first this season, which is why the simple act of taking the mound in Thursday's series finale against the Mets will mark a notable accomplishment for the lefty…

Share Tweet

Gee, Wheeler React To TJ Surgery News

Mar 17

placeholder

Mets Fall To Red Sox

Mar 16

Matt Harvey allowed three hits over four scoreless innings for his second strong start following elbow surgery, but the Mets lost to the Red Sox 4-3.

Matt Harvey Day, Part 2

Mar 11

Adam Rubin delivers Wednesday news from Mets camp, including Matt Harvey's second Grapefruit League outing and Dillon Gee getting acclimated to a relief role.

Harvey Tosses 2 Perfect Innings In Mets' Win

Mar 6

The Mets beat the Tigers 5-4 in Matt Harvey's return to the mound.

Sports Columnists

2015 NBA playoffs - Golden State Warriors learning what it takes to be cha…

May 21

Steve Kerr is trying to impress upon his inexperienced Warriors just how hard the playoffs can be, without them actually proving it by adding to the degree of difficulty.

NBA Playoffs 2015 - Golden State Warriors and Houston Rockets going small …

May 21

The Western Conference finals are downsizing. And while Houston has no problem going small, it might be playing right into Golden State's hand.