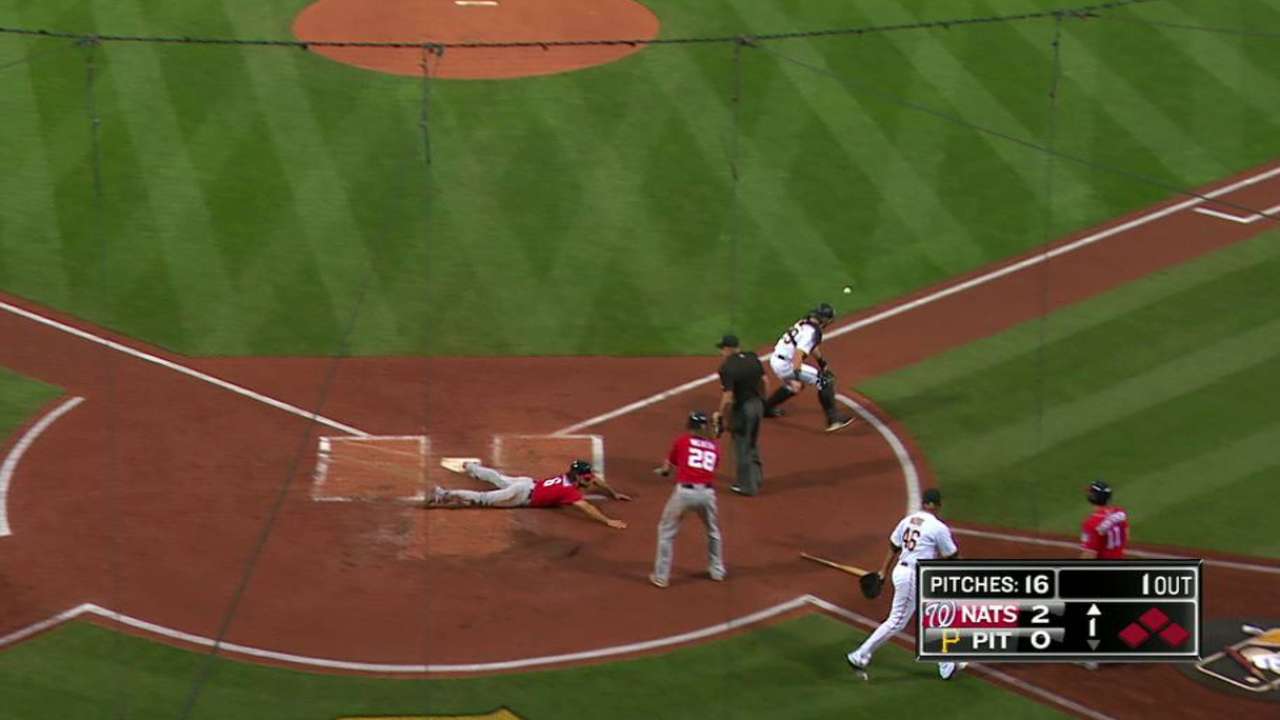 MLB.com
Updated 47 minutes ago
What felt inevitable all spring and summer became official Saturday night. For the third time in five years, the Nationals are National League East champions. The Nats officially clinched the division title and punched their postseason ticket with a 6-1…
Share
Tweet
MLB.com

1 hour ago

What felt inevitable all spring and summer had to wait a little longer Saturday night. With a magic number of two, the Nationals needed a win and a Mets loss to become National League East champions for the third time in five years. The Nats took care o…

Share Tweet

MLB.com deadspin.com nytimes.com yahoo.com

5 hours ago

Mets pitcher Noah Syndergaard will not make his scheduled start Saturday due to strep throat. Left-hander Sean Gilmartin will start in his place.

Share Tweet

Beyond the Stats, Asdrubal Cabrera Is a Met Admired

nytimes.com

10 hours ago

While battling the effects of an aching knee, Cabrera has hit .364 with nine home runs and 22 R.B.I. since returning from the disabled list on Aug. 19.

Share Tweet

Padres pull away, drop Giants behind Mets

MLB.com

21 hours ago

While interested observers were dwelling on the San Francisco Giants' faulty relief pitching, their offense was starting to go bad. Now it's downright sour, as Friday night's 7-2 loss to the San Diego Padres demonstrated.

Share Tweet

Pirates delay Nats' party with walk-off in 11

MLB.com

22 hours ago

About an hour after the Mets put the Nats' division-clinching party on hold in New York, the Pirates kept Washington from officially punching its ticket to the postseason. The Bucs cracked Mark Melancon, their former closer, then little-used September c…

Share Tweet

Robles, Conforto, Mets Top Phils, Stay Atop Wild-Card Race

nytimes.com

24 hours ago

Closer Jeurys Familia and setup man Addison Reed were out, even before the first pitch. Then starter Gabriel Ynoa got yanked after just two innings.

Share Tweet

MLB.com

Sep 23 (yesterday)

Mets manager Terry Collins may grumble at the notion of baseball's expanded rosters in September. But rules are rules, and Collins is doing his best to exploit them, hoping this everyone-plays brand of September baseball will help his club reach October…

Share Tweet

nytimes.com

Sep 23 (yesterday)

A look at what's happening all around the majors Saturday:

Share Tweet

ESPN.com yahoo.com nytimes.com

Sep 23 (yesterday)

What we learned: The Mets and Giants thrive on drama

Share Tweet

MLB.com nytimes.com

Sep 23 (yesterday)

The Giants were able to capitalize on their schedule Thursday, taking the series opener against the Padres, 2-1, to move one-half game ahead of the idle Cardinals and remain tied with the Mets in the National League Wild Card spots.

Share Tweet

Asdrubal Cabrera Flips The Everloving Shit Out Of His Bat After Huge Walk-Off Dinger

deadspin.com

Sep 23 (yesterday)

After getting their walk-off snatched out of the sky last night , the Mets made damn sure this one was headed out of the ballpark. Asdrubal Cabrera did the knocking, and he followed it up with an explosive, two-hand heave of a bat flip.Read more...

Share Tweet

Gee, Wheeler React To TJ Surgery News

Mar 17

placeholder

Mets Fall To Red Sox

Mar 16

Matt Harvey allowed three hits over four scoreless innings for his second strong start following elbow surgery, but the Mets lost to the Red Sox 4-3.

Matt Harvey Day, Part 2

Mar 11

Adam Rubin delivers Wednesday news from Mets camp, including Matt Harvey's second Grapefruit League outing and Dillon Gee getting acclimated to a relief role.

Harvey Tosses 2 Perfect Innings In Mets' Win

Mar 6

The Mets beat the Tigers 5-4 in Matt Harvey's return to the mound.