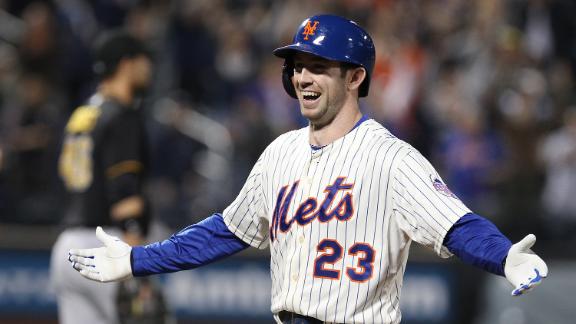 ESPN.com
Updated May 9, 2013
Juan Lagares robbed Andrew McCutchen of a go-ahead hit in the top of the ninth inning, then pinch-hitter Mike Baxter's single in the bottom half sent the New York Mets over the Pittsburgh Pirates 3-2 Thursday night.
Share
Tweet
With Francisco Coming Back, Decisions Loom

nytimes.com

May 9, 2013

Frank Francisco could soon rejoin the Mets, but Bobby Parnell has been pitching well in the closer's role this season.

Share Tweet

Mets, Baseball Tomorrow Fund pledge Sandy help

MLB.com

May 9, 2013

The Baseball Tomorrow Fund and the Mets Foundation announced Thursday that they will donate up to $1 million through a relief grant program for youth baseball and softball organizations directly affected by Superstorm Sandy. The grant program will provi…

Share Tweet

Mets should consider chasing White Sox outfielder Alex Rios at trade deadline

nydailynews.com

May 9, 2013

For a couple of reasons, the arrival of the underachieving, hitting-challenged Chicago White Sox at Citi Field served as an enlightenment for the Mets.

Share Tweet

Baxter, Mets Walk Off

May 9

Pinch-hitter Mike Baxter hit a walk-off single in the ninth to lift the Mets to a 3-2 win over the Pirates.

Web Gems

May 9

Does Juan Lagares' leaping catch at the wall top Miguel Tejada's reigning Web Gem?