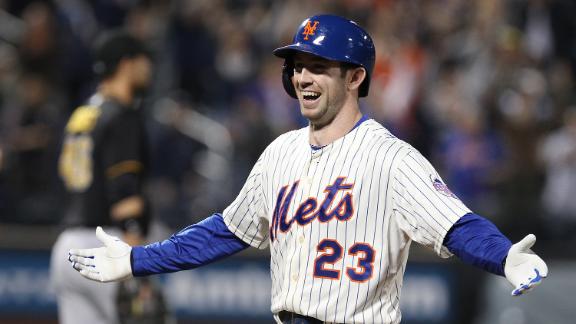 Updated May 9
Share
Tweet
Juan Lagares robbed Andrew McCutchen of a go-ahead hit in the top of the ninth inning, then pinch-hitter Mike Baxter's single in the bottom half sent the New York Mets over the Pittsburgh Pirates 3-2 Thursday night.
Source:
ESPN.com
With Francisco Coming Back, Decisions Loom

Updated May 9

Share Tweet

Frank Francisco could soon rejoin the Mets, but Bobby Parnell has been pitching well in the closer's role this season.

Source:

nytimes.com

Mets, Baseball Tomorrow Fund pledge Sandy help

Updated May 9

Share Tweet

The Baseball Tomorrow Fund and the Mets Foundation announced Thursday that they will donate up to $1 million through a relief grant program for youth baseball and softball organizations directly affected by Superstorm Sandy. The grant program will provi…

Source:

MLB.com

Mets should consider chasing White Sox outfielder Alex Rios at trade deadline

Updated May 9

Share Tweet

For a couple of reasons, the arrival of the underachieving, hitting-challenged Chicago White Sox at Citi Field served as an enlightenment for the Mets.

Source:

nydailynews.com

Baxter, Mets Walk Off

May 9

Pinch-hitter Mike Baxter hit a walk-off single in the ninth to lift the Mets to a 3-2 win over the Pirates.

Web Gems

May 9

Does Juan Lagares' leaping catch at the wall top Miguel Tejada's reigning Web Gem?