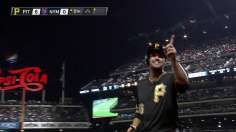 MLB.com
Updated May 10, 2013
Left-hander Wandy Rodriguez disposed with the Mets' lukewarm batting order for six innings, while cleanup man Garrett Jones started one three-run rally with a double and ended another with a replay-reviewed homer in Friday night's 7-3 win.
Share
Tweet
Jones awarded homer after replay at Citi Field

MLB.com

May 10, 2013

Pirates manager Clint Hurdle successfully petitioned the umpiring crew to consult replay, and a brief delay was all it took to reverse a triple to a home run for Garrett Jones against Mets right-hander Shaun Marcum on Friday.

Share Tweet

nytimes.com MLB.com

May 10, 2013

Mike Baxter has developed into a pinch-hitting weapon for the Mets. His manager attributes Baxter's success to his attention to detail.

Share Tweet

ESPN.com

May 10, 2013

Francisco Liriano is set to come off the disabled list and make his Pittsburgh Pirates debut Saturday against the New York Mets.

Share Tweet

yahoo.com

May 10, 2013

The Juice returns for season No. 6! It's almost eligible for free-agency! Stop by daily for news from the action, along with great photos, stats, video highlights and more.A pair of walk-off wins Thursday night showed us two very different ways to win a…

Share Tweet

Mets could go after Cincinnati Reds outfielder Shin-Soo Choo in offseason

nydailynews.com

May 10, 2013

It's only May, and yet on the nights when Matt Harvey isn't pitching, the only real intrigue surrounding the Mets is figuring out how they're going to turn this team into a contender by next year, never mind this season.

Share Tweet

Sports Columnists

Don Banks: Now the NFL's lone iron man, Fletcher reflects on his past, fut…

May 10

With the retirement of Tampa Bay defensive back Ronde Barber this week, the NFL lost one of its consummate professionals and a player who had become a hallmark of consistency throughout his celebrated 16-year career.

2013 NBA playoffs: Golden State Warriors coach Mark Jackson has fresh appr…

May 10

Golden State coach Mark Jackson is succeeding with a fresh approach.