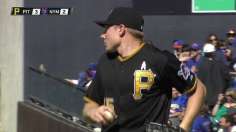 Updated May 12

Share Tweet

Pedro Alvarez hit an RBI single against New York's overworked bullpen, and the Pittsburgh Pirates got a most fortunate bounce in beating the Mets 3-2 Sunday for a series win.

Updated May 12

Share Tweet

The Cardinals put right-hander Jake Westbrook on the 15-day disabled list with elbow inflammation and plan to select the contract of left-hander John Gast in time for Tuesday night's game against the New York Mets.

Matt Harvey: The Talk Of Baseball

May 12

Buster Olney and Jayson Stark discuss the dominance of Mets pitcher Matt Harvey.