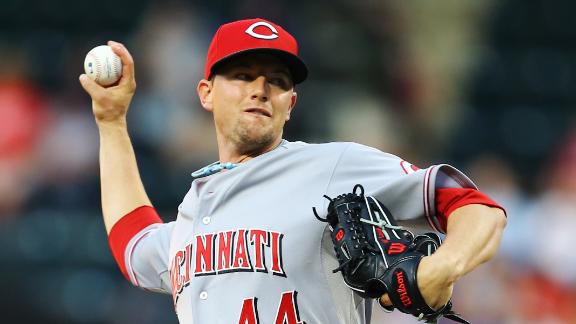 nytimes.com

May 21, 2013

Jeremy Hefner, who lived in Moore, Okla., which bore the brunt of Monday's tornado, said he planned to talk with his Mets teammates about a financial donation to help aid the storm's victims.

Upvote Share Tweet

ESPN.com

May 21, 2013

Aroldis Chapman saved the Reds' win over the Mets on Monday, one day after an uncharacteristic blown save against Philadelphia. According to a Spanish-language broadcaster for the Phillies, the Reds' closer's sweet tooth may have helped to derail him.

Upvote Share Tweet

Leake, Reds Blank Mets

May 21

Mike Leake pitched seven strong innings and Devin Mesoraco drove in two runs to lead the Reds past the Mets 4-0.

Hefner, Presti On Oklahoma Tornado

May 21

Mets pitcher Jeremy Hefner and Thunder GM Sam Presti discuss the tragic tornado in Oklahoma.