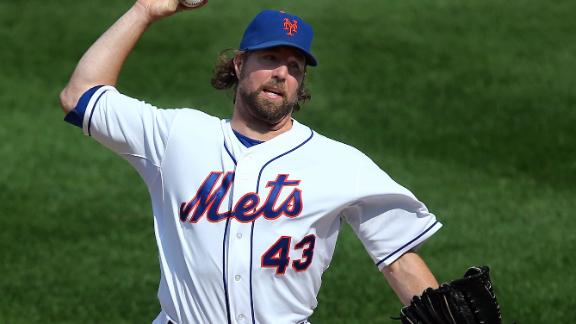 CNNSI.com
ESPN.com
nytimes.com
yahoo.com
Updated Nov 14, 2012
R.A. Dickey and David Price are Cy Young Award winners. Cliff Corcoran says both results were unprecedented in their own way, and not because baseball's best pitcher was denied.
Share
Tweet
Gee helps out Sandy victims, deflects trade talk

MLB.com

Nov 14, 2012

Mets right-hander Dillon Gee and reliever Bobby Parnell helped collect food donations at Citi Field to benefit Hurricane Sandy victims on Wednesday. Gee is doing his best to ignore talk of the Mets potentially trading him.

Share Tweet

CNNSI.com

Nov 14, 2012

Miami cleaned house by shipping Josh Johnson, Jose Reyes and Mark Buehrle to Toronto. But did the blockbuster actually make the Blue Jays better? Buyer beware, says Cliff Corcoran.

Share Tweet

R.A. Dickey On Winning NL Cy Young

Nov 14

R.A. Dickey joins "SportsCenter" after becoming the third Mets pitcher to win the NL Cy Young Award.

R.A. Dickey Wins NL Cy Young Award

Nov 14

R.A. Dickey first knuckleball pitcher to win Cy Young Award.