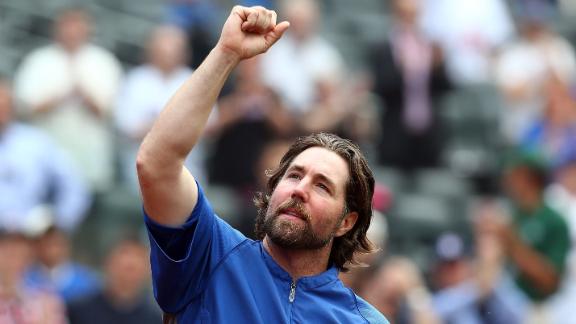 nydailynews.com
ESPN.com
MLB.com
Updated Nov 27, 2012
The Mets are doing right by their star player this time, throwing huge money at David Wright, and that would seem to be a sign that this franchise is finally ready to move forward again. But only if it is doing it for the right reasons.
Share
Tweet
MLB.com

Nov 27, 2012

Phillies catcher Carlos Ruiz has been suspended 25 games for using a banned amphetamine, Major League Baseball announced Tuesday. The suspension will begin at the start of the 2013 season, which means Ruiz will be unable to play until April 28 against t…

Share Tweet

Tom Verducci: Replay, rosters and the nine rules that baseball needs to change

CNNSI.com

Nov 27, 2012

Baseball is the greatest of games because it is the most democratic and is played at its basic core the same way it was one hundred and fifty years ago. You can't get a Jack Taylor of Grinnell in baseball. Everybody in the lineup must take his turn in p…

Share Tweet

Source: Mets Offer Extension To David Wright

Nov 27

Adam Rubin on the seven-year contract extension the Mets have offered to David Wright and the latest on contract talks with R.A. Dickey.

Sports Columnists

Peter King: From Bowles blowing it to Chip's chances, coach talk heats up;…

Nov 27

Clearing out the NFL notebook entering Week 13:

Don Banks: Opinions still split on Kaepernick move, but history backs Harb…

Nov 27

Even when it feels like something entirely new has come along in the NFL -- like the head coach of a leading Super Bowl contender making a late-season starting quarterback change -- it's usually not all that novel. Not entirely.