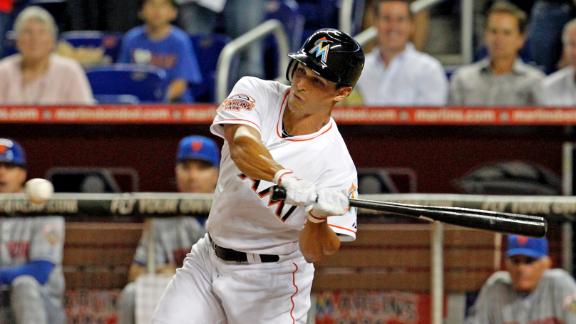 Updated Oct 2, 2012

Share Tweet

Adam Greenberg finally received his one at-bat at Marlins Park  on Tuesday night and it ended like we thought it might. The 31-year-old Marlin for a day was tabbed for a pinch hit opportunity to lead off Miami's half of the sixth inning and he struck ou…

Sources:

yahoo.com nytimes.com

How A Career Ends: Jay Bell Homered Off A Hall Of Famer In His First At-Bat, Flied Out In His Last

Updated Oct 2, 2012

Share Tweet

Tell Me When It's Over is an interview series in which we ask former athletes about the moment they knew their playing days were over. Today: former major-league infielder Jay Bell, who scored the winning run in Game 7 of the 2001 World Series.

Source:

deadspin.com

Source: Mets officials optimistic Wright will stay

Updated Oct 2, 2012

Share Tweet

Mets officials remain optimistic that David Wright will remain with the team long-term and ultimately hope he will succeed Tom Seaver as the organization's unofficial ambassador after the third baseman's playing career ends.

Source:

ESPN.com

Greenberg Strikes Out, Dickey Denied 21st Win

Oct 2

Adam Greenberg struck out on three pitches in his first official at-bat, and the Marlins topped the Mets in 11 innings to deny R.A. Dickey his 21st win.