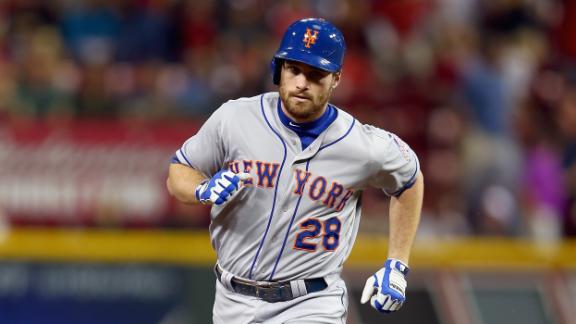 ESPN.com
Updated Sep 24, 2013
Daniel Murphy hit a three-run homer off Mike Leake, whose long streak of scoreless innings got shattered early, and the New York Mets beat Cincinnati 4-2 on Tuesday night, a costly setback to the Reds' hopes of a second straight NL Central title.
Share
Tweet
Mat Latos wanted to make something very clear in the Reds' clubhouse before Tuesday's game against the Mets. One day after it was reported that Latos has been battling an abdominal strain since late June, the 25-year-old right-hander was adamant that wa…

Share Tweet

Mets reinstate Valdespin, return him to Triple-A

The Mets reinstated infielder Jordany Valdespin to their 40-man roster Tuesday after he completed his 50-game Biogenesis suspension. Though the Mets did not activate Valdespin, they removed him from the restricted list and officially returned him to Tri…

Share Tweet

Panicky Mets mess up pitchout, ball hits umpire on Billy Hamilton's 13th straight steal

yahoo.com

Sep 24, 2013

Cincinnati Reds rookie Billy Hamilton makes things happen. He makes things happen and he makes other teams nervous with his blazing speed. Hamilton makes other teams so jittery when he gets a lead from a base, he can even make the opposing pitcher hit t…

Share Tweet

A long single off the wall by Shin-Soo Choo in the bottom of the 10th inning gave the Reds a 3-2 walk-off victory over the Mets on Monday night, and a few moments later, the Nationals lost in St. Louis to clinch a postseason berth for Cincinnati.

Share Tweet

Murphy, Mets Double Up Reds

Sep 24

Daniel Murphy hit a three-run homer in the Mets' 4-2 win over the Reds.